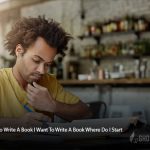 You want to write a book but don't know where to start? It's alright. A lot of content creators get anxious over this question. It is always wise to browse different search engines to understand how to write a book before you even begin your story.
Why am I saying search engines? Because then you can come across articles like this "I want to write a book where do I start?"that helps you explain the whole process in just 1500 words, rather than reading a whole book, you can always have a gist about how to write a book.
Without further ado, let's explore how we can write a book that is creative and compelling for your readers.
Step No.1: Start with Asking W questions:  
Before anything, and even before asking yourself, I want to write a book, where do I start? Ask yourself WHY.
Why do you want to write a book? 
Why do you want to communicate with a wider audience? Explore 5 motivating justifications for writing a book for more insights.
What is the truth you want to share or explore with your readers?
Why do you think it is the best time to write a book?
When do you plan to write a book?
When your writing purpose is clear in your mind, you will have a definite plan at your end. You will perform better than others because now you are conscious of your decision. You are intrinsically motivated to write a book.
Asking yourself a Why helps you reveal your interest. You will know your true intentions. Likewise, you can fill the existing gap in the knowledge and create a comprehensive understanding of the topic.
Your motivation and driven attitude will help you write a book that engages, persuades, excites, improve, and retain your readers. The more you build your foundations, the better for your readers and audience. 
Keep in mind, asking yourself why does not mean you are using it in negative connotations; rather, your true intent is to move forward to the next step. You deal with your inner demons before you start writing because, half of the way to your book, you may want to contemplate your decision. You may want to throw your book away or want to keep your story hanging in the middle. You don't want that to happen.
 You want to write a book that is complete and ready to be shared with the world. Your book writing decision wasn't based on a hunch; neither was it a one-night decision. You want to be prepared with your thoughtfulness and motivations. Therefore, be ahead of time and ask yourself why.
Step No.2: Write a book Structure: 
Now that you have removed all of your doubts and fears, you can start with your story structure. What do I mean by writing a story structure? It means to plan in which genre you want to write. Is it fiction or non-fiction? Once you decide your genre, you create your story accordingly.
Let's say you are writing a fiction story with a sub-genre of a romance novel. To enhance your understanding, read exploring the world of romance books for adults. At this stage, your story needs to have: 
Plot
Characters
Dilemma
Conflict
Climax
Resolution. 
Your goal should be to write a book that is complete in its sense. You plan, outline, observe, research, and create a plot. Of course, you may want to consider some dialogues as well. Once you are done with the brainstorming phase, then you can start with your first draft. The goal of this first draft is to help you create a basic outline of your story.
This writing piece does not have to all proper, refined and polished. But it would help if you are clear and simple enough to understand your story. Likewise, you have to have an end in mind. Most writers get stuck with their ending part because they were not clear enough at the beginning of their story.
Therefore, you must not repeat the same mistake and have clarity of thought. It will be different if you are inclined to change the ending part of the story's middle. However, at the beginning of writing, it is wise to jot your story's initial plan. 
Once all of your ideas and thought are clear and confident, you can proceed with the story. The next step to write a book is the research your characters and places. 
Step No.3: Write a book character world: 
Since you have figured out the plot, and everything is vividly clear in mind, the next logical step is to build your characters. Think of your character's world and attitude: 
How do your characters look like?
What do your characters do?
What are the origins of your story?
Where do your characters live?
What are their physical, emotional, and spiritual truths?
How their surroundings shape their behavior?
Who is the protagonist(hero) of the story?
How many characters would your story need?
How many are major characters, and how many minor characters?
Does your character live a static or boring life, or do they have an exciting twist about them?
Are your characters round(changing) or flat(fixed)? 
What type of character does your audience want to read?
The more you research the life of your characters, the better your story would be. You need to be an elaborative and vivid as you can be. You don't have to go crazy about researching your characters. But you can always take your notes regarding the characters of the story.
Most of the time, writers read real people to understand their attitudes, behavior, thinking patterns, lifestyle, interacting style, and life challenges. This research can be based on the long term or a short term. Jotting down your ideas about your characters helps you keep your study forward. 
'I Want to Write a book Where Do I Start?' Check out our book writing services for expert assistance." We have the expertise of creating the best characters and story plotlines. Contact us here. 
Step No.4: Write a book Mood and Voice: 
When you decide about the setting of the story, or the characterization, then it is important to decide the mood of the story. Although, when you are outlining the structure of the story, you can decide the mood and voice. If you haven't done that during the first stages of writing, it is advisable to think about it during your writing phase.
Is your mood funny, grave, serious, depressing, light, comic, or sarcastic? For more on this, consider speech writing and types of speeches.
What about the voice of your story in which you are writing? Is it archaic, old-fashioned, modern, urban, country, or informal?
Once you have developed your characters, it would be easier for you to develop your characters. You need to make sure that that your voice must be clear. Regardless of your genre or sub-category, ask yourself, does my story sound confusing? Or do some words need to be deleted or changed? When you can pay attention to your mood and voice, your readers will connect with your book well.
Want to know more about the voice and mood in your book? Our author website design service can help bring your book's voice to life. We suggest you contact our customer representative. We will help you write a book voice that your readers cannot ignore. 
Step No.5: Write a book story. 
Following these steps will ensure your whole structure is planned, researched, and your outline is formulated as well. In this step, you write a book. Your goal is to write down as much as you can about the story.
You have your notes. You have the setting, plot, characters, conflicts, and climax in your mind and the outline. Use your transcripts, recordings, notes, and memories, and create your book story in words.
Remember, if you have created your first draft earlier, this would be the time to rewrite the second draft story. Your passion should run deep while writing. Here are some of the things you need to keep in mind writing, whether it's your first draft or the second.
Be Authentic: 
There are times when we waste too much time trying to create something original and unique. This eats up our time and makes us procrastinate our writing projects than usual. Your goal to write a book should be to create authentic content rather than the original. Our creativity suffers when we try too hard to come up with something that is not ever written or felt, but this will never be the case in writing.
We all share a common background; our ancestors have felt the emotions we feel right now. So it's perfectly alright if you feel like your storyline has been written already. At this point, remind yourself that the story's plot may have been written earlier, but it is not written by you. You are the sole owner and creator of it.
Technicalities: 
When you write a book, one of the things you must avoid at all costs is to edit as you go. This will shun your creative flow and breaks your thought patterns. Your goal should be to write without stopping to change, alter, or delete your words. Keep the editing process for the last part. Editing during the writing will not do justice to your work. Once you are done writing your book, you will have plenty of time to make changes and revise your content.
This guide shares some of the key pointers for the "I Want to Write a book Where Do I Start?" If you want to know what we can do more, contact our customer representative. We'll guide you through the process.