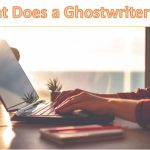 If you are a person who is unable to articulate your thoughts due to:
Lack of time
Lack of writing expertise
Perfectionism or laziness
Then delegating your writing task to a professional writer is the best option. In writing, what a ghostwriter does is that he ensures your writing work is delivered on time, and you remain satisfied with your content. They charge you for their writing services, but the advantage point of hiring their services is that you hold the authority over your content. Until and unless you want to give the author credit, the ghostwriter is not entitled to produce, use, or replicate your write-ups. There are several ghostwriters for every industry. Whether it's fashion or IT, the demand for hiring a person who can write effectively remains high.
Regardless of your writing goals, if you have hired the perfect resource for your project, you will be delivered quality work. What a ghostwriter does is that he will write for you on behalf of the monetary benefits. As mentioned earlier, if you have the best resource to work on your book or the project, you will be anxiety-free because they are great project managers.
So what does a ghostwriter do for you:
What does a ghostwriter do? Point 1 — Articulate your thoughts.
A ghostwriter is a person who works for you for monetary benefits. They ensure that your purpose of communication is fulfilled with efficiency. They are dedicated folks who help you achieve your targets within the communicated time. Irrespective of the gender bias, your ghostwriter will help you formulate your thoughts effectively and coherently. You can also find a niche-specific ghostwriter who is well-versed in a particular industry.
 This means you will not have to hire a person who doesn't know anything about your field. Hiring niche-specific ghostwriters will ensure to follow all the writing conventions and style guides of your Industry. Likewise, they will help you deliver your work at a scheduled time. Besides, writing is a broad genre that is divided into five main Heads: Fiction, Non-fiction, Drama, Poetry, Academics, and Media related writing. Before hiring a person for your content, do check out their writing portfolio or samples.
What does a ghostwriter do? Point 2 —Write Professionally.
Experienced writers know that ghostwriting takes time, especially when you are planning on a well-thought and researched-based work. Therefore, they give you a reasonable time to complete their research and work on the SEO keywords research if you have taken their SEO-based writing services. They are professional writers who have strong command over the language they write in. 
This way, they can ensure the effectiveness of the project. Hiring their services for improving your communication structure would make a huge difference in your work. Your professional ghostwriter will help you produce high-quality work that can make your audience wonder while keeping them engaged.
What does a ghostwriter do? Point 3 — Edit and refine your thoughts.
A ghost editor will help you refine your thoughts to make them clear. They have a critical role to play in writing. A non-edited work is as good as a piece of scrap paper. A ghostwriter is also a partial editor because they are proficient and multi-talented writers who write to clarify your write-ups. Likewise, their long-term relationship with words and texts makes them a perfect editor for your work. 
If you have acquired their writing services, it is advisable to hire their editing services as well because they know all the ins and outs of your book. They know the purpose of your writing. They are aware of your vision and mission related to your work; this makes them a perfect person for conceptual editing.
If you are not satisfied with your current editor's editing skills, you can ask them whom they think can be the best fit for the editing and proofreading part. Professional writers know how important your work is to you. Therefore, they will direct you toward the best resource available for your project.
There are multiple types of editors who can help you polish and refine your work., It entirely depends on the writing process. These types of editors are:
Developmental editor
Line Editor
Copy-editing
Proofreading
What does a ghostwriter do? Point 3 — Offer Flexible Time Management
Your ghostwriter will help you achieve your goals and targets within a short period of time. For many people in business and professional, time is money. Hardworking ghostwriter knows that by heart, and they believe in it with their soul. They know failing to deliver the work on time can put the employer of ghostwriting services into an embarrassing situation and create a bad name for the ghostwriters. In this retrospect, ghostwriters train themselves to deliver their work on time and help them achieve their aims with ease and comfort.
 Besides, writing thousands of words everyday train their mind to write without breaking their flow. Unlike other writers, ghostwriters' writing block time is low because their fingers sync fine with their brain suggestions.
Ghostwriters solely work for themselves, they are entrepreneurs and freelancers, so they understand the importance of timely work. Henceforth, all their strategy is targeted toward building a strong reputation among the clients. This starts with respecting the time of the client. In addition to their effective time management skills, they are flexible as well. If you are a short deadline and want your work to be completed quickly, you can rely on their services. It is possible that they might charge you a bit of extra money, but it is worth it.
What does a ghostwriter do? Point 4— Prefer Collaboration
Some writers have a habit of working in silos. However, ghostwriters are trained in such a way that engages them in collaborative work. They will keep you informed regarding your story development, in the case of fiction, and help you include your thoughts in the book. 
You don't want your content to be entirely ghostwritten. Your audience might not like that, especially when you are communicating new ideas with them. This may also create an ethical issue. Therefore, your ghostwriters are your excellent collaborators. They will support you throughout your writing process.
For them, your satisfaction is important. This will benefit not only you but also them because it is a great opportunity to win recurring clientele. Besides their collaborative and leadership skills, they ensure that your content offers new solutions for the audience. They will take your ideas and combine them with their writing skills and pen them down to offer creative solutions. 
If you have hired a professional ghostwriter, they will help you create worthwhile read content throughout your project. They are open to new ideas and suggestions. They are also expert writers who take criticism and feedback seriously.
What does a ghostwriter do? Point 5— Increase Brand Awareness
With a niche-specific ghostwriter, you can build a concrete brand strategy that will also help you generate new business leads. Brand awareness represents how much a customer is familiar with your brand. If your brand is recognized by a large number of people, there are chances that you can retain and enjoy new income leads. Your customers would be recurring customers that would create a long term impact on the marketplace. 
With a professional ghostwriter, you can gain the required attention through effective marketing strategies. Your ghostwriter will help you in making your customers informed and convinced. Likewise, these satisfied customers will help you engage new audiences for your content. Through expert ghostwritten content, you can:
Generated more income leads
Publish your content regularly
Help your readers and customers to gain clarity
Convert your visitors into clients
Advertise your book or business through content marketing
Customer engagement
Establishing your brand in the market.
What does a ghostwriter do? Point 6— Skill-based Ghostwriting
Ghostwriters are people of strong nerve. They are open to take on challenges and help themselves steer away from stagnancy and inactivity. Their ability to work on a wide range of text such as short story, novel, non-fiction, drama, or academic makes them exceptionally good with words. If your ghostwriter is an effective communicator, you will not have any problems getting your work on time. Their determination to write effectively for the clients makes them ethical and moral in principle. The second most powerful skill they own is communication power.
Their openness to new ideas and thought make them effective communicators. Likewise, they become aware of the clients and audience due to their writing capabilities.
What does a ghostwriter do point 7 — Writing for all
A ghostwriter is paid for their services without getting credit for their work. Sometimes they are credited by authors as "co-author" or "collaborator." They can be hired by entrepreneurs, CEOs, students, academics, writers, and other professionals who want their content ghostwritten. Likewise, bloggers, researchers, music composers, and professors also acquire their services when in need. The client defines the nature of writing projects. 
From ideation and conception to writing and editing, they cover it all. They provide services according to your writing stage and what you need. Sometimes, they also work along with designers and professional illustrations.