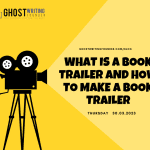 A book trailer is a short video that introduces a book to potential readers. It's like a movie trailer but for books! Book trailers can be exciting, funny, or suspenseful – anything that will make people want to read the book. They're usually only a few minutes long and can be shared on websites, social media, and even in bookstores.
What is a book trailer?
Book trailers are like a sneak peek into your book! These short videos, usually under a minute long, are designed to get readers excited about your book. Just like movie trailers, book trailers set the tone, give a glimpse of the main characters, and hint at the main conflict.
Picture this: you're watching a movie trailer, and you can't help but feel your heart racing with excitement. The same feeling can be created with a book trailer. Some trailers feature actors, while others have illustrations or a unique style, but all of them have one goal – to make readers eager to get their hands on your book.
They are a fun and creative way to showcase your book. They can be shared on websites, social media, and even in bookstores.
Making a book trailer is a lot of fun! You can make one yourself using a camera and some editing software. You can also work with a ghostwriting company to create a trailer that really showcases your book. The most important thing is to make sure your trailer is interesting and makes people want to read your book. With a little creativity and some hard work, you can make a trailer that will be a hit!
Remember, the most important thing is to make sure your trailer leaves people wanting more and eager to read your book. When done right, they can be a game changer for your book marketing strategy.
How to create a book trailer?
Creating a trailer doesn't have to be difficult. With the right tools and a little creativity, you can make a video that will get readers excited about your book.
Figure out how much you're willing to spend on promoting your book, and set aside some of that money for a trailer. Hiring a company to make your trailer is an option, but it may not fit into your budget. The key is to find a solution that works for you without breaking the bank.
If you choose to make a trailer on your own, here are some tips to get you started:
Plan out the content you want to include
Use a good-quality camera or smartphone to film the footage
Choose music that fits the tone of your book
Add text or captions to help tell the story
Use editing software to bring it all together
Making a trailer is an exciting opportunity to showcase your book in a fun and creative way. With a little effort and some imagination, you'll have a trailer that will leave readers eager to read your book.
However, if you don't want to hire a professional and want to create an amazing trailer yourself, then follow the steps mentioned below step by step.
Making your own trailer requires a few tools, and one of the most important is the software you'll use to create it. With so many options out there, it can be tough to choose. But don't worry. The perfect software for you is out there!
Your budget plays a big role in your choice of software. If you're willing to spend money on a new program, make sure you have time to learn how to use it. If you're short on cash, consider using a program you already have access to, like iMovie.
Also, think about your experience with video editing. If you already use iMovie and are comfortable with it, that may be the best choice for you. Or, you can try taking a class on video editing through a site like Skillshare to learn a new program.
Choosing the right software is a big step in making your trailer. Take your time and consider your options, and you'll have a video that truly showcases your book.
Making a trailer is like making a mini-movie for your book. To do this, you'll need to write a script that tells a story. This story will be the foundation of your trailer, guiding every decision you make in video editing and sound design.
Your script should grab the viewer's attention by setting the scene, introducing the main character, and revealing a glimpse of the main conflict. It's like a teaser, leaving the reader wanting more! The climax of the story should be hinted at, creating anticipation, and the trailer should end with a powerful call to action. With a well-written script, your trailer will have a clear direction and purpose, making it engaging and impactful.
A hook is crucial for making your "trailer" a hit! It's what grabs people's attention and gets them excited about your book. If your hook is bland, viewers might not even finish watching the trailer. So, make sure your hook is catchy and packs a punch!
Choose the right visuals based on the book's content
Get creative with your visuals in your trailer! You want to set the scene and get your audience excited about your book.
First, make a list of all the visuals you want in your trailer. Think about using photos, videos, graphics, and more. There are lots of websites with free stock photos, like Pixabay and Unsplash. If you need to, you can also pay a little bit for these assets since the right visuals can make a big difference in your story.
Next, gather your visuals. If you want to show pictures of your book or the setting, consider hiring a professional photographer. For animations or graphics, you can find a designer on any freelance site. You can even include fictional characters from your book or show yourself in the trailer. Just make sure the visuals match the content and mood of your book.

Adjust the look and feel to match your story
The look and feel of your trailer play a crucial role in setting the tone for your story and engaging with your audience. It's essential to adjust the visual elements of your trailer to match the tone of your story and give it a unique touch.
In the design settings, you have the flexibility to change the theme of your trailer or fully customize it to suit your style. From font to text colors, background colors to text styles, and video styles, you have a variety of options to choose from.
You can also add your brand watermark to make your trailer easily recognizable and increase your brand visibility. With these customization options, you can create a visually appealing trailer that captures the essence of your story and keeps your audience hooked from start to finish.
Include a soundtrack and voice-over
Bring your book trailer to life with a captivating soundtrack and voice-over! These elements can make all the difference in your trailer's impact.
Start by adding sound effects and background music that complement the visuals and enhance the mood. Don't be afraid to use silence, too – it can add tension and anticipation.
Spice things up with special effects and create a cinematic experience for your audience. And make sure the audio fits the story and supports the narrative.
Remember, a great trailer requires great audio. So, choose music and voice-overs that match the tone and content of your book. Get ready to take your trailer to the next level!
Publish your book trailer
Now is the time to publish and promote it!
First, pick the right platform for your trailer. To get the most out of your trailer, do some research on the best keywords and eye-catching text and thumbnails. Make sure to edit and upload the video on YouTube to get maximum views.
Think about buying ads on websites and blogs too. This can help you reach even more potential readers and get your trailer seen by even more people. And don't forget to add the trailer to your author website too! Share it everywhere you can to get the word out about your book.
Conclusion:
A book trailer is an exciting and innovative way to promote a book. By creating an engaging and memorable video, an author can effectively showcase their work and connect with potential readers. By following the tips outlined in this blog, you can easily create a captivating book trailer.
Don't let a lack of resources or technical know-how stop you from creating a great trailer. With the right approach and a little creativity, you can create a high-quality trailer that showcases your book in the best light possible. Whether you're a seasoned author or a newcomer, a trailer is a must-have marketing tool for any book. So get started today, and bring your book to life with a fantastic trailer!