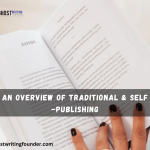 Introduction
A very common thing you must know to become a published author is "how to publish a book". If you don't know this process, it can be hard for you to excel in your career.
There are so many ways to write, share, promote and talk to your audience about your Book in the current times. Similarly, there is also not only one but two ways o publish your Book today. You can publish your Book manually or traditionally, but to do that, you must first know what entails in each publishing process and how you can do it, as detailed in our comprehensive guide on traditional and self-publishing.
So to help you out, we will be showing you how you can be Publishing Book both ways.
What Is Traditional Publishing?
Traditional publishing is when a third party is responsible for publishing and promoting our Book, a process further explained in our article on the ultimate guide to effective blog design, which can also be applied to book layout and design. For your Book to be considered "traditionally published," it must be released by a well-known publishing business. In this type of publishing process, the design of the Book, as well as its sales and promotion, are all handled by experts in this publishing business.
How to publish a book traditionally?
If you have the time and patience, traditional publication is the best approach for Publishing a Book in front of the widest possible audience. Most old-school publishing houses only deal with literary agencies and refuse submissions from aspiring authors, a topic we delve into in our discussion on how to get advanced reader copies (ARCs) for free, which can be a crucial step in the traditional publishing process.
So here is what you would need to do to publish Book traditionally.
Finish your Book or plan and make it look good
First, you need to understand the meaning of "end " doesn't mean that you have completed writing the Book. But instead, it means that your Book has gone through all the editing and proofreading that it needed, and now you don't even want to change an ounce of it.
Your Publishing Book is so good now that there isn't much you could do to improve it. You're not ready if you think the manuscript needs work.
Query Literary Agents
Now that you have finished your Book, you will need an agent to help you publish a book.
Some publishers, like Harlequin for romance and some small or university presses that print literary fiction, don't need an agent. Even so, it can be good to work with an agent. First, their connections with editors who buy books can help you get more attention, and second, they can help you get a better deal.
Your agency won't charge you anything upfront, but they will take 15% of your earnings after the sale.
Like you sent your query to agents, your agent will write a pitch and send it to a carefully picked list of acquiring editors at publishing houses. The best-case scenario is that they already know what these editors like and have a relationship with them. The better the matches they send, the more likely an editor will look at the pitch.
Sign the contract
Now that an editor is ready to buy your Book, you must sign the contract. Once they call your agent, he gives you the editor's offer.
They will tell you what the publisher is offering, including how much money they'll pay you, when the Book will be published, and what they think are the pros and cons of going with that publisher.
Then, you generally meet with or talk on the phone with the editor. You'll discuss changes to ensure you're both on the same page, just like when you first met your agent. Then, when you get back in touch with your agent, they will either accept or reject the offer for you or try to negotiate for a better deal or advance.
The Letter from the Editor
After your contract is signed, your editor will send you a letter with all of the ways they think your Book could be better and a marked-up copy of your Book with line-by-line notes about what they think should be changed in the sentence or word level. You'll probably also talk on the phone about these things.
Then you'll look at their notes and take the Book to the next level (or finish it if it's non-fiction). You might not always agree with what your editor says. You can talk about them, find another way to solve a problem, or, in some cases, just leave things as they are if they're unimportant. The best-case scenario is that you get along well and agree on the big ideas. And once all the process is done, the publishing house will publish your Book!
What Is Self-Publishing?
Self-publishing is when an author prints and distributes their work without using a traditional publishing company, a route that's well-detailed in our self-publishing guide. This is becoming more and more common nowadays, especially for marketing purposes. People are writing so many eBooks. In this process, the writer usually does all the work and publishes it on a repeated platform where people can buy it. This process will allow you the most freedom and power over your creative work when self-publishing.
How to self-publish a book
So now that you have gone through the traditional publishing path, this process will be easier for you to understand the working of self Publishing books. First, you need to write a book, as we mentioned above, but the good thing is you don't need to find an agent. You can do it yourself without the help of any third party interfering. So what is left to do? Let's see…
Choose the Right Publishing Platform
With the rise of self- Publishing Books, numerous platforms have emerged to help authors bring their work to market. Research and evaluate different options to find the platform that aligns with your goals and budget.
Some of the Popular choices for Publishing a Book, according to the experts at ghostwriting founder, include
Amazon Kindle Direct Publishing (KDP)
Smashwords
IngramSpark
Consider factors such as distribution, royalties, marketing tools, and ease of use when deciding.
Marketing and Promotion
Publishing a book is just the beginning; book marketing and promotion are vital to attracting readers. Leverage social media platforms, create an author website or blog, and engage with your target audience through content and giveaways.
Seek out opportunities for book reviews and author interviews, both online and offline. Use paid advertising options like Amazon or Facebook ads to reach a wider audience. Remember, effective marketing with an amazing book cover can significantly impact the success of your self-published Book.
Conclusion
Whether you choose traditional or self-publishing, the journey to publishing a book is exhilarating. But, Whichever path you take, remember that crafting a compelling story, polishing your manuscript, and investing in professional cover design and editing are crucial steps.
Embrace the evolving landscape of publishing, harness the power of digital platforms, and never underestimate the importance of effective marketing. So, go forth with confidence, passion, and unwavering determination, and let your words captivate readers worldwide.