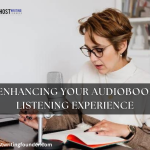 Listening to books and podcasts is a great way to learn and relax. You can listen while driving, working out, or just chilling. Numerous options are available for platforms. Several novels are available on Audible. You can customize each platform to your preferences. You'll find it here whether you're looking for a good story or some fresh information.
Now let us search for a pleasant and simple alternative to reading from a physical book. If you're looking for new music to enjoy, try these services.
Best Audiobook App
Now let us search for a pleasant and simple alternative to reading from a physical book. Moreover, these are approved by Ghostwriting Founder and Audiobook services, so certainly, these are tested ones. So, if you're looking for new music to enjoy, try these services.
Audible
This Amazon-owned service is the leader in the audiobook and podcast market and for a good reason. With an Audible account, you can get almost any book you can think of, and books and titles are only available through them. Their algorithm for recommending books is top-notch, offering titles based on what you've previously listened to, similar to the curated selections found in best book club books for 2023. You can also choose between Audible Plus and Audible Premium Plus, which offer monthly service levels.
Both Audible memberships allow you unlimited access to the 'Plus' collection, but the Premium deal gives you one credit a month to buy any book in Audible's large library. Audible Plus contains over 10,000 books, but the full Audible catalog has 470,000 recordings. Unlike many other apps that only let you listen to audiobooks during your contract, you can retain your titles permanently.
Scribd
Scribd might be the right Audiobook App for you if you want to listen to audiobooks, ebooks, podcasts, and news sources like The New York Times all at once. Their huge library has a good mix of traditionally released books, popular on TikTok and Scribd Originals.
Scribd also has a partner program that gives you one free month for every friend you invite. It gives your friend a two-month trial instead of the usual 30 days. You're streaming the books when you use Scribd, which means you don't own them and can only read a certain number of titles per billing month, based on where you live.
Kobo Books
Kobo Books is best known as a place to buy ebooks but also sell podcasts. The 'Kobo Plus Listen' plan is cheaper than Audible Premium Plus because it gives unlimited access to over 100,000 audiobooks in their library. They also have a "Kobo Plus Read and Listen" plan, which costs a little more but gives you access to 1.3 million ebooks and podcasts.
The app also tracks your purchases, and data-obsessed readers will love its stats because it reveals your reading tendencies and recommends new books based on what you've read.
Blinkist
Blinkist is more than just a podcast app. It's also a learning app and a very good one at that. Blinkist is a service that focuses on non-fiction. It gives quick, 15-minute summaries of over 5,500 non-fiction books, video book trailers and videos that summarize the main ideas. You can choose their monthly plan, which doesn't come with a free trial, or their yearly plan, which gives you a 7-day free trial.
Remember that even though their outlines are full of information, they are also full of facts. Some people might not want just a summary of the book. If you think the devil is in the details, you might be able to get the whole podcast on another app for the same price.
Blinkist doesn't just hand you the most important ideas; it also gives you personalized suggestions based on what you listen to. So it's easy to find the next book you want to read. If you want to learn more about a topic that interests you, you can get full-length audiobooks at discounted prices only available to Blinkist premium users.
Barnes and Noble's Nook
The Barnes and Noble Nook Audiobook App. Contains over 3.6 million free ebooks, digital comics, newspapers, magazines, and podcasts. After the 30-day free trial, the membership gives you one monthly credit for any audiobook from their library. If you join, you get one free podcast and a discount on numerous of their books.
FM Realm
Realm FM is like an audiobook app, but it offers immersive stories and podcasts only available on its platform. They have short shows of drama, fantasy, sci-fi, and other stories that are easy to digest. After a two-week free trial, you can choose between an annual or a monthly membership. And while you can listen to a lot of the app's material for free, a paid membership removes ads and gives you access to other special deals.
Realm FM is available on both iOS and Android, and you can also buy a collection of Marvel and DC Comics audiobooks (with a discount for Realm Unlimited members) from them separately. The bad thing is that you can't find any popular audiobooks you're looking for here. But if you want new and original content you can't find anywhere else, the Audiobook App is certainly worth looking at.
Bookmobile
Bookmobile was made based on feedback from people who listen to audiobooks. Its goal is to make listening to audiobooks a better experience. It was designed to avoid sliders and other distracting controls, making it easy to play/pause, skip forward or backward, and create bookmarks.
After the 60-day free trial, which lets you listen to up to 5 audiobooks, you can sign up and listen to as many audiobooks as you want every month. Since the audiobooks and podcasts added to the app come from other sources, the app doesn't have much to give regarding content. The Audiobook App also has an interesting "driving mode" that makes it safe to listen to audiobooks while moving.
Smart Audiobook Player
Smart Audiobook Player is another app for listening to audiobooks that don't have any of its material. It lets you add audio files and care for everything else. The negative is that the app has no content, so you receive what you put in. This audiobook tool lets you edit book cover graphics to give your files a complete look, but it may not be the greatest choice for popular or new audiobooks. It sounds well with LibroFM, LibriVox, and other music, making it easy to listen to.
eStories
eStories has over 120,000 audiobook titles of many different types to choose from. For the first 3 months, you can get a half-price subscription, but after that, the price goes up. Members get discounts on more podcasts and other perks, like extra credits and more time to use the service. You also have 30 days to return a book if you don't like it if you're a member. Also, the app gives you unlimited space to store and listen to the audio files that you share.
Conclusion
Listening to audiobooks and podcasts is now easier than ever. You can enjoy new and classic books on the go with many options like Audible, Scribd, Kobo Books, and others. Whether you want a thrilling story or quick learning, these services offer something for everyone. It's a fun, simple way to keep reading in your busy life. Try them and find your favorites!