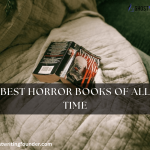 The most effective works of horror fiction have the uncanny ability to play on our darkest anxieties and send a shudder down our spines. Here we will go into the realm of the best horror books. We will unearth the most bone-chilling and spine-tingling tales that have captivated readers for years. We hope you enjoy this look into the world of the best horror books ever written.
Several stories within the canon of traditional horror fiction have endured the passage of time and continue to captivate readers with the enduring terrors they depict.
Best Horror Books of All Time
Let us go even further into the spine-tingling storylines list by Ghostwriting Founder and Horror book writing services of these works of art that continue to give us the chills.
At the Mountains of Madness by H.P. Lovecraft's
When talking about contemporary horror, H.P. Lovecraft must inevitably come up. His type of cosmic horror, which centers on humanity's insignificance in the face of aliens with unfathomable power, has inspired a legion of writers who have followed in his footsteps. The polar mission to find a long-lost extraterrestrial race, the Elder Things, goes tragically wrong in Lovecraft's seminal work, At the Mountains of Madness. The virulence of Lovecraft's xenophobia, racism, and white supremacist beliefs are, unfortunately, central to any examination of his work.
The Bad Seed by William March
The Bad Seed was a best-seller upon its initial publication in 1954, much like the enduring works discussed in 15 Best Horror Authors You Must Read. and a National Book Award finalist. A seemingly harmless little girl named Rhoda is at the center of tragic accidents, and the story paints a disturbingly plausible and believable portrayal of her. At the heart of this provocative and unnerving tale is Rhoda's mother's understanding that her daughter may be responsible for the "accidents" and that she may have played a role in this. Few novels of its genre have the same relentless buildup to a shocking finale as The Bad Seed.
Beloved by Toni Morrison
Reading Toni Morrison's Pulitzer Prize winner is challenging due to the heavy emotions and pervasive fear that permeate every page. Beloved is a traditional ghost story, a genre explored through various sad poems about love and loss. It is about a formerly enslaved person who suffers from supernatural terrors because of a terrible secret from her past. In a broader sense, it's an analysis of guilt, the depths to which human despair can sink, and the mental damage caused by slavery. Beloved is a novel that is both unforgettable and devastating.
Clive Barker's Books of Blood 1-3 by Clive Barker
Clive Barker's unique, unrelentingly grim brand of horror established him as a leading figure in the genre's modern evolution. The six-volume Books of Blood short story collection served as the catalyst. The first book in the series won a World Fantasy Award and established Barker's formula for stories about regular people thrust into unimaginably horrific and unabashedly disgusting circumstances. If you've never read anything by Clive Barker, start here.
The Novel Carrie by Stephen King
While we have enjoyed many of Stephen King's books, his works are often featured in discussions about writing great short stories. we always have a special place in our hearts for his first, Carrie. The scariest element of the book isn't what Carrie does; it's what she puts up with before she breaks. It also has the most iconic dance number in film history.
The Case Against Satan by Ray Russell
A girl suspected of being possessed prompts the dispatch of two priests for an in-depth examination. What about The Exorcist? A novel of theological horror, The Case Against Satan by Ray Russell, precedes even the detailed analysis found in American Horror Story Season 11 Ending Explained. came out eight years before William Peter Blatty's The Exorcist. Readers interested in a sophisticated examination of both the supernatural and a crisis of faith should try The Case Against Satan.
The Changeling by Victor LaValle
When Apollo Kagwa's wife and newborn son are taken from him, he becomes motivated to rescue them and fulfill his dream of being the kind of father he never had. As a cautionary fairy tale and a beautifully terrifying horror thriller, LaValle takes a piece of classic Western European folklore to the current day.
Come Closer by Sara Gran
You've probably done something and completely forgotten it later in life. To explain the succession of rather harsh insults written on a report she provided to him, Sara Gran opens her strange and unsettling novel Come Closer by being summoned to her boss's office. Later that night, she and her husband hear a soft but constant tapping throughout their house. The events that unfold next will have you staying up late. You will turn pages while a chill of dread spreads through your body.
The Devil in Silver by Victor LaValle
Pepper, a typical working guy, has a run-in with the law and ends up in a mental institution. His defiance causes problems for him with the hospital administration and the other patients, some of whom fear a monster lurks among them. Pepper initially doesn't believe their accounts, but that changes the night he encounters the monster for himself. Pepper must now decide whether to comply with the program or take action against a threat that the staff seems eager to ignore.
Dracula by Bram Stoker
This work has been around for nearly a century but still packs a punch. Dracula is more than just a vampire story; it is a vampire story. It pits cutting-edge science against age-old superstitions, Victorian mores against barely repressed sexual urges, etc. It's high time you read Dracula if you haven't already, and perhaps explore the classic books to read at least once in your lifetime.
The Drowning Girl by Caitlin R. Kiernan
Author Caitlin R. Kiernan has mastered writing about mental illness without resorting to sensationalism. She is also an expert at keeping the bizarre, weird, spooky, and atmospheric elements strong throughout the narrative. The Drowning Girl is a must-read because it combines elements of a ghost story, a character study, and something else.
Conclusion
The field of horror fiction encompasses a broad and varied body of work, much like the complete book tropes list that writers use to craft their stories. You can find horror books that range from traditional gothic stories to contemporary psychological thrillers. It doesn't matter if you're more interested in monsters, vampires, psychological torture, or otherworldly riddles; a horror book out there will leave you feeling haunted and enchanted. But it is always advised not to just make an opinion after seeing only a video book trailer before listening to or watching a video book.