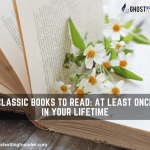 Classics books are not merely old stories; they are windows into the past, mirrors reflecting the present, and bridges connecting us to the future.
Each classic book carries the echoes of the era it was written, offering readers a glimpse into historical contexts, social dynamics, and cultural norms that have shaped our world.
By reading, you can know and relate with characters who struggle with familiar dilemmas, confront universal emotions, and grapple with perennial questions of morality, love, ambition, and the human condition.
Best Classic Books Everyone Should Read:
The timeless classics will encourage you to take a deep breath, settle in, and enjoy the soothing power of words. All these books deserve to be considered among the best fiction books ever written.
Following are the suggestions of Ghostwriting Founder. The list will help you choose the best one for you:
1- Pride and Prejudice
Elizabeth Bennet and Mr. Darcy's tangled love tale is a timeless classic that has been repeated in numerous forms. Modern updates on the classic story include Pride and Prejudice and Zombies, and Bridget Jones's Diary.
Austen's writing is as engaging and contemporary now as it was when the novel was first released in 1813. This is widely regarded as one of the best romance novels ever. According to literary critics, it also ranks among the most beloved and best-selling books of all time (and across all genres).
2- To Kill a Mockingbird
Harper Lee's Pulitzer Prize-winning novel humorously and compassionately addresses racial inequity and segregation. Mischievous youngsters Scout and Jem, the novel also introduced readers to one of literature's most adored heroes, Atticus Finch.
To Kill a Mockingbird is a novel written from Scout Finch's point of view when she is ten years old. The story follows her father, Atticus Finch, a small-town lawyer in the 1930s Deep South, as he fights against racism. This classic books coming-of-age tale may be one you read in school. It's worth reading again now that you're an adult. The major themes are heartbreaking and resonant even now.
3- Catcher in the Rye
Holden Caulfield, the angsty protagonist in a novel known for its wit, poetry, and heart, is a literary legend.
In 1951, J. D. Salinger wrote Catcher in the Rye, a book that wonderfully conveys the solitary adolescent experience. Writers aiming to capture a strong narrative voice in their scripts can find valuable tips in our guide on writing short film scripts that connect.
Also, growing up and leaving behind the sweetness and purity of childhood.
Even though young adult fiction book writing in its modern form didn't exist when J.D. Salinger wrote the novel, it is still frequently assigned reading in high schools because of its status as one of the earliest teen books.
4- One Hundred Years of Solitude
One Hundred Years of Solitude was Gabriel Garca Márquez's (who has since passed away) seminal novel. The novel chronicles the lives of the Buenda family through seven generations, from the founding of the city of Macondo to the final destruction of the town and its inhabitants.
The novel delves into the magical realism subgenre by highlighting the remarkable character of ordinary things and normalizing the supernatural. Márquez emphasizes the significance of myth and folklore in conveying Latin American history and culture.
Márquez was awarded the Nobel Prize in Literature in 1982 for his work. The novel is his most outstanding achievement.
5- Jane Eyre
One of literature's most iconic heroes was first seen in Charlotte Bront's masterpiece. Jane Eyre, an orphan, endures brutal treatment at the hands of her guardians and school, but her strength of character and determination ultimately win out. Those crafting narratives with resilient characters might benefit from our professional children's book editor services.
When she accepts a post as governess at Thornfield Hall, she has no idea she will fall in love with the house's brooding master.
As classic books that have stood the test of time, Jane Eyre is a story that will never be forgotten.
6- Greyfriars Bobby
Auld Jock travels to Edinburgh in search of new employment. Unfortunately, he has no luck in the city and is forced to live on the streets.
Poor, elderly, and sick, Jock has only Bobby, the Skye terrier from the farmer who fired him for company. Bobby gets away from the farmer when he tries to return the dog and eventually returns to the city.
The incident solidified his devotion to Auld Jock, and he spent many years watching over the old man's grave in Greyfriars kirkyard. Based on actual events, Eleanor Atkinson's Greyfriars Bobby is a beautiful depiction of Edinburgh in the late nineteenth century and the heartbreaking tale of an unbreakable friendship.
7- The Underground Railroad
The Underground Railroad by Colson Whitehead was an unprecedented classic book success in 2016, topping the New York Times bestseller list and garnering Whitehead both the Pulitzer Prize and the National Book Award.
Whitehead constructs a complex narrative that spans the time before the Civil War to the present day for African Americans, imagining the Underground Railroad as a network of railroad tracks throughout the South. This novel is unlike anything you've read before, making it perfect for your next book club meeting.
8- Fahrenheit 451
Ray Bradbury wrote several great science fiction stories, but his masterpiece, Fahrenheit 451, is universally regarded as his finest work. For authors looking to share their visionary works with the world, our book publishing services can help bring your ideas to fruition. Guy Montag, a young fireman facing a moral dilemma, is at the center of this significant and thought-provoking novel on censorship.
A series of events causes Guy to reconsider the rule he has sworn to uphold—his job is to burn books and the residents' houses, hiding the prohibited contraband.
9- The Bell Jar
Among these classic books, Sylvia Plath's The Bell Jar is a realistic portrayal of mental illness. The novel is a semi-autobiographical story. The novel follows college graduate Esther Greenwood as she struggles to find joy and peace after graduation.
10- The Invisible Man
It is a masterpiece of fiction book writing, the protagonist is a mysterious stranger who enters an inn on a chilly winter night in rural Sussex with his face covered in bandages. Aspiring authors interested in the speculative and science fiction genres may explore our science fiction writing services for assistance in crafting their own stories. and his body covered in a long, heavy coat. He stays in his room all day, tinkering with chemicals in elaborate bottles.
The villagers, puzzled by what they don't see behind the bandages, have no idea that the man is a scientist who has made himself invisible and is desperately trying to find an antidote. He runs to the coast's rocky, cliffy area, where the police and an angry mob are sure to find him and where he plans to exact his bloody revenge.
Conclusion
In literature, classic books stand as monuments to the power of the human mind and the ability to tell a story. They remind us of the things that link us all, no matter where we live or when. By reading these pages, we start a journey of learning, understanding, and getting to know ourselves.