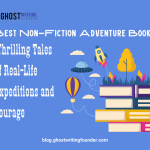 If you're looking for thrilling and captivating reads, you're in for a treat. We've compiled a list of 10 incredible non-fiction adventure books that will transport you to the most daring expeditions. This list will show you all the amazing trilling books of the amazing adventurers.
These stories are so gripping that they'll keep you turning the pages well into the night, regardless of age. So, fasten your seatbelts and begin this literary adventure!
"Into the Wild" by Jon Krakauer
Our first pick in our list of Adventure Books is "Into the Wild" by Jon Krakauer, which takes you on the journey of Christopher McCandless. In this book, a young man abandoned his conventional life to wander the wilds of Alaska. With simple language and vivid descriptions, Krakauer paints a vivid picture of McCandless's adventures and the breathtaking landscapes he encounters.
"The Boy Who Harnessed the Wind" by William Kamkwamba and Bryan Mealer,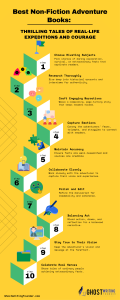 According to our Ghostwriting Founder team, the next amazing book is The Boy Who Harnessed the Wind. In this book, you will meet William Kamkwamba, a bright young boy hailing from the beautiful land of Malawi.
William's incredible story is about his cleverness and creativity, which he used to give his drought-ravaged village a precious gift: electricity and clean water.
The story unfolds with wonder and amazement as you witness the power of determination and the magic of innovation.
You'll discover that "The Boy Who Harnessed the Wind" is not just an adventure story. It's also a tale of incredible perseverance and thinking outside the box. Through William's eyes, you'll understand the importance of never giving up, no matter how big the obstacles may seem.
His story will inspire you to embrace your creativity and resourcefulness, reminding you that even the most daunting challenges can be overcome with a little ingenuity and heart.
"The Incredible Journey" by Sheila Burnford
Have you ever imagined a grand adventure where two dogs and a clever cat set off on a thrilling journey? Well, that's precisely what "The Incredible Journey" is about! In this amazing Adventure Book, you'll meet Luath and Bodger, two faithful dogs, and Tao, a smart Siamese cat.
They all will set on a daring expedition deep into the heart of the Canadian wilderness. Their mission? To reunite with their beloved family.
What makes "The Incredible Journey" even more special is Sheila Burnford's storytelling. Her words are like a gentle guide, leading young readers through the adventure with ease and excitement.
Her descriptions of the animals' bravery and unwavering loyalty to one another will tug at your heartstrings and keep you on the edge of your seat.
This classic adventure is not just for the young; it's for the young at heart. Sheila Burnford's writing is so captivating that readers of all ages will find themselves immersed in this book. It's a timeless story that reminds us of the enduring bond between humans and their animal companions, making this an amazing choice in Adventure Books.
"The Lost City of Z" by David Grann
David Grann's "The Lost City of Z" recounts the true story of British explorer Percy Fawcett, similar to the tales in classic books to read at least once in your lifetime. This is a story where the explorer disappears in the Amazon rainforest while searching for a mythical lost city.
This gripping narrative provides a fascinating look into the challenges and mysteries of the unexplored jungle.
"Touching the Void" by Joe Simpson
Imagine this: High in the icy peaks of the Andes, where the air is thin, and the landscape is both breathtaking and treacherous, Joe Simpson and his climbing partner find themselves in a life-and-death situation.
A simple slip leads to a disastrous fall, leaving Simpson with a shattered leg and his friend with an impossible decision. Separated by a vast ice crevasse, it seems all hope is lost.
Yet, against all odds, Simpson's relentless will to survive becomes the guiding force in this gripping tale. If you like that sound of this, then among all adventure books, this might be your choice, especially if you're interested in how to write an adventure story.
So, What sets "Touching the Void" apart is Simpson's extraordinary talent for storytelling. With simple yet vivid prose, he recounts his ordeal with such clarity that readers of all ages can feel the intensity of his struggle. You'll be with him, clinging to the ice and facing the same uncertainty.
But this survival story is more than just a thrilling adventure. It's a testament to the incredible human spirit, the strength of determination, and the unbreakable bond between friends. As you turn the pages, you'll be inspired by Simpson's resilience and unwavering desire to return home.
"My Side of the Mountain" by Jean Craighead George
For younger adventurers, "My Side of the Mountain" by Jean Craighead George is delightful. It tells the story of Sam Gribley, a boy who runs away from home to live in the wilderness of the Catskill Mountains. The book is an adventure and a guide to survival skills in the great outdoors.
"Endurance: Shackleton's Incredible Voyage" by Alfred Lansing
Alfred Lansing's "Endurance" recounts the astonishing journey of Sir Ernest Shackleton and his crew as they battled the harsh conditions of Antarctica after their ship was trapped in ice.
The book's engaging narrative style ensures readers of all ages can appreciate this remarkable story of survival and leadership.
"Wild: From Lost to Found on the Pacific Crest Trail" by Cheryl Strayed
In "Wild," Cheryl Strayed takes you on her solo adventure along the challenging Pacific Crest Trail, a journey of self-discovery much like those in best autobiographies of all time. Her honest and relatable writing style is so amazing that you will enjoy it no matter if you are 15 or 50 years old. This makes this book a compelling read about personal growth and resilience in adversity.
Conclusion
These amazing non-fiction adventure books offer thrilling tales of real-life expeditions and courage, much like the stories found in best psychology books, understanding the human mind and behavior. that will keep you hooked from the first page to the last.
Whether you're a young reader looking for an exciting story or an adult seeking a captivating adventure, these Adventure Books have something for everyone. So, grab a copy, get comfy, and prepare to be transported to worlds of daring exploration and unwavering determination, and perhaps discover how to self-publish a book, if you're inspired to tell your own adventure.