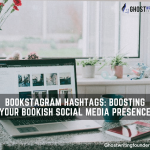 Hashtags increase social media posts' organic reach. Use hashtags to promote your book on social media and reach more people.
Hashtags are something you've probably encountered if you use social media. Have you ever seen a social media post with the hashtags "#Books," "#Love," or "Bookstagram Hashtags" at the end of it?
So, these hashtags play a significant part in social media promotion, online book promotion, and expanding one's audience.
In the digital realm of social media, a hashtag is a term preceded by the hash symbol (#). Social media sites it is used to make it easier to discover posts or information with a particular theme or content.
How to Make the Most of Hashtags for Book Promotion?
Hundreds of thousands of posts are uploaded daily to social media platforms. Users rapidly become overwhelmed by an abundance of content. They become disoriented.
Also, Bookstagram Hashtags can continue navigating through content they are not interested in viewing. In this situation, hashtags save the day. Using hashtags simplifies sifting through digital noise and focusing only on desired content.
However, the hashtag trend originated on Twitter but has since spread to Instagram, TikTok, Facebook, and YouTube.
1- Select Hashtags Wisely
It would be unwise to use arbitrary hashtags in a post in the hope of attracting a large number of new followers. Also, if you want to make an impact with hashtags, choose the most effective ones.
Similarly, there are numerous online resources for locating prominent and industry-specific hashtags for writers. As a book author and Ghostwriting Founder, you want to use something other than #Partying or #SuperBowl2021 to increase your exposure. Choose your hashtags accordingly!
2- Avoid Overusing Hashtags in Your Posts
It is an offense to overuse hashtags in a post! Literally! To effectively market a book and get the most out of your post, use Bookstagram Hashtags that are pertinent to your post.
Therefore, there are varying strategies for various social media platforms; therefore, you should utilize them according to the forum.
Also, multiple studies indicate that the optimal number of hashtags on Instagram is nine. Use five hashtags on Tik Tok for maximum benefit.
3- Create Your Very Own Hashtags
Create personalized identifiers for your social media posts after cultivating a credible audience. Therefore, create hashtags if a book signing or marketing event is imminent or your book's release is imminent. Keep it straightforward and delicious! To maximize the effectiveness of your Book Marketing services and book promotions, incorporate popular hashtags with your own.
4- Make The Most of Trending Hashtags
Trending Bookstagram Hashtags focus on what people are discussing now. However, there are numerous trending hashtags for writers currently making their imprint. Utilize a trending hashtag pertinent to your niche if you discover one!
Utilize this phrase to engage the audience. It will increase the value of your post. If you do so, you can avoid losing your position in the vast sea of unseen posts.
5- Be Exclusive
After becoming a writer, you want to distinguish yourself from other authors. Also, you can accomplish this by being distinct and specific. As a book author, you want to use a hashtag to promote your book and reach your community of bibliophiles.
If you want others to share or retweet your post, you must use unique identifiers and expect them to do so. Without a doubt, hashtags are the most effective social media marketing instrument for book promotion. It would help if you employed the most effective strategies and procedures to maximize your benefits. It takes effort, but in the end, it pays off.
6- Use Social Media Sites Differently
Is there a preferable platform for book promotion on social media? It truly depends on how each is optimized. Similarly, that implies you need a unified social media marketing strategy. Each forum has a unique demographic of users, and the optimal type of content for each platform also varies.
Therefore, you must do better if you believe you must post the same work everywhere. Maintain content appropriate for each social media platform. TikTok and Instagram target younger generations. Also, they are suited for highly visual content, with TikTok being a platform for video content.
7- Appropriate Hashtags
Bookstagram Hashtags make your content visible to the appropriate users, whether or not they are already following you. Simply including a hashtag can increase your content's exposure to accounts searching for that hashtag; it's a simple way to keep your campaign expanding.
Similarly, utilizing hashtags that do not have millions of followers is a helpful strategy. It will increase the likelihood that the post will be "s and not submerged beneath thousands of other positions.
Best Hashtags for Book Advertising
Here are some of the most effective hashtags for social media book promotion:
The #amreading hashtag is ideal for promoting and connecting with readers reading or looking for new books.
#bookstagram is a popular hashtag on Instagram for sharing photos of books, book reviews, and other book-related content.
The #bookish hashtag is ideal for bookworms and is used to share anything related to books. Therefore, such as book reviews, book hauls, and bookish memes.
#bookpromo is a hashtag specifically for book promotion that can be used to promote your book. Therefore, it can exchange reviews and connect with readers.
#indieauthors: This hashtag promotes independent authors and their work and is a beautiful way to connect with other indie authors and readers.
#bookworm Bookstagram Hashtags are ideal for readers and enthusiasts and for sharing anything related to books, from book reviews to book recommendations.
#fiction hashtag is ideal for advertising fiction books and communicating with readers interested in your genre.
#nonfiction is the ideal hashtag for promoting nonfiction publications and connecting with readers interested in your topic.
#ebook is an ideal hashtag for promoting ebooks and connecting with readers who prefer perusing on digital devices.
The #bookbloggers hashtag communicates with book bloggers and reviewers who can promote your book and help you reach a larger audience.
Conclusion
Utilizing Bookstagram Hashtags effectively can be a fantastic way to promote your book and reach a larger social media audience. Combining popular and specific hashtags can increase your visibility and communicate with readers interested in your genre or topic. Also, research the best hashtags for your book and use them consistently on social media to maximize your book marketing efforts.