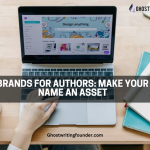 Are you an author who wants to make a name for yourself in the literary world? Do you want to create a brand representing your writing style and helping you connect with readers?
Your name is not just a label. It's an asset. Author branding is the one thing that readers will remember long after they finish your book. It is the key to building a successful writing career, attracting new readers, and generating buzz around your work. That's why it's crucial to approach your brand as an author with the same level of care and attention that you give to your writing.
Understanding the Importance of Author Branding
Author branding is not just for businesses but also for authors. A strong brand can help you stand out, build trust with your readers, and create a loyal fanbase.
When you think of successful authors, you immediately associate them with their brand. For example, J.K. Rowling is known for her Harry Potter series, and Stephen King is known for his horror novels. As an author, your brand represents your unique voice, writing style, and personality.
Identifying Your Niche
The first step in building a brand as an author is to identify your niche. What type of books do you enjoy writing? What is your writing style? Who is your target audience? Answering these questions will help you identify your niche and create a brand that reflects your unique writing style. After identifying your niche, you can focus on creating content that appeals to your target audience.
Define Your Brand Identity
Your brand identity is what sets you apart from other authors. It's what makes you unique and memorable. To define your brand identity, consider your writing style, genre, target audience, and values. What makes your writing different? Who is your ideal reader? What message do you want to convey?
Once you have a clear idea of your brand identity, use it to guide your marketing efforts. Your author branding should be reflected in everything you do, from your book covers to your author bio. Consistency is key to building a strong brand.
Creating a Professional Website
A professional website is an essential component of an author's brand. Your website should showcase your writing style, provide information about your books, and allow readers to connect with you. It should have a clean and easy-to-navigate design that reflects your brand. Your website should also include a blog where you can share your thoughts, insights, and updates with your readers.
Leveraging Social Media
Social media is an effective tool for building your brand as an author. It allows you to connect with your readers, share your content, and build your fanbase. Choose social media platforms that align with your brand and target audience. For example, if you write young adult fiction, you may want to focus on Instagram and TikTok. If you write non-fiction, LinkedIn may be a better fit.
Creating Engaging Content
Engaging with your readers is crucial for building a strong brand. Take the time to respond to comments and messages, host Q&A sessions, and interact with your followers on social media. Show your readers that you value their support and appreciate their feedback.
Creating engaging content is the key to building a loyal fan base. Your Book Writing Company should reflect your unique writing style and provide value to your readers. This can include blog posts, social media updates, and even videos. Ensure your content is consistent with your brand and speaks to your target audience.
You can also offer exclusive content or incentives to your email subscribers, such as sneak peeks of your upcoming books or special discounts on your merchandise.
Networking with Other Authors
Networking with other authors is a great way to build your brand and expand your reach. Attend writing conferences, join writing groups, and connect with authors on social media. Collaborating with other authors can also help you reach a new audience and build your brand.
Look for opportunities to guest post on other authors' blogs, participate in writing challenges or book clubs, or collaborate on a joint project.
You can also collaborate with brands that align with your values and target audience. For example, if you write romance novels, you could partner with a company that sells candles or chocolates.
Building Your Email List
An email list is a valuable asset for author branding. It allows you to connect with your readers directly and keep them updated on your latest releases and promotions. Encourage readers to sign up for your email list.
Monitor Your Brand's Reputation
Finally, it's important to monitor your brand's reputation and ensure that it aligns with your values and goals. Use tools like Google Alerts or social media monitoring software to keep tabs on what people say about you and your books.
If you receive negative feedback or reviews, take the time to address them professionally and respectfully. Use criticism as an opportunity to improve your writing and your brand.
Examples Of Author Branding
Many authors do a good job of Biography Writing and building their author brands.
– Brene Brown
Brené Brown does a great job of building her brand. She is the same on all of her social media accounts. Her website is easy to use and understand, and she makes it clear who she is and what her books are about. Even though she uses different styles and colors in the paragraphs above, they all have the same theme of bravery and overcoming inner obstacles.
– J. Rowling, K
J.K. Rowling is another author who has a strong brand.
She has spent years getting her author brand just right, and she has done a great job of it. Her book cover art, website, and social media are consistent with the author's branding.
She chose a topic she was good at and stayed with it because she knew and understood who she was writing for.
– Stephen King
Stephan King is a great example of a well-known book brand.
He wrote thrillers, his specialty, and he knew exactly who he was writing for. He built his brand around the genre and was consistent across all his books and platforms.
He knows how to use the right styles, photos, and artwork to attract his audience and stay true to his brand.
– Eric Carle
Eric Carle has done a great job establishing himself as a writer for kids. His name as an author is built on "The Very Hungry Caterpillar," his best-known book.
This is a great strategy because it has given him a focus for his business and given people something they can remember about him.
His identity and uniformity across all of his channels can't be beat. His website has amazing paintings of animals that are all over the place. He also has these paintings on all of his other social media. He knew what his fans liked, and he was able to make a good name for author branding.
– Jack Ketchum
Jack Ketchum is the last author I'll talk about, who has a great name. What Jack did to build his author brand was very smart. He branded himself as "The Scariest Guy in America," and then he got another well-known horror author, Stephan King, to further back up his brand.
He's established himself as an authority in his field and given his business a clearer, more concise identity as a result.
Conclusion
Building your brand as an author requires more than just writing great books. You need to establish a clear and consistent message across all of your marketing channels, from your website to your social media profiles. By making your name an asset, you can increase your visibility, grow your audience, and ultimately sell more books. As you become more successful, your brand can become a source of income in its own right through merchandise, speaking engagements, and other opportunities.