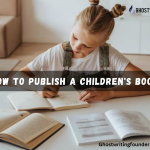 Writing and publishing a children's Book is an exciting opportunity to share ideas and creativity with a broad audience. It doesn't matter if you have a great story in mind or interesting characters ready to jump off the page.
From writing and editing to finding the right distributor and figuring out the world of drawings, this trip will take hard work, study, and patience. For more insights on the editing process, consider exploring Book Editing: A Comprehensive Writer's Outline. So, if you're ready to publish a children's Book, start this writing experience, and bring joy to children's lives, let's dive into the magical world of writing a children's Book.
Different Ways to Publish Children's Books
There are three ways to publish a children's Book, like there are three ways to post any other fiction: standard, independent, and self-publishing.
Let's look at each of these choices in more depth.
1-Indie Publishing
Independent publishing, or "indie" publishing, is becoming increasingly common.
Independent publishers are small presses that take work not being asked for, similar to how Best-Selling Non-Fiction Books made their mark without following traditional routes. In other words, you don't have to sign a contract with a literary publisher before sending them your Book.
Independent companies pay you in many ways and how much power they give you over your work. Some independent companies let you pick your artists, while others do it for you.
2- Traditional Publishing
The usual way to get your book published is to hire a literary agent and then send your book to one of the big publishing houses.
A publishing house will sign a deal with you if they like your Book. It is important to understand the importance of professionals. There will be fewer chances of mistakes with the help of them.
3- Self-Publishing
You are in charge of the whole process when you print a book yourself. To publish a children's Book, you must decide who will review the text, who will make the drawings, how the Book will be promoted, and everything else that goes into making a book.
Self-published writers have to do a lot of things, and mastering the art of multitasking is key, much like the strategies discussed in 30 Book Marketing Ideas. You'll need to do more than write to be successful. You'll also need to be a good businessperson and marketing master.
The good news is that you don't have to go through any censors. You can still self-publish a great children's story, even if it doesn't fit what managers and standard publishers seek, as detailed in the guide How to Self-Publish a Book.
How to Publish a Children's Book?
It takes work to write a whole book. Remember to take a break and enjoy how far you've come. Once the party is over, it's time to figure out what to do next. How do you get your book out there?
We will show you how to print a children's book step by step and help you decide which publishing road is best for you.
Refine Your Manuscript
Improving your work is a key step in preparing your children's Book for publication. Make changes to your Book until you can't think of any more.
Learn How to Write a Children's Book and parts of a fiction writing story, how to style it, and how to add pictures. Making changes to your work makes it easier for an editor to do their job. If an editor looks over your best work, it will be even better than you thought it could be. (Say that five times quickly!)
Spelling and grammar mistakes will make people angry and lead to bad reviews. Or, it could make editors feel like they must fix simple errors instead of focusing on style and word choice, making them unhappy.
Get to Know Your Readers
To get your children's Book published, you need to know who you're writing it for.
If your picture book is best for kids ages 2 to 5, but you try to sell it to babies, you need help. You're in trouble if you try to sell your Book for teens as a book. Kids like to read about notable characters their age or just a few years older.
Find out what different groups of people you want to reach want. Look into:
What ideas and words are popular?
Who puts these kinds of books out?
Who are the authors that your crowd likes the most?
When you're looking for an editor or an author, show that you know who your Book is for. It shows that you understand how the business works, which is something editors and literary managers look for in an author.
Consider an Expert Editor
A professional editor doesn't just fix your spelling and make your story flow better, they can be instrumental in the process, much like the services offered by Children's Book Editor. they also help you determine if you're writing for the right people. Those with enough experience will ensure that your Book follows the standards and unspoken rules of the industry. They will also often help you by sending in your work.
Many of the independent Ghostwriting Founder editors have worked for the biggest companies in the world, so they know precisely what purchasing editors want. For non fiction writing, you should consider getting a professional writer for your children's Book because their help can be beneficial. In this piece, you can learn more about how to work with skilled story writers.
Get a Children's Book Illustrator
Images are essential for picture books and novels aimed at beginning readers, and finding the right illustrator is crucial, as you can see from the Comic Book Writing Services offered.
The first step is to choose a visual style for your tale. You may look for bold, colorful images or prefer something more subdued and calming.
Compile a shortlist of children's book artists whose work exemplifies your taste. Websites like Children's Illustrators, hire an Illustrator and social media sites like Instagram and Facebook may help you locate illustrators to work on your projects.
First, have them illustrate a sample, whether a character sketch or a whole page. If you're satisfied with the examples, you may commission them to draw the artwork for the entire Book.
Prepare a Marketing Strategy
You should be able to publish a children's Book at this point. Readers need to be made aware of its existence today.
A launch event may be anything from a party in your neighborhood to a book signing in a shop.
Connect with other children's book writers and collaborate on reviews and blurbs to help each other.
Conclusion
You may make your ambition of writing and publishing a children's Book come true with enough drive, imagination, and luck. Publish a children's Book, and Feel free to tell your tale to the world and make an indelible mark on the lives of youngsters worldwide. Have fun writing!