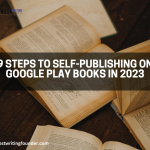 If you are an author, writing a book is the first step to self-publishing. However, if you are a new author, publishing a book might be more than you can handle alone. If you want to create your own book cover, choose the right price and get it listed on the Internet, then this article is for you.
Step 1: Create a Google Account
If you don't already have one, create a Google account. To do so, visit the Google account sign-up page and enter your name, email address and password. Click "Continue" to move on to the next step.
Step 2: Sign up for Google Books Partner Center
Once you have an account, you must sign up for the Google Books Partner Center (GBPC). This is where you'll manage your book's metadata and upload content. To do so, click "Sign In" in the upper right corner of the screen and select "Google Books Partner Center." Once there, click "Register" in the upper right corner of the screen to create an account with GBPC. You'll need to provide some basic information about yourself here:
Name
Address
Phone number
Email address
Step 3: Provide your Payment Information
You are now on the Payment Information page, where you will be asked to provide your banking information so that you can pay for your account. If you have already set up a Google Payments account, which is required for all Google Books Partner Center users, enter the email address associated with that account in the field provided and click "Next." If not, click "Create a new payment method." You will then be prompted to enter basic information about yourself, including your name and address, before receiving a verification code via email. Once you have received this code, enter it into the field provided and click "Next." You will then be asked to enter credit card information so that Google can charge you for any fees associated with publishing on the Google Books Partner Center.
Step 4: Add your Book
This is the most important step. To add a book, you need to have all of its information. You can add a new book to the Books page. Once you add a book, Google will automatically create a title page for it and get ready to upload it.
Make sure that you have all the required information before adding your book:
Title of your book
Author name (optional)
Publisher name (optional)
ISBN (optional)
Year of publication (required)
Pages count (required)
Step 5: Set your Book's Metadata
The metadata in Google Books Partner Center is used to describe your book. It provides information about the book's author, title, and subject matter. It also includes information about its publication histories, such as copyright dates and ISBNs.
To set your book's metadata:
1) Click Add new metadata attribute.
2) Enter a name for the metadata attribute and click Save.
3) In the "Value" field, enter a value for this metadata attribute. For example:
4) Click Add new metadata attribute again and enter another value for this metadata attribute. For example:
5) Repeat until you have added all of your desired attributes and values
Step 6: Upload your Book's Content
You're almost done! All you need to do now is upload the files that make up your book into the Google Books Partner Center. This can be done by clicking on "Upload content" at the top of the screen or clicking the blue "Add a Book" button from Step 2.
Google will then ask you to select the file format for your book files. If you have uploaded all your content in one file, simply click on it in this window, and Google will automatically load it into their system. If not, select the first chapter of your book and upload that as an individual file — doing so will allow you to work through each chapter at a time if necessary. A good Book Cover Design cover can be the difference between capturing a reader's attention and being overlooked. A Book Writing Company helps aspiring authors bring their stories to life.
Step 7: Preview and Publish your Book
Once you have completed all the steps for creating your book, you can preview it in the Books Partner Center. You'll be able to see how it looks on different devices and make changes if necessary. The preview will also show you how many pages are in your book, which helps determine the price.
Once you're happy with what you see, it's time to publish your book! There are two ways to do this:
Publish Directly from the Google Books Partner Center (recommended): This will send an email notification to all who have subscribed to receive news about your book when it goes live. This is also the preferred way of publishing because it ensures that all subscribers get notified immediately and no one misses out on any important updates.
Publish through Google Play: This option allows you to publish immediately but only sends an email notification after each chapter has been published. If subscribers have not read a chapter yet, they won't get an email until they do so and then another when it's updated.
Step 8: Set your Book's Price and Distribution
The final step is to set your book's price and distribution. You are able to set an MSRP (manufacturer's suggested retail price) for your book. This is the price that will be shown on Google Books, but it doesn't have to match what you charge customers or what retailers charge for the book.
You also have the option of choosing how you want your book to be distributed:
Consumer sales only — Your book will only be available for purchase by consumers in the US.
B2B — Your book is available for purchase by businesses and libraries across the globe (excluding China).
In addition to distributing your books through Google Books Partner Center, you can also distribute them through other channels such as Amazon KDP, Apple iBooks, Barnes & Noble PubIt!, Kobo Writing Life, and more.
Step 9: Promote your Book
You have published your book, which is available for purchase on Google Play. The next step is promotion. You can start by sharing the news with your friends and family through social media or email. If you have any reviews or ratings from other sites, consider sending out an alert to those who follow you on these platforms.
You can also promote your book through the Google Books Partner Center, where you can share excerpts of your book as well as other details about yourself and the book. These will help potential buyers know more about what they are purchasing.
Conclusion
Self-publishing on Google Books Partner Center is a great way for authors to reach a wider audience and achieve their publishing goals, akin to the strategies discussed in how to self-publish a book. By following the 9 steps outlined in this guide, authors can create a professional-quality ebook and make it available to millions of readers on Google Books.
Self-publishing may require effort, but the potential rewards are well worth it. With Google Books Partner Center, authors have the power to bring their stories to the world and share their unique perspectives with readers everywhere, just as they can by exploring book distribution strategies.