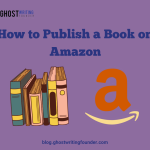 So, you've written that novel, memoir, or self-help guide you've always dreamed of, and now you're ready to Publish a Book. Thanks to Amazon's self-publishing platform, Kindle Direct Publishing (KDP), you can turn your manuscript into a published book and reach readers worldwide.
In this Ghostwriting Founder expert's guide, we will walk you through the step-by-step process of how to Publish a Book on Amazon, from manuscript to readers' hands.
Step 1: Prepare Your Manuscript
Your manuscript must be in the best shape before you hit that "Publish Book" button. For guidance on getting your manuscript ready, consider the advice from our Book Editing: A Comprehensive Writer's Outline. Here's what you need to do: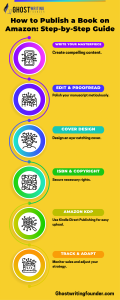 1.1 Editing and Proofreading
Review your manuscript for spelling, grammar, and formatting errors before you Publish the book. Consider hiring a professional editor if your budget allows.
1.2 Formatting
Format your manuscript to meet Amazon's requirements according to the formatting guidelines on the KDP website. For more details on formatting, check out How to Self-Publish on Amazon.
Step 2: Create a KDP Account
Before publishing a Book on Amazon, you must set up a KDP (Kindle Direct Publishing) account. Follow these steps:
2.1 Sign Up for a KDP Account
Open your web browser and visit the Kindle Direct Publishing website (kdp.amazon.com).
Click on the "Sign in" button if you already have an Amazon account, or choose "Sign up" to create a new one.
Follow the on-screen instructions to complete the registration process. You'll need to provide your name, email address, and password.
2.2 Author and Tax Information
After successfully registering, you'll be prompted to enter your author and tax information. This includes your legal name, mailing address, and tax identification details, which may vary depending on your country and tax status.
2.3 Bank Account Information
You'll need to set up your bank account information to receive royalties from your book sales. This involves providing your bank's name, account holder name, account number, and routing number (for U.S. authors) or other relevant details, depending on your location.
2.4 Verify Your Email
Check your email inbox for a verification message from Amazon KDP. Click the verification link to confirm your email address and activate your KDP account.
2.5 Complete Your Author Profile
Once you've verified your email, you can log in to your KDP account. Take a moment to complete your author profile, including your biography, photo, and any additional details you'd like to share with readers.
Your KDP account will serve as your author dashboard, where you'll manage all aspects of your book publishing journey, including adding new books, monitoring sales, and adjusting book details as needed. With your KDP account in place, you're ready to move on to the next steps of publishing your Book on Amazon.
Step 3: Add a New Kindle eBook
Now that your KDP account is set up, it's time to add your eBook to the Amazon marketplace. Follow these steps to get your book ready for publication:
3.1 Book Details
In this section, you'll provide essential information about your eBook:
Title: 
Enter your book's title, which should be catchy, descriptive, and reflect your content. If you're struggling with this step, our Book Title Generator might help. Make sure it's attention-grabbing, as the title is often the first thing potential readers see.
Subtitle (if applicable):
If your book has a subtitle that provides additional context or information, include it here. A compelling subtitle can further entice readers.
Series Information:
If your book is part of a series, indicate its position and provide any relevant series titles.
Author or Pen Name:
Specify the author or pen name under which you want your book to be published. You can use your real name or choose a pseudonym if you prefer.
3.2 eBook Content
This section involves uploading your formatted manuscript and setting up a Table of Contents (TOC):
Upload Your Manuscript:
Click the "Browse for Book" button to locate and upload your formatted eBook manuscript. Amazon accepts manuscripts.MOBI or.EPUB formats. Ensure your manuscript adheres to formatting guidelines to ensure a smooth reading experience for your audience.
Table of Contents:
Create one in your manuscript if your eBook requires a Table of Contents. Amazon's Kindle format relies on a functional TOC that allows readers to easily navigate your book.
3.3 Book Cover
Your book cover is often the first visual impression readers have of your eBook, so here's how to handle this crucial element:
Design a Captivating Cover:
Invest time in designing an eye-catching and professional book cover. The cover is a critical factor in attracting potential readers. You can create your cover or hire a skilled designer to bring your vision to life.
Cover Requirements:
Ensure your cover meets Amazon's requirements, including the correct dimensions and file format. Amazon provides guidelines to help you create a compliant cover.
3.4 Keywords and Categories
To enhance your eBook's discoverability and reach the right audience, pay attention to keyword selection and category placement:
Choose Relevant Keywords: 
Select keywords that accurately describe your book's content. Think about words and phrases potential readers might use when searching for a book like yours.
Category Selection: 
Place your eBook in the most relevant Amazon Kindle categories. For more on category selection, our blog post on 30 Book Marketing Ideas for Skyrocketing Sales can offer some strategic insights. Choosing appropriate categories helps your book appear in the right search results, increasing its visibility to potential readers.
By carefully completing these sections in Step 3, you'll ensure that your eBook has a strong and appealing presence on Amazon, making it more likely to capture the attention of potential readers when you Publish a Book.
Step 4: Pricing and Royalties
Decide on your eBook's list price before your Publish Book. Our guide on How Much Does It Cost to Publish a Book can help you understand the financial aspects of self-publishing. Depending on the price and distribution, you can choose between two royalty options: 35% or 70% royalties.
You can also Offer a discount on the Kindle version for readers who purchase the print edition, a strategy discussed in our Guide to Amazon Publish Book Cost.
Step 5: Publish Your eBook
Once you've filled in all the necessary details, hit the "Publish Your Kindle eBook" button. Amazon will review your book, and then it will Publish the book, which will take approximately 24-48 hours.
Conclusion
Publishing a book on Amazon is an achievable goal for any aspiring author. For more encouragement and a step-by-step guide, explore How to Publish a Book, an article that breaks down the process. With dedication, attention to detail, and effective marketing, you can see your literary work in the hands of readers worldwide.
Remember that self-publishing success often requires persistence and ongoing promotion. So, go ahead and take that first step to share your creative work with the world—it's a thrilling journey worth embarking upon!