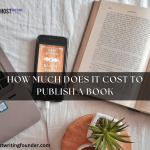 A book's publication can cost as little as a few hundred dollars. However, writing and advertising a good book might cost thousands.
With self-publishing, the most advantageous aspect of the publishing process is that you are in charge – you decide what to prioritize and invest in.
If you are considering publishing a book, you may be intrigued about how much it will cost. Knowing the publishing cost can help you plan your budget and prepare for all your expenses.
The simple answer is that you should anticipate spending between $0 and $10,000. Numerous variables affect the price of a book, including your publishing path, the book's format, and the services you choose to invest in.
Everything About Publication Cost:
Before we get into the specific costs, I'll give you a general idea of how much it might cost to self-publish your book.
The publishing costs are based on trends and don't show exact prices.
With the rise of digital goods on Amazon and many other online sites, it is now very cheap to write, edit, and make a book from start to finish.
Now you will know how much it will cost and what options you have, let's take a quick look at what you can expect from printing your book. Remember that these are just figures, and the cost to print your book will be a little more or less.
An Example of a Budget for Self-Publishing a Book
Regarding publishing costs, there are no hard and fast rules.
How much you spend depends on how much money you have, how big your platform is, and how much it costs to grow your book business.
Here's from some of the best book publishing services on how much it will cost you to self-publish your book:
| | |
| --- | --- |
| Services |  Cost |
| Editing | $1000-$2000 |
| Formatting | $400-$1500 |
| Cover Design | $600-$1000 |
| Author Website | $1000-$2500 |
1- Writing Cost:
The first stage of publishing costs entails drafting the initial draft of your manuscript.
This is one of the most difficult and least expensive steps. You can easily write your book for free using writing implements and word processors to which you already have access.
You can also spend money on this step if you so choose. There are a variety of instruments that can make the writing process much simpler and more productive, and the majority of them cost $100 or less.
For instance, you might purchase novel-writing software such as Scrivener for NovelPad. These tools make the organization of a large book undertaking straightforward and intuitive.
You should also consider enrolling in writing programs that teach you the writing craft and narrative structures. Even if it takes time to see a return on your investment, investing in the fundamentals will result in a superior manuscript in the long run.
In certain circumstances, you may employ a ghostwriter to write your book.
Numerous individuals, including celebrities, industry experts, and political leaders, employ ghostwriters to compose their books. If they need to publish novels too frequently to do so alone, best-selling authors may also employ ghostwriters.
The Editorial Freelancers Association (EFA) estimates hiring a ghostwriter will cost $51–$70 per hour for 1–3 pages per hour. Employing a ghostwriter for a 200-page book will cost between $3,400 and $14,000.
Consider paying someone to write an entire book in your manner and with your concepts. This task requires much time, skill, and expertise, so the cost is justified.
Average Do-It-Yourself Cost: $0 to $100
Typical Cost to Employ a Professional: $3,400–$14,000.
2- Editing Cost:
Professional editing of a 60,000-word book typically costs between $2,400 and $3,200. This entails one round of developmental editing as well as copyediting and proofreading.
Based on the most recent averages from Reedsy, you can use this calculator to determine how much you can anticipate spending for each type of editing.
Different Types of Editing
If you are unfamiliar with some of the editing categories for book publication services, here is a brief overview:
Editorial Analysis:
This is a common and inexpensive initial step for authors, ideal for those in the early stages of rewriting. Typically, editors offering editorial evaluations will:
Examine and evaluate your manuscript
Provide a report-style evaluation encompassing all aspects of the story, its structure, and its commercial viability;
Provide suggestions for your rewrites.
Developmental Editing:
Nose-to-tail structural editing of your manuscript for authors who have self-published as far as possible. A developmental editor will cost between $1,500 and $3,000.
Typically, a developmental edit includes everything in an editorial evaluation, plus:
Detailed suggestions for enhancing "big picture" concerns such as characterization, narrative, rhythm, etc.;
Specific advice on writing craft elements;
Line-by-line suggestions and corrections within the manuscript.
Copy Editing:
The "fine-tuning" of your manuscript. Typically, this includes:
Sentence-by-sentence revisions to the manuscript;
A concentration on prose (the elimination of repetition, purple prose, awkward dialogue, etc.);
Corrections about inconsistencies.
Editing and proofreading. The concluding phase of the editing procedure. Typically, a proofreader will:
Check the manuscript for any remaining typographical, grammatical, and punctuation errors.
Provide suggestions based on the publisher's selected style guide to ensure a consistent reading experience.
As you can see, each type of editing requires the editor to scrutinize your manuscript on a different level, and consequently, each category impacts the publishing cost in the end.
3- Cover Design Cost:
60% of professional covers by seasoned designers on Reedsy are priced at less than $750. Depending on a few important factors, the range of estimates you may receive from cover designers can vary significantly.
What Factors Impact Design Costs?
Your designer's competence level. A beginner book cover designer, who may have recently transitioned from other types of design, may charge between $300 and $500 per assignment. Professionals with over a decade of experience in the field may provide estimates of over $800.
The sophistication and elegance of the design. A cover with intricate illustrations would be more expensive than one with stock images, if only due to the various skills and time requirements. Take a peek at our guide to cover design for more information on why certain models cost more.
The quantity of "rounds" performed by your designer. If the initial version of your cover appears fine, you're ready to go! However, you may request a few modifications or an entirely new design, increasing the price.
Whether the design is for an ebook, paperback, or hardback, print book covers necessitate attention to dimensions and the design of the binding and rear cover, which can increase the price.
For eBook covers, only the front is required. If you intend to publish in two or three of these formats, you can anticipate that your designer's estimates will increase proportionally to the additional work required.
4- Illustration Cost:
Picture books, textbooks, and other types of literature all benefit from having pictures.
You should decide how you want your book to look so you can hire an artist with the same style. Do you want pictures that are quiet and calm, or do you want ones that are bright and colorful?
In addition to writing, those with artistic talent may draw their books. Only pay for the tools, which can be expensive if you use something like oil paints.
You should employ an artist if you don't have any experience drawing. Find artists with many styles online, on sites like Fiverr and Hire an Illustrator.
Depending on how many designs you need, an artist will charge between $300 and $2,000 for a whole book. Remember that this could cost even more if the designs are for a medical guide or something that needs specialized skills.
5- Formatting Cost:
Formatting is managing the internal structure of your ebook, audiobook, and printed book. You want to guarantee that your reader or listener has the most seamless experience across physical pages and multiple devices.
To create an ebook, you must convert your manuscript to an epub or mobi file format. However, you must first examine and organize your document. This includes eliminating formatting such as automatic bullets and searching for extra spaces and characters.
It is relatively simple to format a book manuscript. An audiobook necessitates additional production and narration-related expenditures.
A professional narrator can cost between $1,000 and $5,000 to hire. Some authors, particularly those who write nonfiction, have even chosen to narrate their works.
When submitting your final audiobook to retailers, you will need the cover design and a collection of MP3 files. Gain knowledge of audiobook production.
Formatting the interior and exterior of a printed book is necessary. You can manage everything on a Word document or with sophisticated software like InDesign.
The most common trim measurement for paperbacks is 6×9 inches. Consider additional constraints, such as overflow and margin size.
6- Publishing & Distribution Cost:
With your edited and formatted manuscript, cover design, and related assets in hand, consider the following:
An ISBN is a unique identifier bookstores use to identify a particular book edition. It is required for print books and included in the publishing cost. Contact your local ISBN agency to receive an ISBN for a printed publication.
In some nations, it is gratis. You can purchase one from Bowker for $125 if you reside in the United States.
If you wish to sell your book in bookstores, libraries, and most other retailers, you must acquire an ISBN.
Your book's ISBN is a thirteen-digit universal identification number that typically appears at the top of a barcode. It is a unique identifier that aids in cataloging and locating your book.
Depending on your self-publishing website, you may be able to purchase your own ISBN. Alternatively, you can obtain one directly from Bowkers.
If you intend to publish your book in paperback, audiobook, and electronic book formats, you will require a unique ISBN for each format.
7- Printing Cost:
Printing is the phase of the publishing process in which your manuscript is transformed into a tangible book. It also involves printing the interior pages and binding the cover.
Most self-publishing platforms, including Amazon KDP and IngramSpark, offer complimentary printing. Consequently, most self-published authors do not pay anything for this phase.
Alternatively, you can use an independent book printer to publish your book. This typically costs between $3 and $8 per book, depending on how many copies you wish to print.
8- Marketing Cost:
Publishing a book does not end once the ebook and print editions have been finalized. After all, what is the purpose of publishing a book if no one reads it? Consequently, you may want to consider the following marketing activities:
Editorial evaluations
Your book will be validated in the minds of potential consumers by reviews. However, it is crucial to acquire editorial evaluations without the ability to acquire Amazon customer reviews before your launch date. You can submit your book to Ghostwriting founder to review the book.
Personalized digital advertising
Digital advertising is one of the few ways independent authors can rapidly reach new audiences. With our free courses on Facebook and Amazon ads, you can learn some of the fundamentals of ad testing if you have a rudimentary understanding of the internet.
Many writers, even those a formal publisher releases, spend up to $5,000 or more on marketing alone. Even if you have a standard publisher, you should be ready to spend a lot on marketing if you want your book to sell well.
You can even hire a company that markets books to work for you.
For example, you can pay around $500 for social media coaching or a plan to sell and promote your book.
In this case, you'll still have to pay for many of the costs that are a part of the publishing cost. However, pros will help you figure out the best plan. So, you could still spend up to $5,000 on top of what you're paying professionals.
Final Verdict:
The cost of self-publishing a book can change a lot based on its length, how much design and editing it needs, and how you plan to get it out to readers.
If you want to make a good book on your own, it will cost you anywhere from $2,000 to $4,000 on average. You can self-publish for as little as a few hundred dollars if you just want to do it for fun and don't care about hitting an expert level.