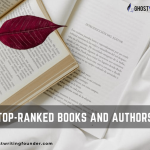 Introduction
Like any author website design, a good book must also be captivating to the eye. For insights on creating an engaging author website, check out Website Design for Authors So, we have something for you if you're looking for something new to read or just need a break from your usual book selection. This list of top-ranked books and authors is sure to have something that catches your eye!
"American Sniper" by Chris Kyle, Scott McEwen and Jim DeFelice
The first USA, Today Bestseller on our list, is American Sniper. The book is a memoir of Navy SEAL Chris Kyle. It tells the story of his life as a SEAL, including his four tours in Iraq. With over 1 million copies sold, this book is on its path to becoming a movie, with Bradley Cooper set to portray Chris Kyle.
The book has been criticized by some who say it embellishes the truth, but Kyle's family says it is accurate. For more on the art of portraying real-life stories, explore What is Biography. His widow Taya Kyle blessed the movie and even met with Bradley Cooper to discuss how he would play Chris Kyle.
"Gone Girl" by Gillian Flynn
The next USA Today Bestseller and one of the most favorite of our writers at the Ghostwriting Founder is Gone Girl by Gillian Flynn. If you're interested in crafting thrilling narratives, consider our Horror Writing Services. She is an American author who has penned three novels: "Sharp Objects," "Dark Places," and "Gone Girl."
Born in Kansas City, Missouri, in 1971, she later moved with her family to Chicago, where she grew up.
Her debut, "Sharp Objects," won the Dagger Award from Crime Writers Association (CWA) in 2006. It was also a nominee for Best First Novel by the International Thriller Writers Association.
"Dark Places," released in 2009, impressed critics due to its unique plot structure, with different characters sharing their stories across different times. It touches on intense topics like violence against women and child abuse, sparking thoughts about the harsh realities of life.
"The Fault in Our Stars" by John Green
The next special USA Today Bestseller book by John Green is a big hit, loved by many and even called a New York Times Bestseller. The story is about a teenage girl who is dealing with cancer. But guess what? She meets another teen at a support group, and their friendship turns into something even more beautiful – they fall in love!
And wait, there's more! This amazing USA Today Bestseller story got turned into a movie in 2014. Can you believe it? The movie shows the characters coming to life on the screen. The girl, Hazel Grace Lancaster, is played by Shailene Woodley, and the boy, Augustus Waters, is played by Ansel Elgort.
So, if you're into heartwarming stories about friendship and love, this book might be perfect for you. And if you like movies too, you can watch how the characters you read about jump out from the pages and onto the big screen!
The Fault In Our Stars is a moving story that will make you laugh, cry and fall in love. For more heart-touching narratives, read about Sad Poems About Love. It's a must-read for all John Green fans and those who enjoy reading books about love stories.
"Thirteen Reasons Why" by Jay Asher
This story revolves around a teenage girl's tragic decision to end her life. The mystery unfolds through the eyes of the main character, who discovers 13 tapes she left behind before her suicide.
Published in 2007, the book quickly became a favorite across America and into the USA Today Bestseller. For more on the journey of writing and publishing, see How to Publish a Book: An Overview of Traditional & Self-Publishing.
In 2017, it was transformed into a movie that critics mostly praised, earning over $134 million worldwide.
That same year, a TV series adaptation set in the 1980s recounts the tale of a teen's suicide. Like the book, it's narrated by the protagonist and revolves around the 13 tapes she recorded before her tragic act.
"The Martian" by Andy Weir
In 2014, Andy Weir introduced his very first novel to the world, and guess what? It became super popular and into the USA Today Bestseller, and everyone loved it! This amazing book is called "The Martian."
So, there's this guy named Mark Watney, and he's on an adventure in space with his friends. They're exploring Mars, the red planet. But something goes wrong, and Mark gets left behind alone! Can you imagine that? He's stuck on Mars with not much stuff to survive.
But guess what? Mark is really smart, and he figures out clever ways to survive on Mars until his friends can come back and rescue him. He's like a space explorer, using his brain to solve many problems and challenges.
And here's the cool part: the book lets us listen to different people's thoughts. We get to hear from the folks back on Earth who work at NASA, the place that helps with space stuff. We also get to know some other astronauts on Mark's team during the mission. They join the story later, and their thoughts and experiences add to the excitement.
Did you know they even turned this awesome book into a movie? If you're interested in adapting books to scripts, our Script Writing Services might be what you need. Yep, a famous actress named Emily Blunt played the main character, Mark Watney. And a director named Tate Taylor helped bring the story to life on the big screen.
"Girl on the Train" by Paula Hawkins
If you're in the mood for a mystery that will keep you guessing until the end, "Girl on the Train" is the book for you. This USA Today Bestseller story follows three women living in London and their interconnected lives as they struggle with their issues.
Rachel catches a train daily and watches the same couple from her window. Megan's husband left her for another woman. Anna has just given birth to her second child and is still reeling from her first son's death years ago.
As we join these characters on their life journeys, some unusual events start occurring, and before long, even murders come into play! This engaging story was turned into a movie, with Emily Blunt taking on the role of Rachel and directed by Tate Taylor. For more on the relationship between books and their film adaptations, explore Books Written by Paulo Coelho.
"Wild" by Cheryl Strayed
This USA Today Bestseller book is written by a woman who hiked the Pacific Crest Trail. It's about her experience, which was made into a movie in 2014. She has written other books as well.
In her story, she shares how she faced a tough situation when she lost her mother at 22. She also talks about her challenges when she got addicted to drugs and alcohol. But then, something remarkable happened. She bravely decided to embark on an incredible adventure – a hike of 1100 miles across the wild lands of California. Imagine walking with only a backpack, food, and water!
As she walked along, she didn't just experience nature; she also met many interesting people. Some were fellow hikers, like her, trying to complete their hiking challenge.
Throughout her journey, she also added bits of poetry to her book, making it even more special. For those interested in the art of poetry, check out 25 Short Poems About Life and Struggles.
Conclusion
The list of USA Today Bestseller books and authors is long, but these titles are a great place to start if you want something new to read. There's something for everyone on this list, whether adventure, romance, or mystery novels.