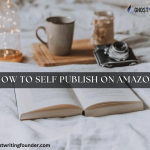 In today's ever-changing writing world, you can share your words with everyone.
With Self-publish Amazon, writers from all backgrounds and styles can share their work with people worldwide. Once, only a few wealthy people could do this, but now anyone can, thanks to services like Kindle Direct Publishing (KDP).
Publish Your Book On Amazon in 10 Easy Ways:
Whether you're a first-time author or have been writing for a long time, these simple steps will help you manage the world of self-publishing, and for a detailed guide, check out How to Publish a Book: An Overview of Traditional & Self-Publishing. from polishing your manuscript to reaching readers worldwide. Let's start this exciting journey to get your book out to everyone.
1- Create an Account:
The first step to Self-publish Amazon is to quickly, easily, and for free set up a KDP account. Go to Kindle Direct Publishing and either sign in with an Amazon account you already have or create a new one.
Once logged in, you'll see a message at the top saying that your account is incomplete. Before sharing your book, you must tell Amazon how to pay you.
Click "Update now" and put in the following information:
Business Type, Date of Birth, and Country: Mark "Individual" or "Corporation" based on whether you're publishing as an author or a business, then choose your date of birth and country of residence.
Payment information: Type in the news for your bank account so you can get your royalties from sales on all Amazon sites. For American accounts, you'll need to give the account user's name, number, and routing number, the first nine numbers on the bottom of your checks.
Tax information: Fill out the quick tax interview to determine your identity.
2- Book Description:
Write a description of your book for Amazon, and for tips on crafting a compelling one, see Book Description: A Comprehensive Writer's Outline. If you want people to buy your book, you must tell them what it's about interestingly. Self-publishing on Amazon takes more signs than you might think at first. Even though the cover and caption should do an excellent job of this, we all want more information about putting money toward something.
Here are the first things people notice about a new book
Cover
Title
About the book
A description is a short story you write to show what your book is about. It should be written like a sales page to get your reader's attention. Amazon is very good at showing visitors books that are important to them based on what they have done in the past.
This is important because the description is often the last thing a reader looks at before deciding whether or not to read your book. That, and it had great reviews on Amazon.
A well-written blurb can almost sell a book if done correctly.
Here are some tips from Ghostwriting Founder that will help you write the correct description:
Make the first line as appealing as possible.
Write your book's description like a sales page or ad, not a dry synopsis.
Make the statement sound personal and caring.
Explain what the reader will get out of reading your book.
3- Find Keywords and Categories:
Keywords and categories are essential if you want your book to do well because they help you ensure the right readers find it based on their interests. For more on this, read SEO Blog Writing: Tips on Writing Blog Posts That Rank on Google.
You can choose up to seven keywords and two groups for your book on KDP.
Choose the ones that best describe your book, and remember that you can always change them later, so don't be afraid to try new things.
You should choose one broad category, Travel, and one narrow category, such as Hikes and walks.
Choose keywords that have a lot to do with the content of your book but that aren't already in the title or description.
Lastly, you can choose an age and grade range to understand better who you're writing for. This is especially helpful if you're writing books for kids.
Self-publish Amazon Research Tools for Keywords
Publisher Rocket: This is a great way to compare the results of a Google search to those of an Amazon search. It tells you how much money other books are making and gives you a number from 1 to 99 based on how competitive your book is. You can read this Publisher Rocket Review to find out more.
KW Finder: This tool gives a competitive ranking of how popular a term is and an analysis of what that means. Each day, you can search for up to five terms for free.
The Autofill function on Amazon: Use the search box on Amazon to find good themes. Amazon's ideas are based on what people have searched for in the past, so you should look for famous words with little competition.
Google Search: Google is still the best search engine, and it's easy to see if any writers are at the top of the search results. You'll need to know the best angle even if you're not selling on Amazon.
3- Focus on Book Cover:
One of the most important things to get right is how the book cover looks when publishing a great book on Amazon. People rate a book by its cover, even though we were told not to when we were kids. It's one of the biggest reasons why people don't do it.
The first thing people will notice about your book is its cover. Ensure your cover is made by a professional book publishing services and stands out from the other books in your genre or area. We can now design the cover of your book for you with our new "done-for-you" cover design services.
4- Add Your EPUB File and Book Cover:
On the next tab, you must send your book file to your KDP account. Just click the friendly yellow "Upload eBook manuscript" button, choose the final copy of your EPUB file, and click "OK."
Amazon will take a variety of file formats, but they strongly suggest that you format your file as an EPUB. This will give you more control over how it looks on Kindle and is also the format Amazon recommends. Putting in a Word document and trusting Amazon to do the rest is never a good idea.
Keep 3 things in mind when Self-publish Amazon:
Formatting:
Formatting: Readers can tell if an expert formatted a book, and taking shortcuts will come back to bite you. Hiring a typesetter will pay for itself over time. Hiring a typesetter will pay for itself over time, but if you're on a tight budget, you can prepare and export a beautiful ebook for free with the Reedsy Book Editor.
After choosing your text, you'll see a message that your book is being processed. Don't reload this page or leave it! Amazon may need a few minutes to send and check your text.
When Amazon is happy with how your book is formatted, you'll see a little green message that says your manuscript has been uploaded properly. Take a moment to celebrate, but don't get too sidetracked. There are still a few very important steps to take.
Book cover:
Without an exciting cover, a book won't sell. Your cover artist should have given you a JPG or TIFF file of your front cover with a resolution of 2,560 x 1,600px, which is what Kindle recommends. To add it, click "Upload your cover file" after choosing "Use an existing cover."
This can take a minute, just like when you send the book. You'll get another green message when it's done.
Recheck:
After you've uploaded the text and cover, you can use the "Ebook Preview" tool to see how each page will look. Take a minute to ensure everything is right: the whole cover shows up, the inside looks the same on your computer, etc. If something is wrong, check your files and try to share them again.
At the end of this section, you'll be asked if you have an ISBN and who you want to name as the "Publisher." Both of these pieces of knowledge are optional, but they are both important to know. You don't need an ISBN barcode to share your ebook. Amazon will give your book for free.
5- Pick Your Price:
Choose a fee between 35% and 70%. Most authors will get more money from the 70% fee. Even though that seems straightforward, it does change how prices and royalties are calculated.
Set the selling price after choosing Amazon.com as your primary market. The exchange rate will set the price in other markets, but you can set each individually.
Here are the four main pricing tactics to think about if you want to sell books and stay competitive:
Find out what your rivals are charging. Compare your book's list price to those of other readers around you to see if you could sell yours for more.
Find out how many people are following you. Because they have a lot of fans, well-known writers can charge a lot for their books. If you're not in this group, you should lower the price of your book to get more people to buy it.
The price will depend on how big your book is. When it comes to books, size does count. Don't charge $20 for a book with only 75 pages. At that price point, customers will be turned off immediately by the lack of material.
Read reviews to get an idea of the price. Reviews are powerful because they show that others have read and liked your book. So, a book with more reviews (1000+ reviews) can be priced higher than a book with fewer reviews (30+ reviews).
Tips for Self-Publishing Authors:
Sure, here are some valuable tips for Self-publish Amazon publishers who are looking to publish their work on Amazon:
Polish Your Manuscript: Before publishing, ensure your manuscript is thoroughly edited, proofread, and formatted according to Amazon's guidelines. A well-prepared manuscript is the foundation of a professional-looking eBook.
Eye-Catching Cover Design: Your book's cover is its first impression. Invest in a high-quality, genre-appropriate cover design that grabs readers' attention, perhaps with the help of Cover Design & Typesetting services. Invest in a high-quality, genre-appropriate cover design that grabs readers' attention and conveys the essence of your book.
Choose the Right Title and Keywords: Your title should be engaging and relevant to your book's content. Select keywords that accurately describe your book's genre, themes, and target audience to improve discoverability.
Utilize KDP Select (Optional): Enrolling in KDP Select can provide exposure through Kindle Unlimited and Kindle Owners' Lending Library, which can be a game-changer as explained in How to Make Money on Kindle Without Writing. This can be especially helpful for new authors to gain readership.
Pricing Strategy: Research the pricing of similar eBooks in your genre and set a competitive price. Experiment with promotional pricing and discounts to attract readers.
Select Appropriate Categories: Choose categories and subcategories that accurately reflect your book's genre and subject matter. This increases the chances of your eBook appearing in relevant search results.
Write an Engaging Book Description: Craft a compelling book description that highlights the key elements of your story and entices readers to purchase. Keep it concise and engaging.
Preview and Test: Use Amazon's preview tool to check how your eBook looks on different devices. Test hyperlinks, formatting, and overall readability to ensure a smooth reading experience.
Promote Your eBook: Establish an online presence through social media, an author's website, and relevant forums. Promote your eBook's launch and any special promotions to build an audience.
Leverage Amazon's Promotional Tools: Utilize Kindle Countdown Deals and Free Book Promotions to drive traffic and boost sales. These tools can help you reach a wider audience.
Solicit Reviews: Encourage readers to leave honest reviews. Positive reviews can enhance credibility and attract more potential readers.
Engage with Readers: Respond to reader comments and reviews. Connecting with your audience can foster loyalty and create a dedicated fan base.
Monitor Sales and Analytics: Regularly check your sales dashboard and analytics to understand what's working and what's not. Adjust your marketing strategies accordingly.
Update and Republish: If you receive feedback or want to improve your eBook, you can update and republish it. Just ensure that the updates enhance the reader's experience.
Be Patient and Persistent: Building a readership takes time. Be prepared for ups and downs, and stay committed to honing your writing skills and marketing efforts.
Conclusion:
Now Self-publish Amazon option on Amazon has allowed many writers to share their stories. With careful planning, attention to detail, and a well-thought-out marketing plan, you can turn your work into a polished eBook that grabs readers' attention and makes a name for you in the literary world. Self-publishing gives you a lot of options. Take advantage of them and let your words find their place on the digital shelves of Amazon's huge library. Your story is worth telling; if you work hard, it will get into the hands and hearts of fans everywhere.