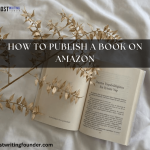 In the past few years, there have been a lot of big changes in the printing world. Self-publishing has made it possible for anyone with an idea and the drive to see it through to reach people worldwide, as detailed in our guide on Google Books Partner Center 2023.
But if you're new to Amazon's Publishing, you'll need to learn a few things before you can put your first book on Amazon.
There's more to it than merely clicking "publish" on Amazon's KDP to self-publish a book. It is a process that can take months or even a year. You have to keep track of goals and publication dates to give your book the best chance of getting on the top list.
A Quick Guide to Amazon Publishing:
The Kindle has changed the publishing business by making it simple for anybody to get their work published, and you can learn more about this transformation in our article on How to Self-Publish on Amazon. There's more to KDP than meets the eye. But don't worry.
Here is all you need to know to successfully publish your book on the Amazon publishing platform:
Sign Up for A Kindle Direct Publishing (KDP) Account:
The first step is to quickly, easily, and for free set up a KDP account. Go to Kindle Direct Publishing and either sign in with an Amazon account you already have or create a new one.
Once logged in, you'll see a message at the top saying that your account is unfinished. Before sharing your book, you must tell Amazon how to pay you.
Click "Update now" and put in the following information:
Type of Business: Mark "Individual" or "Corporation" based on your writing as an author or a business.
Fill in Other Details: Choose your date of birth and country of residence.
Payment information: Type in the information for your bank account so you can get your profits from sales on all Amazon sites. For American accounts, you'll need to give the account user's name, number, and routing number, which are the first nine numbers on the bottom of your checks.
Information about taxes: Fill out the quick tax interview to determine your tax identity.
Once you've filled in all the information, click "Save" and "Bookshelf" from the top button to start printing your book.
Select Your Publishing Format:
Before sending a book to the KDP site, you need to ensure it is in the right format, and our Complete Book Tropes List can help you understand some of the content nuances that may affect formatting. A draft can be published as a print, an e-book, or a hardback book for free.
For both softcover and hardback Amazon Publishing books, Amazon deducts the cost of printing from the income you get.
Microsoft Word, Kindle Package Format, EPUB, and MOBI are the most popular forms for e-books. Each form has a different way of dealing with text and pictures.
Researching these forms is important if you want to know how they set up pictures, text frames, sharing, and other related information. It's also important to know how these different parts of your book will work once the whole thing is uploaded to the KDP site.
You can choose to have your book made as a standard hardback or as a digital e-reader through KDP. Think about which way would be better to show off your work.
For example, if your book is a young adult drama, it might appeal more to people who collect paperbacks. Self-help books, on the other hand, will be more available to people who read on their phones or Kindles.
Authors who use KDP can expect a fee of 40–60% for print books and up to 70% (in some countries) for ebooks, as further explained in our breakdown of How Much Does It Cost to Publish a Book.
Remember that the royalty rate for any download that isn't priced between $2.99 and $9.99 will drop to 35% immediately.
Amazon Publishing will take about 5% of each sale to pay for the printing costs of printed books.
Give Your Book A New Title And Fill Out The Summary:
After you've made an account, made sure your book is in the right format and made a cover, it's time to put some important information about your book on Amazon's detail page. This is a really important part of the process.
It's important to carefully write and edit the information so potential buyers can get a good idea of the book. Many of the details can't be changed after the book is released.
As a first step, you'll be asked for the following information:
Go to the Bookshelf in your KDP account.
Upload work, create and modify listings.
Check user analytics using this hub.
Once you're on your Bookshelf, look for "+ Kindle eBook" or "+ Paperback"
Click on it, based on which type you want
Enter The Information of Your Book
Next, you'll be asked to fill out several forms with important information about yourself and your work. This will include, among other things, your name, the book's title, a short description, and the right age group. This information will affect how people find your book on Amazon, so think carefully about this step.
At this point, you can choose up to 7 buzzwords and groups to help you sell to the people you want to reach. KDP advises using terms like your book's setting (California), character types (single mom, teenage daughter), character roles (strong female lead), plot themes (coming of age, motherhood), and story tone (drama).
You need to choose the correct and interesting keywords to get people to look at your book. This is because keywords help your book page appear in specific search results, like "coming of age love story," etc.
Think like a reader and use your chosen keywords to search for books on Amazon Publishing. This will help your term work better. If the results look like your book, you're good to go. If they don't, you might want to change one or more of your keywords to get better results.
Take your time filling out each item. The more information you give, your book will likely be seen. Remember that you can change these as time goes on. So feel free to try out different ways of doing things!
Create The Book's Cover
There's more to a book's appeal than just the narrative and tone suggested by its cover. It is striking and intriguing at first glance, piquing potential customers' interest.
The book's cover and title are all a potential buyer must go on when deciding whether or not to purchase it.
To utilize an existing picture for the cover, just submit it (checking first to ensure it's the proper size and not covered by copyright). If not, Cover Creator, a built-in drawing tool on the site, will show you how to make one yourself.
Your book's cover needs to grab the reader's attention immediately and show what the book is about or its main ideas.
Amazon suggests that cover art pictures have several 1.6:1 between their height and width. This means a picture should be 1,600 pixels tall for every 1,000 pixels wide.
Consider getting a professional graphic designer or cover artist to make a unique cover for your book, similar to the expertise you'll find with our Cover Design & Typesetting services. Potential buyers will be more interested in your book if the cover work looks like a professional did it.
A catchy and interesting title will make the reader want to know more.
Size of Book
When creating a book, it is very important to choose the trim size. Whether it's a picture book for kids or a text-only story, it can't be put out without knowing how big it will be.
This must be decided on early, especially for books with pictures, so that the drawings can fit the book's trim size.
The catch is this: Amazon KDP only has a few trim sizes. So, it's important to make a choice first. The last thing an author wants is to get a book ready to print, only to find out that it was made at an unusable size.
Check out my piece, The Best Trim Sizes for Children's Books, for a full list of Amazon Publishing.
Page Number
Page count is a very important part of making a book. It tells what kind of art needs to be made for a picture book. It decides how deep the gutters on a page will be and how much space is needed between the text and pictures so the gutters don't get in the way.
This is true for both picture books and stories. (If you want to learn more about the book Gutter, check out my piece, How the Book Gutter Affects the Layout and Illustrations of Children's Books.)
The number of pages also changes how wide the spine is. This means a book can't be made right if the number of pages isn't known. It's a good idea to generally put in text at the right cut size, especially for a book, to see how many pages a story takes up.
And don't forget that Amazon prints in groups of four pages, with one extra page at the end for their barcode. The total page count should be a multiple of 4, LESS 1, to avoid blank pages.
Download an Amazon KDP Cover Template
A design template is a document that tells a creator what the book's trim size is, how much bleed is needed, and what the borders are.
When writers use Amazon KDP to choose a template, they will be asked to choose a trim size and a range for the number of pages to calculate these numbers correctly.
Not only does it say the trim size of the front and back cover, but it also says the width of the spine. This is to make sure that everything is taken into account.
Start at $2.99 And Go Up to $9.99
As per Ghostwriting Founder, the first thing you should know about selling your book is that Amazon gives a 70% royalty rate on ebooks priced between $2.99 and $9.99 and a 35% royalty rate on anything else.
You might sell the first book in a series for less money to get people to buy the other books. But as a general rule, it's best to stick to things that will get you that sweet 70%.
As you set the price, Amazon determines how much you'll make in fees. It takes out a small "delivery rate" based on the file size of your book and then tells you how much money you'll make per sale.
You can also make the pricing area bigger to set different prices for each place you want to sell. You can set it to auto if you don't care about foreign sales, but you'll get much better results if you do it yourself.
Selling overseas can help you make more money, so we suggest you keep an eye on your international sales trends and help the ones that grow.
In this part, you'll be asked a few more important questions. First, you'll be asked if you want to join KDP Select, a program that could help your book reach more people on Amazon.
Publish Your Book Now
You've been waiting for this moment! Before jumping in, take a moment to go back through the tabs and ensure everything about Amazon Publishing.
It is set up the way you want it. You can do this by clicking "Back to Content" on the left.
Even though you can fix a mistake after you've released it, it's better to ensure the information is correct before you hit that button. If you're not quite ready, click the "Save as Draft" button and return later to finish. If everything looks good, you only need to click "Publish your Kindle ebook."
Conclusion
You did it, so congrats! Your book will soon be available on Amazon. It could take up to 72 hours for Amazon.com and up to five days for Amazon sites in different countries. Now, you can put all your efforts into getting the word out and selling.