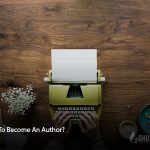 Do you wish to become an author? A lot of people have said that they have a great book inside their minds. However, the reality is that only a few commit their time, energy, and capital to turn their idea into a great published book.

That's too bad as with both technology and human; it has become easier than ever to become an author in today's world. The tools are easily accessible and more affordable on the internet. The only thing that you have to do is sit and write with consistency.

If you are an author, that's well and good; however, if you wish to become an author, don't worry, as, with the help of these tips, you will have a guide on becoming an author saving you from wasting time in the wrong places.
Pick a writing skill to improve:

When becoming an author, writing skills is one of the vital factors. In case you're stressed, your book is not adequate. Work through your repetition. Working on yourself is linked to multiple aspects. For instance, the more sentences you compose, the stronger hold you have on language commands. Or the more clichés you end, the better you will become at altering. Or writing more chapters means that making yourself better at articulating stories and ideas. Finally, if you finish writing more books, you will have more knowledge about writing books.

Write more stories:

When you wish to become an author, you should try writing a short story. A short story won't require a very long time to write. Likewise, you can also go for writing personal narratives. Regardless of whether you never publish it, think of it as a writing practice that improves your narrating abilities.

However, many authors fear that if they write their personal stories, how will their readers judge them? Believe me! Your readers have also experienced the same fate as you have, and they are just looking for a person of their similar destiny. Many known writers have first published their outstanding books, and after that, they have written their personal stories. Sharing personal stories will create a sense of closeness between you and your readers.

So in the world of click-bait, fake news, and cute animal videos, they crave authenticity. So forget about worrying about how your readers will judge you; be honest with them.

Don't let perfectionism halt your writing career:

The very first step of becoming an author is to write. You should have the skills and abilities to write. They are writing like a perfectionist is a time-consuming process. There are some cases in which people know how to write, but they fear that their writing style is not good enough, and those who will read their books or article would hate it. They also fear that those who read their book will stop others from reading this person's book.
I know writing in a perfectionist way is right for you in terms of money and fame. Likewise, you develop new skill sets, your voice and writing style become confident, and you deliver more in a short period. I am not saying that you can be perfect, but you will eventually be bored with writing if you start writing perfectly. It's human nature that once we achieve perfectionism in a particular discipline, we move onto our next goal regardless of its magnitude. It is known as "Self Actualization."

Act like a successful writer:

If you want to become an author who is not just an author but a successful author, you have to write every day, not just when you feel inspired. You have to set a daily word count that you have to finish daily, distribute deadlines to each chapter, and ensure that you are consistent on your writing to meet your deadlines. Finally, if you are employed somewhere or are self-employed, inform your editor or readers that your draft will be ready by the end of a particular date, week, or month.

When you are writing a book, then the chapters are like strings of a cable. The number of chapters you finish will weave them together in chronological order, ensuring your progress.

Conquer your fear of failure:

You may have experienced multiple situations, such as getting a rejection letter from your dream company, the project you worked on day and night got on hold, or the book you wrote though was your best book. Still, it was not as good as you thought it might be.
The famous author that you know has faced more failures than successes. They have a lot of unpublished work on their PC just because of the fear of failure. Commonly, everyone has to face loss, but if you want to succeed as becoming an author, you need to accept your failure's mistakes and learn to move on.

Study the writing craft:

If you want to become an author, then you must know about writing art. Writing art can take a lifetime to dominate and often involves committing numerous errors. You must finish what you started as you learn a lot of new skills from a glorious failure. Utilize these as learning opportunities that help you achieve an objective.

Conquer your fear of success:

People suffer from multiple fear, and the fear of success is one of them. Once an author has written about it, he has a fear of success. Multiple questions revolve in his mind: Will, the reader, treat him differently? How will the author react when the readers talk about the story? Writing a book will make changes to his life?

To become an author, these questions will revolve around your mind. You will have to figure out the answers yourselves. The real issue is not what the people will think about your book, but it is to have it in a place to access it.

Explore different types of writing:

Writing a book is a hard job. It can take months or even years. To avoid these problems, I suggest trying various kinds of writing, including technical writing and copywriting. You could likewise try working as a ghostwriter.