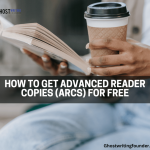 The advanced reader copy, a galley or an ARC, is a pre-publication version of a book intended for reviewers and book purchasers before publication. By releasing it, traditional publishers, independent publishers, and authors can generate early interest in a book. This early chatter can enhance a book's launch and increase book sales over its lifetime!
Although the story in an advanced reader copy has been edited, and all plot elements are present, the book may contain incomplete typos or incomplete illustrations, highlighting the importance of a comprehensive Book Editing process. Even when publishers and self-publishers intend to print a hardcover book, an advanced reader copy is typically issued in paperback format.
Paperback books are less expensive, allowing the same budget to have more documents. However, what is the purpose and how to Get ARC Books, and how is one distributed?
Get Books Before They Are Published
As a reader, the anticipation of obtaining a book early is thrilling. Publishers will never release a major book early out of fear that its secrets will be revealed, but they do release many books as Advanced Reader Copies.
There are many methods to Get ARC Books. A few of them are:
1- Publisher-Direct ARC Requests:
Emailing publicity contacts directly is one of the most common methods to obtain ARCs from publishers. It would help to accomplish these at least two to three months before the book's publication date.
Consider your favorite literature first. Which publishing houses like Ghostwriting Founder did they come from? That is an excellent starting point for identifying potential ARCs and contacts.
If you have a specific title in mind, use Google to determine which publishing house in your country has the rights to that title.
Once you have located the correct publishing house, visit their website's media page. The majority of publishers will provide an email address for ARC requests. Here is where you should submit your email.
2- Book Influencer Programs:
Most programs have an application process requiring you to provide information about yourself and your social media platforms.
If accepted, most publishers will send you a monthly (or quarterly) email with a list of all the ARCs and finalized copies available. You complete the form with your request, and the publisher will do their utmost to accommodate it.
Numerous publishers and authors provide advanced reading programs that enable devoted readers to obtain copies of forthcoming works. By participating in these programs, you can gain access to books in exchange for your reviews and comments.
3- Check NetGalley and Edelweiss:
Joining NetGalley or Edelweiss and requesting ARCs directly from fiction book writing is one of the most effective methods for obtaining ARCs.
Access is typically granted to book evaluators who publish reviews on their websites. Also, social media platforms are great for those with a lengthy history of reviewing books on Amazon.
Both platforms are free to join to Get ARC Books. Therefore, you should only download books if you intend to check them. I review books on both of these platforms and because I have been able to increase traffic to this website, I am now approved to review books before they are published the majority of the time.
4- Social Media Platforms:
Whereas Goodreads feels like a chance in the dark, author or publishing house, social media giveaways have been more accessible to me. Typically, authors receive limited physical ARCs to distribute to friends and family, but they occasionally share a copy with readers via social media. I have won several copies by entering these contests. Publishing Houses are also excellent to follow because, in addition to offering giveaways, they are the first to share information about upcoming releases. To determine which ARCs you desire, you must be aware of the forthcoming releases, and keeping an eye on Best Book Club Books for 2023 might give you a heads up on what's coming.
5- Book Festivals:
Due to location or accessibility, not everyone can attend book festivals, so avoid this section if that does not apply to you. I walked away from my first festival with five advanced reader copies without attempting. Other attendees prioritizing receiving books could leave with 15 or more volumes.
After COVID-19, festivals and distribution decreased significantly. However, a resurgence is occurring, and more sponsors are again attending festivals, resulting in many in-person ARC giveaways.
Why Should You Use an Arc Reader? What Are the Advantages of Arc Readers?
Authors value ARC readers for a variety of reasons. First, they aid in generating early chatter and anticipation for a book.
In addition, feedback from Book writing services and ARC readers permits authors to refine their work, identify areas for development, and address any issues before the book's official publication. This feedback is indispensable for influencing the book's final version and ensuring its quality.
Marketing by Word of Mouth:
ARC readers frequently share their opinions and critiques on social media platforms, blogs, and review websites. Their recommendations can reach a larger audience, generating organic word-of-mouth marketing for the book. Favorable evaluations from ARC readers can aid in establishing credibility and luring additional readers.
Early Reviews:
To Get ARC Books, positive remarks from ARC readers can be featured on book covers, press releases, and websites devoted to the book. These early evaluations can add credibility and entice prospective readers.
Enhanced Visibility:
When ARC readers share their thoughts and reviews on social media and review platforms, they increase the book's visibility. This exposure may increase interest from consumers, the media, and other industry professionals, resulting in increased sales and opportunities for the author.
Audience Achievability:
Typically, ARC readers are ardent readers within a specific genre or subgenre. Authors can reach their intended audience directly by providing them with an ARC. This strategy can increase the likelihood of attracting readers legitimately interested in the book's genre or topic.
Conclusion:
ARC readers are essential to the success of authors and the publishing industry. Their feedback, reviews, and active promotion generate excitement for forthcoming releases. Also, shape the final version of the book, and provide authors with invaluable insights.
Whether you are an author seeking to Get ARC Books, an ARC reader, or a voracious reader aspiring to become one, the world of ARC reading provides a unique opportunity to communicate with fellow book lovers and contribute to the literary community.