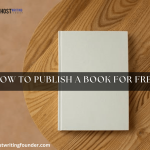 As a first-time author, you have many options when it comes to publishing platforms to choose from, including understanding the Steps to Self-Publishing on Google Books Partner Center 2023. However, not all have the same features or advantages, which is why it's crucial to explore Book Publishing Services to find the right fit for your work.
So, learning how to publish a book for free without spending any money and what to anticipate before choosing the best option is essential.
Best Platforms to Free Publish Your Books:
Here are some best platforms to make the most of and free publish it:
1- Wattpad
Wattpad is a great place for authors and fans to connect, which makes it a great place for new authors to share their work.
Also, if you want to work on the go, you can write and share stories on the mobile app.
So, should you use Wattpad to sell your book? We should find out.
Wattpad's Good Points:
You can share your book at once or one part at a time.
Writing events on Wattpad is a great way to get your name out there and see your work.
Use the area for writers to find out how to use the site and make your book a hit.
You have full power over uploading, changing, and publishing your book and its title and front page.
Considerations for Using Wattpad:
Wattpad is geared toward younger people, which may not work for some writers or types of writing.
Marketing your book takes a lot of time and work if you want to be successful.
Wattpad users expect writers to interact with them regularly, which is important for selling your book.
2- Barnes and Noble Publishing
You can save money and avoid standard printing by using Barnes & Noble Pressb for free to publish a book:
It is also one of the biggest bookstores in the US and helps writers market their books well.
But first, you need to know a few things.
Barnes & Noble's Good Points:
Sell your ebook in as little as three days.
Barnes & Noble has a tool that lets you print your book when you want to.
Get 70% of the price of each ebook you sell, no matter how many you sell.
There are no rules about publishing elsewhere, so you are free to do so.
Considerations for using Barnes & Noble Press
To meet Barnes & Noble Press's demanding standards, your book will need to be organized and reviewed by experts.
Your download will not be available in other online stores. It will only be available in the Barnes & Noble online store. Compared to some of the other apps, it has a smaller reach.
The limited layout options might frustrate those who want more creative freedom.
3- StreetLib
If you want to sell your book worldwide, use StreetLib's self-publishing tools.
Not only is it available to free publish, but you'll also have access to a full dashboard. Track your book sales at any time and from anywhere.
StreetLib's Good Points:
You can easily publish your ebook in any language.
StreetLib has an app that lets you control how your book is published while you are on the go.
No costs right away.
SteetLib will send your book to all the big players, like Amazon, Google Play, Apple Books, and more.
It's a great choice for selling around the world.
Considerations for Using StreetLib:
StreetLib charges 10% of the cover price for distributing ebooks.
Compared to other sites, the website is hard to use.
It does not have an online store of its own.
4- Google Play Book:
We can't discuss Book Publishing Services without discussing how powerful Google Play Books is.
It has features not found anywhere else, and self-publishing on the site is easy.
Google Play Book's Good Points:
Google Play has over 3 billion people in 75 countries, all of whom could read your book.
It has a partner program that will give you 7% of any book sales that happen within a day.
If you publish your book through Google Play, the Google search engine will automatically add a sample of it.
It's easy to run sales and campaigns for your book.
Use Google Play promo codes to give your readers special deals, like money off the book or free access.
Considerations for Using Google Play Books:
You need a Google or Gmail account, which is easy to set up.
20% of your book must be able to be read online.
PDF and EPUB are the only files that can be used.
5- Apple Books:
Apple Books makes it simple and free to get your book out there.
It gives writers the tools to get their books out there by giving them everything they need to create and organize a text.
Apple Book's Good Points:
You can post different types of files on the website.
They can give things away for free.
It is a popular choice for users because it is easy to add books to an iPhone or iPad.
It's easy to keep track of sales and get daily results.
Considerations for Using Apple Books:
You'll need an account with iTunes.
Not all books can be uploaded to Apple Books.
The uploading process might be difficult to understand and use.
6- PublishDrive:
PublishDrive, a service for selling and distributing books, is another way to free publish your first book.
It was started in 2015 by Kinga Jentetics, who wanted to make it easy for writers to self-publish their work worldwide.
PublishDrive's Good Points:
You will get 100% of the money! PublishDrive gets nothing from sales.
Some articles and tips can help first-time writers figure out how to get their books published.
Over 30 million people read on the site all over the world.
You can get your book out there in just a few easy steps.
Advertise on Amazon and run deals.
Considerations for Using PublishDrive
PublishDrive gives you a free 14-day trial, but after that, a regular monthly plan will cost you $16.99.
The only files that are allowed are a.docx and epub.
7- Kitaboo:
Digital writing sites like KITABOO are made to help writers through the marketing process.
You can use many engaging features to make your ebook, such as graphics, interactive charts, music, and video clips. Remember that this platform is for books that teach.
Kitaboo's Good Points:
KITABOO works with Android, IOS, and Windows running systems:
Use the platform's powerful analysis tools to determine how well your book is doing.
You can make your online store.
You can easily change the style of your books.
People who like to read often choose the KITABOO ebook reading app.
Considerations for Kitaboo:
On its website, the rates for royalties are not clear.
You can sign up for a free trial, but to use all of KITABOO's features, you need to call them for a unique price.
8- Kobo Writing Life:
Kobo is one of the biggest online bookshops in the world. It has more than 4 million books in its library.
It also has a digital printing tool that is easy to use and lets writers free publish their books. Setting up on the site is quick and easy because of clear step-by-step guidelines.
Kobo Writing Life's Good Points:
Put your book out in as many as 190 countries worldwide.
You could get up to 70% of the money.
Give your readers special deals and discounts.
Set up a pre-order for your book to excite people for the day it comes out.
Fiction fans love Kobo, so if your book is in this field, it's a great place to put it out there.
Considerations for Kobo Writing Life:
On Kobo Writing Life, nonfiction books don't sell as well as fiction.
You'll need to make at least $50 to get a royalty payment every month.
9- The Kindle Direct Publishing (KDP):
Most likely, you've heard of or used KDP before. In 2007, Amazon allowed authors to put their books on the Kindle Store for free by creating an ebook publishing site.
Each year, 487 million ebooks are sold through the Kindle app. This makes it a popular choice for both new and established writers.
Kindle Direct Publishing's Good Points:
SEO is the best way to reach a large community.
It's very easy to use, and you can quickly figure out how to self-publish a book for free.
Even after your book has been released, you can still change it.
It lets you pre-order, which is helpful.
Get 70% or 35% of the royalties for each book you sell.
Considerations for Kindle Direct Publishing:
With KDP Select, you can't put your book on any other site for 90 days.
The payment window is 60 days, so if your book makes $200 in April, you won't get paid until June.
Every book category has a lot of competition.
10- Draft2Digital:
Free publishing of books can be done in two ways using this platform.
You can share your work on all main platforms (unless you agree to terms of monopoly) or use a platform that collects all other platforms. Once you send your book to an aggregator site, it will be listed in many shops.
Draft2Digital is one of the best tools for collecting information. It started in 2012 and has grown into a site that thousands of writers know and trust.
Draft2Digital's Good Points:
A fee is only taken from your account when you sell a copy of your book. You won't have to pay anything if you don't make any sales.
You can save time by releasing your book on multiple devices with just one click.
If you have a problem with the site's work, the customer service is quick and helpful.
Setting up an account, sending your book, and releasing it are all very easy.
Draft2Digital gives its writers free tools to prepare their books.
Considerations for Draft2Digital:
It's not as flexible as other platforms when it comes to personalization.
Draft2Digital doesn't work with all stores, like Google Play.
This platform deducts 10% of your book's list price, not your profit, from each sale you make.
Tips for Improving Writing to Free Publish the Books:
Plan Your Book
Before you start writing, plan your book thoroughly. Define your niche, target audience, and the core message of your book. Having a clear concept will guide your writing and marketing efforts.
Write High-Quality Content
Quality matters. Write engaging, well-researched, and error-free content. Use tools like Grammarly to proofread and improve your writing. Your book should be polished and professional.
Editing and Proofreading
Editing is crucial. Whether you are trying to free publish or thinking of hiring someone. Review your manuscript for grammar, spelling, and punctuation errors. If possible, hire a professional editor or use beta readers to get feedback on your work.
Design a Captivating Cover
Invest in a compelling book cover. It's the first thing readers see. A professional cover design can attract more readers and increase your book's visibility.
Format Your Manuscript
Proper formatting is essential for both print and digital versions. Follow formatting guidelines provided by publishing platforms to ensure your book looks professional.
Choose the Right Publishing Platform
Research and select the best publishing platform to free publish your book. Some popular options for free publishing include Amazon Kindle Direct Publishing (KDP), Smashwords, and Draft2Digital.
Understand Copyright and Licensing
Understand copyright laws and licensing options. Decide whether you want to offer your book for free permanently or for a limited time. Creative Commons licenses can help you define how readers can use your work.
Market and Promote
Promotion is key to success. Utilize social media, author websites, and email marketing to reach your audience. Engage with potential readers and consider offering free chapters or excerpts to generate interest.
Leverage Book Review Sites
Before free publishing, submit your book to reputable book review websites and blogs in your genre. Positive reviews can boost your book's credibility and visibility.
Engage with Your Readers
Build a relationship with your readers. Respond to reviews, engage on social media, and consider starting a mailing list. Reader loyalty can lead to word-of-mouth promotion and long-term success.
Conclusion:
We are living in a great time. You don't need permission from anyone. No one has to agree with you. Free book writing and publishing services are available. You just have to put in the effort. I hope this step-by-step guide has helped you understand how printing works and gives you the confidence to try it yourself.