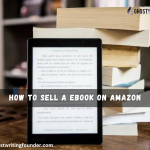 Introduction
Authors and companies are finding that selling eBooks on Amazon is a great way to reach a wide audience and make money. eBooks are becoming increasingly popular as digital reading devices become more popular and offer more ease.
This detailed article will show you how to sell an eBook on Amazon, whether you're a hopeful author or an established publisher who wants to take advantage of Amazon's huge market.
We'll talk about everything you need to know to achieve, from how to format your manuscript to how to make your product page work best for you.
How to Sell an eBook on Amazon: A Step-by-Step Guide
Choosing the Right eBook Format
First, before selling your eBook on Amazon, you must ensure it is formatted correctly for digital release. Amazon lets you buy eBooks in several forms, like MOBI and EPUB. Depending on the people you want to reach and the devices they use, you must choose the right style to ensure everything works together.
Crafting an Engaging Book Description
Your book's introduction is very important in getting people to buy it on Amazon. It should be short, interesting, and show what makes your eBook special. Use convincing words and include relevant keywords to make your book easier to find.
Making a Cover That Grabs Attention
People say you shouldn't judge a book by its cover, but the style of the cover is very important for eBook sales on Amazon. Invest in a properly designed cover that shows what kind of book it is and catches the eye of people looking through Amazon's huge catalog.
Smartly price your eBook
Setting the right price for your eBook is the key to getting the most sales and money from it. Think about things like your book's length, the genre, and the competition in your area. Do some market study to find the sweet spot where you can attract customers and still make a good profit.
Leveraging Amazon Keywords
For your eBook to appear in Amazon's search results, you must optimize its metadata with relevant terms. Study keywords to find the most popular search terms for your book's genre, themes, and topics. Use these terms naturally in your book's title, subtitle, and product description.
Book Publishing on Amazon KDP
Amazon Kindle Direct Publishing (KDP) is the platform that lets you book publishing on Amazon without help from Amazon. For a comprehensive guide, consider How to Self-Publish a Book offered by our services. Sign up for a KDP account and follow the steps to upload your formatted manuscript, set prices and royalty options, and publish your eBook to the Kindle Store.
Using the Amazon Author Central system
Amazon Author Central has several tools that writers and publishers can use to improve their presence on Amazon. Create an Author Central account and use features like the author bio, editorial reviews, and the option to link your eBook to any print versions you may have.
Promoting Your eBook on Amazon
Indeed, Amazon is a big place to sell eBooks, but you need to push your eBook to get more people to see and read it. Consider using Amazon's advertising choices, running promotional campaigns, and using social media to get people to your eBook's product page and create buzz about it.
Engaging with Your Readers
To succeed as an eBook author, build a loyal reader base. Engage with professional Content Creation Services to craft compelling material that resonates with your audience. Encourage reviews and ratings on Amazon. Connect with readers through Q&A sessions, newsletters, and social media. Knowing your readers fosters loyalty and increases repeat purchases.
Monitoring Sales and Analytics
Use Amazon's reporting and tracking tools to closely monitor how many eBooks you sell and how well they do. To get the most out of your eBook, you should monitor trends, look for ways to improve, and then change your marketing and sales plans accordingly.
Conclusion
Selling an eBook on Amazon is profitable and allows you to share ideas worldwide. Follow this guide to sell your eBook successfully. Improve marketing, engage readers, and adapt to digital publishing changes. Begin your journey today and maximize Amazon's eBook store.
FAQs
Q1: How long does it take to publish an eBook on Amazon?
A1: The time it takes to publish an eBook varies depending on several factors, including the complexity of your formatting, cover design, and the review process. Generally, making your eBook available for sale can take a few hours to a few days.
Q2: Can I sell my eBook on Amazon if I'm not a published author?
A2: Absolutely! Amazon provides a platform for self-published authors, making it accessible to established authors and aspiring writers. You don't need a publishing contract to sell your eBook.
Q3: Do I need an ISBN to publish an eBook on Amazon?
A3: No, an International Standard Book Number (ISBN) is not required to publish an eBook. Amazon assigns its unique identifier, an ASIN (Amazon Standard Identification Number), to each eBook listed on its platform.
Q4: Can I sell my eBook exclusively on Amazon?
A4: Amazon offers a KDP Select program that allows you to enroll your eBook exclusively on their platform for a certain period. In exchange, you can access promotional opportunities such as Kindle Unlimited and Kindle Countdown Deals. However, it's not mandatory, and you can also sell your eBook on other platforms.
Q5: Can I update my eBook after it's published on Amazon?
A5: You can update your eBook after it's published on Amazon. Whether you need to correct a typo or update the content, simply make the necessary changes to your manuscript, re-upload it through your KDP account, and the updated version will be available to your readers.
Q6: How do I receive royalty payments from Amazon?
A6: Amazon pays royalties to authors and publishers based on a percentage of the eBook's list price. You can set up your preferred payment method in your KDP account, and Amazon will transfer your earnings directly to your bank account or issue a check.