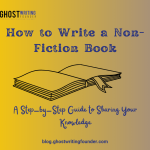 Writing a non-fiction book is a good way to tell your story, share your knowledge, or even build your business. You may not have thought about becoming a writer before, but it's not as impossible as you might think. In this post, we'll show you how easy it is to write non-fiction. Keep that idea for your book, and let's see how to make it something people love.
Get clear on what you want to achieve with your non-fiction book
Before you write non-fiction, you need to know why you want to write. Understanding the Art of Portraying Real-Life Stories can help clarify your purpose. What do you want the person to understand? What do you want them to think, feel, or do after reading your book? Do you want to talk about something you're interested in? Or do you want to tell a story to make your person think or help them?
You'll be surprised at how many other pieces fall into place when you know what you want your non-fiction book to do.
Understand the subgenre of non-fiction you're going to write non-fiction
Once you know what you want your book to do, you need to decide what kind of non-fiction book you'll write non-fiction. Non-fiction has a lot of different types. Depending on which one you choose, what you say and how you say it will change.
Non-fiction that tells a story is considered narrative non-fiction, much like the compelling tales found in Best Autobiographies of All Time. The story you're telling, on the other hand, is true. Other non-fiction types, like memoir, autobiography, and biography, also tell a story. In this kind of writing, telling is the most important thing.
In expository non-fiction, showing is more important than saying, and if you're looking to master this technique, our Complete Guide to Website Copywriting might offer some valuable insights. Here, you don't tell a story as much as you describe a topic. Books that tell you how to do something are all educational.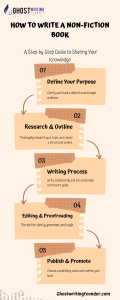 Choose the structure for your book
If your main goal is to tell a story, you need to decide how you want to tell that story. For inspiration, check out Tips for Writing Great Short Stories. So, you need to make a plan for the plot. Here are some story structures:
The Traditional Three-Act Structure
In this part, you tell the story in order. You begin with the first act, which is the setup act. You're setting the scene by presenting the main character and discussing the event that starts the main character's story.
The antagonist doesn't have to be a real person. Instead, it can be a big problem, like a set of societal views or a process or thing that needs to be figured out. You keep the audience on the edge of their seats during the conflict act. Then, you get to the last part, called the resolution act. This is where the main character and the bad guy fight. This is the peak you've been building up to.
Manipulating Time
With this format, you start your story in the middle and then use flashbacks to tell your reader how it all started. You can skip ahead to things that will happen later and then return to an earlier time. This format works especially well when the reader might lose interest in the setup and want to know what will happen next.
The Circular Structure
Here, you start your story with what would normally be the most important part. Then, you go back to the beginning and middle of the story and talk about what led up to this big event. At the end of the book, you talk about the most important thing that happened and tie up any open ends.
The Parallel Structure
With this format, you can tell more than one story at once. Each story has a beginning, middle, and end that are all unique. You can tell the events all at once or one at a time, but you must tie them all together in the end.
For expository non-fiction, it may make more sense to divide your book into parts or chapters based on the topic. Say, for example, you are writing a book about how to run a business that explains seven steps or ideas. The best way to do this is to take each step or concept at a time. But you can still make a bigger story if you let one step or concept lead to the next.
Draft an outline
Now, you want to jot down your plan. For a structured approach, consider the advice on Crafting a Book This is critical because it will assist you to make certain you are saying the whole thing you need. Follow the steps to make a cartoon quick:
Write down the primary components of the layout of your e-book. If you need to inform a story, those will be the beginning, center, and stop, regardless of what order you inform them. For expository non-fiction, you may write down the crucial points you must discuss.
Now, examine every element on its own. Write non-fiction, the entirety of what you must speak about in that section.
Look at all these sub-points and determine which ones you may be a part of, which ones you need to break up, which of them may be sub-points of others, and so forth.
Choose the order in which you want to speak about every sub-factor. There can be some overlap, so you ought to decide where to talk about the sub-factor in greater depth and where you simply want to touch on it.
Choose how much space you need to present every sub-point. This will keep you from occurring and on approximately something that, within the grand scheme of things, isn't that critical.
Choose your style guide
A style guide lists rules to help you write non-fiction identically every time, and selecting the right one is crucial as outlined in our A Comprehensive Writer's Outline. It can be approximately something, from whether you may write within the first individual or the second one to whether or not you will write out numbers. You don't need to choose a style manual before you start writing. However, it'll make things go much more smoothly if you consider Ghostwriting Founder. They will guide you through the whole process with tips. Writing identically from the start will save you time in the long run.
Write, write, write
Once you have a plan, you've got, without a doubt, accomplished most of the difficult paintings. Now that you have a fashion manual to help you with the little things, all you have to do is write down or kind up your mind. So, get a drink, clear your table of distractions, sit down, and start working.
Conclusion
Writing a non-fiction book is a rewarding journey that gives your knowledge a voice. Follow your passion, do thorough study, and connect with your audience by writing in a way that is clear and easy to understand. By following these steps, you can confidently share your information and leave a lasting impression on readers who want to learn something new.