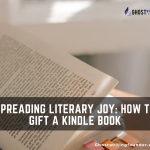 E-books are wonderful gifts that can be perfect for various occasions. Whether you're searching for a graduation present, a birthday gift for a teenager, or a thoughtful gesture for a friend going through a tough time, e-books can provide the solution. For more gift ideas, explore The Best Book Club Books for 2023. The best part is that gifting a Kindle book is incredibly easy, and you can do it without leaving the comfort of your home.
This makes e-books an excellent choice for busy gift-givers. Moreover, many options are available, accommodating different budgets and catering to various types of readers. You can find books priced below $3 or opt for a more substantial gift, like a six-month Kindle Unlimited membership for $60.
HOW TO GIFT A KINDLE BOOK?
Gifting an E-book is simple! Just follow these three easy steps to bring ebook joy to your loved ones:
Visit the Amazon Kindle store and search for the book you want to buy.
On the right-hand side of the page, below the "Buy Now" button, click on the "Give as a Gift" button. You can see a screenshot of where to find it.
Now you can choose how you want the book delivered. You can have the gift email sent directly to the recipient or yourself. If you select the recipient, you can specify the date for the email delivery and add a personal message. If you choose to receive the email, you can print it out and give it to them in person.
That's it! You've successfully gifted. Enjoy spreading the joy of reading!
Why Gift a Kindle Book?
Now that the holidays are approaching quickly, it's time to consider gifts. Consider giving a Kindle book as a gift if you want to give something that will be remembered. The person who gets the gift can read it immediately and keep going on their favorite device.
Giving an e-book as a gift has many benefits over a traditional book. For a deeper understanding of e-books' advantages, check out First of all, it gives you quick access to many titles. The person who gets the book can start reading it as soon as they get it. Also, Kindle books are movable and can be read on many devices, such as smartphones, tablets, computers, and Kindle e-readers. This means that the person who gets the book can read it anywhere, at any time.
Choosing the Right K Book
Selecting the perfect E-book requires thoughtful consideration. Follow these steps to ensure you find a book that resonates with the recipient:
Step 1: Research the Recipient's Interests
Researching your recipient's interests will help you find a title that will likely appeal to them. Take some time to learn about their passions and hobbies so that you can choose a book that meets their needs or interests. For example, if they love cooking, look for cookbooks. If they like reading about history, try a historical nonfiction title. If they enjoy science fiction, thousands of titles are available on Kindle, inspired by works from services like Science Fiction Writing.
Step 2: Decide on a Topic Area
Once you know their general interests, narrow your search by focusing on a topic area. For example, if you're buying for someone who loves history books, look for titles about World War II or Civil War history. If your recipient is into science fiction novels, try titles about space travel or aliens invading Earth! Whatever topic area you select should be broad enough to allow for multiple options within that category but specific enough, so your recipient doesn't get overwhelmed with too many choices (especially if they don't like making decisions). If you want horror books, many authors from Horror Writing Services have written captivating books in this genre.
Step 3: Read Reviews and Ratings
Before purchasing a Kindle book, it is important to read reviews and ratings. You can find these on Amazon and other sites that sell e-books online. It is also important to check out details such as whether or not the book has an accompanying audiobook version. This may be useful if you want to give someone a gift they can listen to while driving or exercising at home or outside during their daily routine.
Step 4: Check Compatibility and Formats
Check Compatibility and Formats Before purchasing an e-book for someone else's Kindle, make sure it will work on their model of Kindle device. There are currently several different models available from Amazon, including the Kindle DX (9.7″), Paperwhite (6″), Oasis (9″) and Voyage (6″). Each model has its features and capabilities, so check which one they own before buying an e-book that may not be compatible with their device. You can find out what kind of device someone owns
Step 5: Personalize the Gift
Personalizing a Kindle book is easy when you use BookFunnel's free cover customization tool! Upload your photo or choose from our selection of pre-made covers and upload them directly into BookFunnel's online editor. You can customize color schemes, and fonts, and even change backgrounds. The possibilities are endless when it comes to personalizing a Kindle book. Ghostwriting Founder can assist you in personalizing the book.
Step 6: Purchase and Send the Kindle Book
Once you have found the perfect Kindle book, proceed with the purchase. Amazon makes it easy to gift Kindle books. Simply navigate to the book's page, select the "Give as a Gift" option, enter the recipient's email address, and choose the desired delivery date. Review your purchase details and proceed to checkout.
Benefits of Gifting Kindle Books
These are a popular choice for gifts because they offer many benefits that make them ideal for any occasion:
Convenience
Books can be delivered instantly, making them ideal for last-minute gifts. Discover more about instant book delivery in The Ultimate Guide to Effective Blog Design.
Eco-Friendly
E-books reduce paper consumption, contributing to a greener environment. Learn more about eco-friendly reading options in Sustainable Reading
Accessibility
It can be read on multiple devices, ensuring accessibility for all recipients. For more on digital reading, check out The Best Audiobook App.
Space-saving
Books reading on Kindle eliminates the need for physical storage, saving space in the recipient's home.
Affordability
It often costs less than physical copies, allowing you to gift more books within your budget.
Conclusion
Gifting an E-book provides a gateway to a world of literature and knowledge. The convenience, versatility, and personal touch associated with gifting Kindle books make them an excellent choice for any occasion.