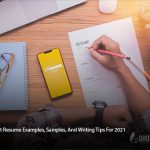 When you apply for a job, do you send in your picture or a voice note? That's a dumb question, right. Obviously, you send in your resume reflecting your personality and establishing a strong argument on your behalf. Your resume is the piece of paper that shows your capabilities, talks about your academic background, assert your skills and expertise to your employer. For tips on making your resume more compelling, check out How to Write a Personal Statement: A Comprehensive Guide. It is a document that makes you stand out from the crowd and helps an employer hire you. If you need help crafting this crucial document, check out our Resume Writing Services. Remember, it is not just a document, but the document that helps you secure your place among the professionals' team. 
Suppose you saw a job ad post and you realize that it is the perfect job for you. Likewise, you have the required skills and the expertise which has been asked in the ad. When you send in your resume hoping to get the sweet spot of your dream. You don't hear back from them so you wait and wait until they close the job vacancy. You might wonder, what went wrong? How did they not call you for the interview? No meeting scheduled, no test demanded—just silence.
The chances are your resume was lost amid the piles of documents. Despite the fact, you have the right skills to avail the perfect opportunity, and you have the perfect resource for then, but you lost it. There are reasons why that happens. Among those, your resumes seem to be the first to pop out. 
First of all, let look at some of the benefits of resume writing and learning from Student resume examples.
Your resume is your brand. It helps you establish a strong case in front of the professionals and helps you get hired.
Your resume is your life story, so when you make it interesting and engaging, your employers trust you.
It gives you an advantageous position over others who are also job hunting.
It gets you exciting interview opportunities from big companies and organizations.
This Student resume examples, Samples, and Writing Tips blog post will help you to create an effective resume while sharing helpful writing tips that are highly relevant in 2021.
Explains how to craft the student resume that assists you in landing the perfect job.
Shares tips and tricks to make your resume compelling and effective.
Mentions the dos and the don'ts while writing your resume.
Separately mention the important areas of your resume and how to mention educational and work history.
Without further ado, let's begin.
What are the important elements that your resume should include?
Your general contact information
Your objective/ Summary
Educational or Academic background
Work history/ experience, if you have any.
Skills/expertise
In case if you don't have any work experience, you can include extra-curricular activities, such as:
Volunteering
Projects and Task you have done
Awards and certifications
Your interest or hobbies
Language skills.  
We'll address all these aspects of resume section-by-section while also giving you Student resume examples.
Your Contact Information: What to Include in your student resume?
The contact information in your resume should include:
Your full name John Doe
Your contacting number 123-123-1234
Emailing address John.doe@xyz.com
Location Saint Louis, Missouri, USA
You can also include optional information better and professional exposure.
LinkedIn URL Make sure you have an updated LinkedIn profile.
Online Portfolio Online portfolio such as GitHub, Behance, Dribble, etc                   
Website or Blog link Add your website if you have any for the professional touch
What not to include: 
Date of birth
Your picture
Unprofessional email address:
Pro-tip: Studying Student resume examples shows that many students make the mistake of adding their unprofessional email address such as Daddysprincess@xyz.com or Johnbadass@xyz.com
The second mistake students make to add a headshot or unprofessional picture to their resume. It is advised not to include your picture until and unless you were specifically asked in the job ad description. You might be required to add your picture when applying for the acting position. However, ensure not to include your picture in your resume.
The third mistake is to provide the date of birth, which is unnecessary and irrelevant. 
Career Objective or the Career Summary
Did you know that HR only spends about 6-8 seconds to scan your resume? Learn how to grab their attention with our blog on The Complete Guide to Website Copywriting – 2023 Edition. Therefore, make it compelling and convincing. You don't want to leave a wrong impression on your recruiter. The more comfortable you make things for him, the higher the chances of scheduled for the interview. 
Now here are two things that you can do to convince your recruiter. 
If you are starting your career, then you should include a career objective in your resume. According to Ghostwriting Founders, a career objective has your education, skills, academic background, goals, and aspirations.
If you have two, three, or above years of work experience in the field, then add a career summary on the top of the page, highlighting the line of duties you can perform or have expertise in it.
Pro-tip: highlight an essential aspect in your career object or the summary part, and that is, you have to keep your summary/objective 2-3 sentences long. You don't want to start writing 100 words. Just keep it short, crisps, and useful.
Student resume examples of summary and objective writing:
"Recent graduate with a BA in Media Sciences from University XYZ looking for an entry-level job as a content writer. Previous experience includes tutoring media and communication subjects for two years at University XYZ, facilitating more than 100+ students to improve their essay writing skills. Additionally, maintained a personal blog about science, tech, and education, publishing over 20 blog posts and articles in the last two years."
Media Sciences student with a 3.95 GPA, looking for an entry-level content editor position at XYZ media channel. Skilled in news writing and editing, with excellent knowledge of media sciences. Seeking to work in a professional environment with higher chances of growth. Hoping to help company XYZ to achieve the X targets. 
Education or Academic Achievements: 
The education section is simple, yet you have to mention all your educational background in reverse chronological order and list it down. However, there are specific areas in your resume where you need to focus while writing. You want your recruiter to take an interest in you and read your student resume. Therefore, ensure these points:
Name of your degree
Name of the college/university
Years attended
GPA score
(optional) Additional achievements such as a project or a thesis
(optional) Minor subjects
Things to bear in mind:
After reviewing Student resume examples, it is understood that students make the mistake of adding about education in a primacy manner. The first degree goes at the top. However, this is not the case.
Add your most recent degree on the top, and the rest also follows the same pattern. Your high school education would go last. Secondly, mention your GPA only if I had an excellent academic year.
Experience:
Experience helps your recruiters to know about your past work history. Learn more about presenting your experience effectively with our Professional Writing Services. Your work history is a piece of evidence that you are capable of doing the job. It also lets your recruiter know what type of job description you fit well.
The following important features should be inculcated in your resume when adding experience.
The Job entitlement or the position of a previous or current job.
Name of the company or organization, including the location and description
Date of employment. The standard format of the employment date is as follows: mm/yy
Summary of your achievement and responsibilities.
What you should not include:
The reason for leaving your job
Last or the current salary
According to Student resume examples, you should add your experience in reverse chronological order.
What if you don't have the required experience when applying for the first time? It is possible that you won't have prior experience. What should be done in this regard? You add your extra-curricular activities or volunteering experience. Such as:
Mention your internship program if you have completed any prior training in the relevant fields.
Mention if you have done any project or thesis on that particular field. \
Add your after-school activities as they can positively impact the recruiter, and you will also be perceived as a hard-working and passionate person.
Add your volunteering experience. This establishes that you are a dedicated and caring person. Remember, a recruiter is always searching for a dedicated and committed person who is humble as well. It does not matter how small of a task you have done and Mention it to make your resume appealing.
Mention project, special thesis, course work, or any of your personal projects as long as it is relevant and related to the job you are applying for.
Mention any freelance work you have done before.
Skills and Expertise Area:
You can mention two types of skill areas in your resume to build a strong and professional image. According to the number of Student resume examples you have to include your skills to appear different and unique from the crowd.
Soft skills:  These skills are also called social skills that show how you are as a person. It includes communication, critical thinking, creativity, and time management skills.
Hard skills: it refers to the types of skills that are measurable. These are also technical skills.
Technical Skills: 
Copywriting, content writing, SEO-based copywriting, news writing, editing, proofreading
Python, Java, SQUEL, C++
Soft Skills:
There are many types of soft skills, including interpersonal skills, communication, flexibility, team leader, adaptability, etc.