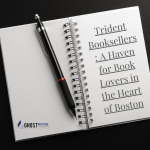 Are you a book lover looking for a new and unique bookstore experience? Or are you an author or publisher searching for a space to promote and market your latest book? Look no further than Trident Booksellers, located in the heart of Boston's historic Back Bay neighborhood.
For over 40 years, Trident has been a beloved and iconic independent bookstore. It is known for its vast selection of books, cozy atmosphere, and delicious café offerings. But beyond being a haven for book lovers, Trident is also a valuable resource for authors and publishers looking to market their books.
In this blog, we'll take a closer look at them, exploring their rich history and unique atmosphere. Whether you're a reader, writer, or book marketing services provider, Trident has something to offer. Let's explore why this beloved bookstore is a must-visit destination for book lovers.
History of Trident Booksellers
Trident Booksellers has a rich and fascinating history. It all started in 1984 when the store was opened by a group of friends who shared a love of books. The original location was in the heart of Boston's Back Bay neighborhood, and the store quickly gained a reputation as a haven for book lovers.
Over the years, Trident has weathered some ups and downs, but it has remained a beloved institution in the Boston community. In 1993, the store moved to its current location on Newbury Street.
Trident has always been more than just a bookstore. From its inception, this place has served as a hub for individuals to convene and express their passion for books. The store has a cozy, welcoming atmosphere that encourages customers to browse, read, and relax.
Over the years, Trident has hosted countless events, from author readings and book signings to poetry slams and trivia nights. The store has become a central gathering place for the local literary community and a popular spot for aspiring writers. It has also adapted to the changing times. In addition to selling physical books, the store also offers e-books and audiobooks. It has an online store where customers can browse and purchase books online,
The Experience of Visiting Trident Booksellers
If you're a book lover and happen to be in Boston, visiting Trident Booksellers is a must. It's not just a bookstore but an experience in itself. When you visit, we promise you'll find a warm and welcoming, cozy and comfortable atmosphere.
1. Cozy and inviting atmosphere:
First and foremost, the atmosphere is cozy and inviting. It's a perfect spot for a quiet afternoon, whether you want to read a book or just relax with a cup of coffee. You'll find plenty of comfortable seating options throughout the store.
2. Extensive menu of food and drinks
In addition to books, Trident also has an extensive menu of food and drinks. We offer a variety of food options, ranging from small snacks to filling meals, to satisfy all appetites. They have an impressive selection of teas, coffees, delicious pastries, sandwiches, salads, and more. The prices are reasonable, and the quality of the food is excellent.
3. Friendly staff
Trident is also known for its friendly and knowledgeable staff. They are always ready to assist you in finding the book you need. Moreover, they're also happy to offer recommendations based on your interests. It is apparent that these individuals share the same love for books as you do and are enthusiastic about sharing their passion with you.
4. Hosts a variety of events
Trident also hosts various events, from author readings to book clubs to trivia nights. It's a great way to connect with other book lovers and share your love of reading. The events are well-organized and well-attended, and they often feature well-known authors and celebrities.
5. Commitment to the environment
Another thing that sets Trident apart is its commitment to the environment. They use eco-friendly products whenever possible and offer recycling bins throughout the store. They also have a program where customers can bring their old books to be donated to charity or recycled.
Trident Booksellers' Role in the Boston Community
Trident, located in the heart of Boston, is more than just a bookstore. The place has evolved into a central spot for both locals and tourists who share an appreciation for literature and culture to gather. The Ghostwriting Founder brings you a few roles that Trident plays in the Boston community.
1. Hosts events:
Trident has been a fixture in Boston since 1984, and over the years, it has become an integral part of the local community. The store has hosted numerous events and readings featuring local authors and nationally and internationally renowned writers. These events bring people from all over the city and beyond to Trident, creating a sense of community and connection.
2. Supporting local artists
Beyond hosting events, Trident is also deeply committed to supporting local artists and creators. The store has a dedicated section for local authors and features handmade goods from local artisans. Supporting the local economy also contributes to preserving the area's distinct culture.
3. Supporting the city's literary scene
Trident also plays a key role in supporting the city's literary scene. It has partnered with local literary organizations to host events and workshops. This platform offers a space for up-and-coming writers to exhibit their work and engage with readers. This has helped to foster a vibrant literary community in Boston. It has also provided countless opportunities for writers to grow and develop their craft.
The Future of Trident Booksellers
Trident has been a beloved destination for book lovers in Boston for over four decades. With the ever-evolving technology, it's only natural to wonder what the future holds for media consumption.
Despite the rise of e-books and online shopping, Trident has remained a popular destination for book lovers. This is partly due to the store's focus on creating a unique and inviting atmosphere for customers. Trident has always been more than just a bookstore – it's a place to relax, meet friends, and discover new books.
Trident's success in creating a welcoming environment is a testament to the importance of in-person experiences, even in the digital age.
Looking to the future, it's clear that Trident Booksellers will continue to play an important role in the Boston community. The store has already taken steps to adapt to changing times. However, Trident's focus on creating a unique customer experience will likely remain a central part of the store's identity.
One way Trident is staying ahead of the curve is by embracing the experiential retail trend. This means creating experiences that go beyond simply selling products. Finally, Trident has also recognized the importance of sustainability in the future of retail. Trident is not only doing its part to protect the environment but is also appealing to customers who value eco-friendly practices.
Conclusion
Trident is a beloved destination for book lovers in Boston. Trident is a must-visit spot for literature enthusiasts, offering a warm and inviting atmosphere. It caters to both casual readers and serious bibliophiles alike. And for authors, the bookstore also offers book proofreading services to help ensure your manuscript is polished and ready for publication. So next time you're in Boston, be sure to stop by Trident Booksellers for a truly magical literary experience.