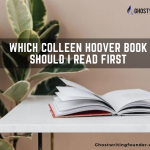 If you like to read modern books, you have probably heard of Colleen Hoover's book. Even if you don't read much, you should pick one up because it might make you think differently.
I love Colleen Hoover's writing, but I wouldn't say she's my favorite author. She has a way with words that bring out the worst parts of society and show people how to deal with the best. Her specialty is writing emotionally engaging contemporary romance stories. Discover more about the craft of writing in different genres at Fiction vs. Non-Fiction.
So, grab a cozy blanket, settle into your favorite reading spot, and dive into the captivating stories crafted by Colleen Hoover. Enhance your reading experience with tips from Best Book Subscription. Whether you choose to start with "Slammed," "Hopeless," "It Ends with Us," or "Maybe Someday," you're in for a treat. Happy reading!
6 Must Read: Exploring Colleen Hoover's Books
If you're new to her work and wondering which Colleen Hoover book you should read first
Here are my suggestions for you:
1-"Slammed"
"Slammed" is the perfect book to start your journey into Colleen Hoover's writing. It introduces you to the captivating world of poetry slams, where two main characters, Will and Layken, find solace in each other's company. This emotionally charged story tackles love, loss, and the power of words. With beautifully crafted prose and a gripping plot, "Slammed" will leave you wanting more.
2-"Hopeless"
If you're looking for a book that delves into deeper emotions and explores the complexities of love, "Hopeless" is a fantastic choice. This heart-wrenching tale follows Sky, a high school senior, and her intense connection with a mysterious boy, Holder.
All the secrets from the past surface, challenging their love and pushing them to the limits. Prepare yourself for a rollercoaster of emotions with "Hopeless."
3-"It Ends with Us"
"It Ends with Us" is a powerful and thought-provoking novel that deals with sensitive topics such as domestic violence. The story is of Lily, a young woman caught between her first love, Atlas, and a successful neurosurgeon named Ryle.
Colleen Hoover's speech writing services to tackle difficult subjects with empathy and grace shine through in this emotionally charged narrative. "It Ends with Us" is a book that will stay with you long after you turn the last page
4-"Maybe Someday"
If you're a fan of music and how it can unite people, "Maybe Someday" is a must-read. This unique novel combines Colleen Hoover's writing with original music from Griffin Peterson, creating an immersive reading experience. The story revolves around Sydney, a college student, and Ridge, a talented musician.
Their connection grows through music, blurring the lines between friendship and something more. "Maybe Someday" is a beautifully crafted tale of love, friendship, and the power of following your heart.
5-"Ugly Love"
"Ugly Love" is a gripping and emotionally charged novel that explores the complexities of love and the scars that can shape our lives. This Colleen Hoover book follows Tate Collins, a young woman who finds herself irresistibly drawn to Miles Archer, a pilot with a troubled past.
The passionate relationship unfolds; they must confront the painful secrets that threaten to tear them apart. "Ugly Love" is a captivating tale that beautifully balances heartache and hope, leaving readers with a profound understanding of the power of love and healing.
6-"Confess"
If you're looking for a book that combines art, romance, and a touch of mystery, "Confess" is an excellent choice. The story centers around Auburn Reed, a young woman with a difficult past, and Owen Gentry, an artist who collects confessions from strangers.
As Auburn and Owen's paths intertwine, they discover the healing power of honesty, love, and forgiveness. "Confess" is a beautifully written and emotionally charged novel that delves into the complexities of relationships and the importance of embracing the truth.
Choosing the Right Book for You
Now that we've briefly explored some of Colleen Hoover's notable works, how can you decide which book to read first? Here are a few tips from Ghostwriting Founder to help you make a choice based on your reading preferences:
1-Consider the Genre
Books span various subgenres within contemporary romance, including young adult, new adult, and adult fiction. Consider whether you prefer stories set in high school or college or if you lean towards more mature narratives, and for more on writing for different age groups, see Writing for Different Age Groups. Each Collen Hoover book offers a unique reading experience, so pick a genre that resonates with you.
2-Explore Themes and Topics
Colleen Hoover's books often touch on important themes such as love, loss, self-discovery, and personal growth. Reflect on the themes that resonate with you the most and choose a book that explores those subjects in a way that appeals to you. For more on the power of themes in writing, check out What is Contemporary Fiction?
3-Read Reviews and Recommendations
Check out other readers' reviews and recommendations, much like exploring Website Copywriting Services for insights, to get a sense of what books have resonated with others. Look for reviews that highlight elements you're particularly interested in, such as well-developed characters, intense emotions, or intricate plot twists. This can help you gauge which book might best fit your reading preferences.
4-Sample Excerpts or Chapter Previews
If you're still unsure which Colleen Hoover book to start with, consider sampling excerpts or reading chapter previews available online or in bookstores. This can give you a taste of the author's writing style and help you connect with the story and characters. For a deeper dive into understanding different writing styles, visit Autobiography vs. Biography Sometimes, a few pages are all you need to determine if a book captures your attention and draws you in.
Bottom Line
With six incredible books, you might find it challenging to decide which one to read first. Consider the themes and elements that resonate with you the most. If you're drawn to stories that explore personal growth and self-discovery, "It Ends with Us" or "Maybe Someday" might be the perfect starting point. On the other hand, if you prefer intense emotional journeys and stories with a touch of mystery, "Ugly Love" or "Confess" could be excellent choices.
Don't hesitate to read summaries, sample chapters, and reviews to help you make an informed decision. Trust your instincts and choose the book that speaks to you the most. Regardless of which Colleen Hoover book you decide to read first, you will surely be immersed in a world of compelling characters, heartfelt emotions, and unforgettable stories.