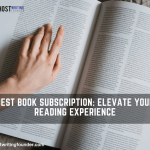 Finding time for amazing books can be tough in today's super busy world. But guess what? Book subscriptions are here to save the day! They're like a magical key that unlocks a new adventure every month. So, let's dive into this cool world and see how book subscriptions can make reading even more awesome.
Why Book Subscriptions Rock
Picture this: you're reading a book, and suddenly, you're in a different world. That's the magic of books, and subscriptions make it even better. They introduce you to different stories you might not have found, like the Short Poems About Life and Struggles. It's like a treasure chest of adventures waiting for you.
And here's the cherry on top: book subscriptions are super convenient. No need to go to the store or browse online. The books come straight to you. It's like having a mini library right at home.
Different Flavors for Every Reader
Book subscriptions are like an ice cream shop with lots of tasty options. There's a subscription for every kind of reader out there. Do you love mystery, sci-fi, romance, or history? No worries, there's a subscription that's just perfect for you.
These subscriptions make sure you get books you'll love. Additionally, they introduce you to new authors and stories you might never have found on your own.
And hold on tight – there's more! Some subscriptions combine books about a special theme or a favorite author. It's like traveling through a magical literary world where everything is connected. They will also make you a book explorer!
If you love things that are just for you, some subscriptions know exactly what you like. They use super cool tricks to pick books based on your favorite authors and the stories you enjoy. Additionally, these subscriptions want to surprise you with books that will make you jump with joy!
So, book subscriptions have covered you whether you're into a specific flavor, exploring themes, or just want a perfect surprise. They're like a menu of reading delights!
Advantages
Book subscriptions are an amazing solution for you if you are someone who does not like going to the bookstore every day. However, that is not the only way it could benefit you. There are also plenty more ways too. So let's find out how book subscriptions can help you out!
The Magic of Home Delivery
Now, let's talk convenience. Imagine this: you're cozied up at home, maybe with a blanket and some snacks, and suddenly, your new book arrives – like a special delivery from a book fairy!
Book subscriptions make this dream come true. No need to dash to the bookstore or wait for packages. The books come straight to you, making your reading time even cozier.
Discover Hidden Treasures
But wait, there's more! Book subscriptions are like treasure maps that lead you to literary gold, such as the Best Selling Non-Fiction Books of All Time. that lead you to literary gold. Sometimes, publishers team up with these subscriptions to bring you pure magic books that might not be on everyone's radar yet. It's like being in on a secret – you can unwrap new stories before anyone else. How awesome is that feeling?
A World of Exclusive Awesomeness
And here's the grand finale: some book subscriptions have exclusive stuff just for you. Imagine getting a peek into the author's mind with special notes or interviews, as explored in Exploring Life's Journey. You're hanging out with the author, hearing all their cool secrets about the book. These extras make your reading adventure feel even more personal and special.
Cool Book Subscription Options
Ghostwriting Founder brings you some of the most awesome subscriptions of all time, and here are they!
Book of the Month
This one lets you pick from a monthly list of cool new books. You're the boss!
OwlCrate
If you're into young adult books, this is your jam. They send you a book and some cool book-related goodies too.
Once Upon a Book Club
Hold onto your bookmarks! This subscription adds fun stuff to go with the book. It's like a surprise party in a box.
MyBookBox
It's like having a personal shopper for books. They send you books based on what you love.
Are Book Subscriptions Worth It?
Let's talk money. Subscriptions cost some bucks, but are they worth it? Here's the scoop: think about how much you spend on books each month. Now, think about all the extras you get with a subscription – the surprises, the cool content, and the bookish community, which are part of the 30 Book Marketing Ideas. – the surprises, the cool content, and the bookish community. So, Many folks find it's worth the treasure of literary goodness they get.
Real Readers, Real Stories
But don't just take my word for it. People who've tried book subscriptions have some cool stories to tell. Some say subscriptions brought back their love for reading. Others discovered new authors they now adore. It's like opening the door to a world of bookish wonders.
A Few Things to Think About
Now, let's keep it real. Not everything is all sunshine and rainbows. Sometimes, you might get a book that's not your cup of tea. It's like picking a jellybean and getting a flavor you're not crazy about. Also, subscriptions can fill up your bookshelf pretty quickly. Make sure you've got room for all the bookish goodness.
And hey, let's think about the planet too. Subscriptions come with packaging and shipping, which isn't great for Mother Earth. So, while you're diving into bookish adventures, remember to be kind to our planet.
Conclusion
So there you have it – a peek into book subscriptions. They're like a treasure map that leads to awesome stories and exciting experiences. If you want to level up your reading game or reignite your love for books, a book subscription might just be your magical key. Get ready to turn the page on a new chapter of reading awesomeness!
In a world filled with screens and digital distractions, book subscriptions offer a tangible and enriching way to connect with literature. They open doors to new worlds, diverse voices, and thought-provoking ideas, much like those found in What Is Non-Fiction?.  Additionally, they add an element of surprise and anticipation to your reading routine. By elevating your reading experience, book subscriptions transform reading into a captivating adventure that engages the mind.  Whether you're a lifelong bookworm, someone looking to reignite your love for reading, or a content creation services provider, a book subscription might be missing.