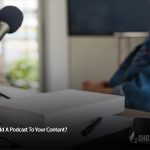 There was a time when people used to listen to the radio. They would stay up late and listen to the late-night news bulletin, women would wait for their drama serials, while children would look forward to their comedy and musical shows.
Those nostalgic days are back with the boom of podcast shows. Content marketing podcast has opened a new way to engage and absorb the audience's senses.
From dark and creepy shows with accurate multidimensional sounds that engage the listeners' senses to the happy and cheerful guise that excites the listener's wits, podcasts have done it for real.
Through the podcasts shows, the human voice and tone reflect the emotions and sentiments of the speaker. It can also let you communicate and share your part of the story compellingly and engagingly.
What is the podcast?
A podcast is a digital form of audio that is available online for listening and downloading purposes. It is typically heard via mobile hand-held devices, but desktops and laptops have also been used to listen to this digital audio form of content.
Here content refers to the drama series, audio shows, headphone shows, discussions, or just random talks by the podcast host. To listen to the online audio content, the user or the listener has to subscribe to the host mailing lists to receive the new content automatically whenever it is shared.
Also, both free and paid services are available for listeners who can easily access audio files. Whether they listen to it outline or download the MP3, they can enjoy the interesting content list according to their demands and taste.
The purpose of creating a content marketing podcast is to provide entertainment in a light manner. The host of the podcast usually highlights and discusses content that is unique and provides a fresh perspective.
Everything depends on your content list. You can listen to new discussions and updates about the industry related to business, fashion, travel, history, philosophy, and comedy. You can also find your favorite podcast on iTunes, Spotify, and other host content marketing podcast websites.
In recent times, the podcast has become popular due to the following reasons:
It allows you to multitask
You can stay updated with the recent news and events
A content marketing podcast is engaging and entertaining
You can boost your website visitors in short times
You'll have recurring customers once you create engagement
You'll have the support of your audience when feeling gloomy and down
A podcast is a great marketing tool.
What is Podcasting?
The process of making the podcast available for the use of customers and clients through a digital medium is called podcasting. As mentioned earlier, podcasts can be made available via downloading or online internet services.
So how this new form of radio become so popular? Well, podcasting offers marketing services to clients and audiences. Through this content strategy, they can involve potential customers in discussions and interesting talks.
Likewise, this opens up an exciting opportunity for building brands and creating mass awareness. In this regard, businesses have been approaching content marketing podcast influencers to promote their brands and services as well. Due to their expansion on the mass level, a new space has been made available for engagement and cultural related conversations as a brand.
In addition, podcasting lets you give your customer valuable insights about business services or a product through which they can compare and decide either to buy the product or not. It's a new way of offering personalized advertisements and involve them in an everlasting relationship. It can be done through various social media mediums, such as Facebook, Instagram, and LinkedIn.
Why do you need to add podcasts to your Content Marketing Strategy?
There are many benefits of content marketing podcasting when it comes to advertising and building a campaign strategy. Here are some of the compelling hallmarks that need to be heard regarding content marketing podcast.
Content marketing podcast: Low competition
In digital marketing, marketers are always looking for high engagement content. Content marketing has become a highly competitive place due to the content creation boom on social media and other platforms.
Therefore, content marketing podcasts has become a new area that is providing a new space to marketers. Podcasting is a high-quality engagement content that solely targets the readers' senses to keep them captivated for a longer period.
Once the engagement develops, the listeners keep coming back for more, which makes this podcast a successful content marking strategy. According to Podcast Insights, there are 80 million Facebook users, while there are 1,750,000 podcasts only, and when you go niche-specific, of course, the numbers drop significantly.
This shows that there is an undiscovered potential in content marketing podcast that needs to be explored.
Content marketing podcast: Valuable Wisdom Bites for Listener
The last year was difficult for people all around the world. Podcasting provides new hope to many. People looked for unique ways to get inspired and stay connected with humans from all over the world.
Content marketing podcasters significantly explored this place to provide support to individuals. Likewise, many started podcasting as a side-gig for improving their lives and others around them across all the communities.
Everyone looks out for some fun, entertainment, and engagement that also personally grows the individuals. This is where podcasting helped many to become the new inspiring voice for the people.
As podcasting requires little effort on the listeners' behalf. It is a perfect medium to keep them motivated and engaged with exciting stories. In the US alone, 50% of all homes are fans of podcasting, and that's over 60 million homes.
Content marketing podcast: Mobile friendly content features
The huge number of podcast listeners comes from smartphones. 157% increase has been seen in the last 5 years in the audience of mobile users. This leads us to the fact that 69% of the population comes from mobile devices. The number of the podcast audience growth rate is likely to increase two folds in the upcoming years as we all are aware that smartphone users are highly active on social media.
Think of the high number of individuals and share your content with others that increase your views and website visitors in millions. There is always room for improvement when it comes to content creation.
With the mobile-friendly content features, you can engage your audience for a longer period and let them listen to your podcasts while they are on the move — working, driving, gym-ing, relaxing, or in the car.
Content marketing podcast: New form of Advocacy
As mentioned earlier, and looking at podcast users' trends, the podcast listeners are increasing in number. Therefore, a new form of advocacy has also emerged. Audio storytelling has always been loved and admired by the people. It's almost in our DNA that we enjoy listening to powerful and conveying messages.
In this retrospect, if you are successful in keeping your audience inspired and motivated while fulfilling their desire to listen to effective storytelling, then you have leverage above all.
Through the podcast, you can listen to leaders, a think-tank, writers, authors, people in business, and aspiring entrepreneurs' experience and cutting-edge knowledge they have gained over the decades of experience.
This also leads us to advocacy. Audio-form content can be a powerful tool for individuals looking to create an impact in the community. Through story sharing, people can also advocate for human rights and talk about things that mainstream media usually ignore.
Growth-mindset content marketers and hosts can also welcome and call such people on their program to share their part of the story for advocacy about a certain issue that needs to be heard.
Content marketing podcast: Ask Me Anything option
Ask me anything content marketing podcast has gained significant momentum in a few years. As we know, communication is a two-way process. In simpler words, conversations always happen when two people or parties are involved. Every growth-oriented mindset knows that.
Henceforth, content marketing podcasts are highly-interactive programs. It allows you to keep your listeners on their feet, eagerly waiting for your next program.
Now how does that happen?
When you provide them with a platform that they can trust and believe in, they can ask you anything when connected with your social media pages. This lets the podcasters to listen and answer the audience's questions in a real-live or recorded show. Empowers the listener and makes them feel a part of something is an effective strategy used by content marketing podcasters.
Whereas, if you observe, most of the conversations happen on blogs and another form of communication a rather one-way. The feedback mechanism is rather slow and sometimes nontransparent. Content marketing podcasters show their human side and make their listeners interact with them. All the fun and excitement happens when you can make your audience a part of your tribe.
Create polls, ask the questions, do the surveys, hop on calls, and generate more sales. (if you are looking to extend and grow your business, this is the right time.) The more you interact with your audience regularly, the more people trust you and solidify their relationship with you. Only a few types of content can do that, and among them, a content marketing podcast is a present-day option, which increases the brand-customer interaction.
Now, if your content can create a tribe of its own, my friend, you have earned a high-quality audience who are going to stay loyal to you and loyal to your brand.
They will help you get the testimonials you need to build your credibility and give you upfront feedback to improve your brand. In retrospect, you can retain your audience's sincerity and have a chance to create phenomenal content that your audience expects of you.
The benefits of content marketing podcast can summarize as:
They are effective for high-quality link building that can drastically increase your website referrals and visitors.
Podcast listeners tend to be highly engaged people.
Google support podcast and now working on it to automatically transcribe them for making it searchable.
It helps in revenue growth.
You can monetize podcasts because of the content demand. Podcasts are the new era of audio blogging as there is a slight decrease in the reading trend. People now listen to what others have to say while driving or working without disrupting their daily routine.