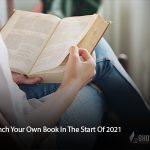 You have spent a lot of time completing your book, including writing, editing, and re-writing. Now, the moment has come that you have eagerly been waiting for. The three magical words, "launch own book!" It's time to publish and launch your book for the world to read. But hold on a sec, buddy! Are you ready yet?
Publishing is one of the steps which is involved when you launch own book. To sell your book in the market, they are a lot more steps than just publishing. It is your responsibility to have your book out in the bookstore and on websites. Of course, you also have to market it. It doesn't make a difference if you're working with a traditional publisher or you're publishing it all alone; you should still take an active part in your book launch.
Everything requires planning. If you don't have a plan, things will be overwhelming for you, and book promotion is no particular case. Don't worry! We are here to solve your problem as there are some steps that you should take before you launch own book.
Things to be done if you are working with a publisher:
Working with a publisher for the launch gives you an edge if you opt for self-publishing. However, if you are a new author with an as-yet-undiscovered audience, don't anticipate the publisher should pay for a detailed book launch. Contingent upon the publisher's budget and network, they might have the option to attach you with a book tour or a humble promotion campaign.
Instead of putting all the work efforts on the publisher, try to partner with your publisher to launch own book. Find out the marketing plan for promoting your book, and then choose those tasks you can do on your own.
Things to be done when you are self-publishing:
If you are self-publishing your book, you have to follow all these steps below. Believe it or not, these steps are helpful for both newbies and old goats.
Select a date for your book launch:
Selecting a date is the first step to a successful book launch. Once you decide when to launch own book, you will have a specific goal to work on.
Ideally, you should begin arranging your launch six to 12 months before you publish it. To launch own book, pick a date in a couple of months from today, as this gives you sufficient opportunity to cover all of the steps without feeling hurried and overwhelmed.
By the way, if you are self-publishing, your soft copy publish launch happens once you have completed the writing, editing, and re-writing process. However, remember this, if you are posting on Amazon or any other eBook publishing site, it requires around 24 hours to set up and publish your book to different locations. This process takes one whole day.
Create an Author Web page:
After you have selected a day to launch own book, the next step is to make a website. Being an author, you would require a platform to promote yourself and your readers. It's okay; you can do this on social media, too, but you must have your website. Website is the best preference over social media as you have complete control over your website.
You must include all the usual features on your website, like the page, link to your social media, and contact information. Dedicate pages to each of your books and apart from this, start writing a blog on your website. With the blog's help, you can share your view on different topics and build excitement for the next book. It also assists you in building your email list, so at the beginning, start collecting email addresses to notify the subscribers about your next topic or upcoming book.
Create a landing page for your book:
It is a page on the individual website that is dedicated to launching its book. You can use this page to share excerpts from your copy. You have to include a book cover page, a trailer (if you have made one), and an early review from beta testing readers on the landing page. Collecting email addresses from the landing page as one of the best ways is to offer something in return, like the giveaway of the first chapter of the book as an instant download. When you think to launch own book, there is a lot that you have to keep in mind.
Get active on social media:
I know the website is important but social media is equally important. Nowadays, you cannot expect to sell a book without the help of social media. There are multiple social media platforms like Facebook, Instagram, Twitter, and even YouTube to connect with your audience personally and authentic.
Go on a blog and podcast tour:
If you desire to sell your book, you have to go out in the open. Two or three months before the launch, contact bloggers, particularly book bloggers in your picked genre. These bloggers may review your book or even do an interview. A few blogs offer the occasion to compose a visitor post in return for a snippet about your upcoming book. If you think that your target group will peruse that guest post, acknowledge the offer. Keep in mind that there's nothing of the sort as overexposure regarding the promotion when you launch own book.
Additionally, research a podcast that obliges your target audience and afterward contacts the host to demand an interview. Schedule the talk when it is time. It's alright if the interview occurs after the book is launched.
Host a giveaway:
Giveaways are great for building mindfulness, which is a great way to create awareness for your upcoming book. There are several ways to do a giveaway: advertise on social media sites and conduct a giveaway on Goodreads or LibraryThing. Regardless of whether they didn't win the giveaway, some will purchase the book since they're genuinely engaged.
Find a venue and send an invite to your book launch party:
First, find a venue for the party where you will launch own book. There are two ways you can go virtual or host at a particular place. Virtual launch parties can be hosted on any website. However, they are more interactive and more available over social media. If you plan to host your launch party in person, then reach out to nearby places like bookstores, libraries, cafes, and event halls. Create schedules for events held at your launch party like games, giveaways, specific book excerpts to share with the guest, and dedicate time to sign book covers.
After you have booked a venue, then send out the invites to different people like bloggers, YouTubers, book reviewers, and personalities related to your book. These invites must be sent two to three months before you launch own book.