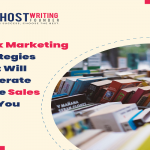 Book marketing raises awareness of a particular book among retailers and readers. Of course, the purpose of marketing is to increase book sales.
What is the Significance of Marketing Book
Book marketers provide marketing strategies to help your book get visibility in the literary community. It expands your circle of influence. As a result, there's a good possibility you'll become well-known on a worldwide basis.
Strategies For Marketing a Book That Will Generate More Sales For You
I feel like you've already done all the hard work.
For hours, you've been writing on a keyboard or a piece of paper. There are many things you've done to make your book better. You may even have had to go through the complicated process of self-publishing.
Now you have to move on to the next phase: marketing your book, which is essential. This means getting your book in front of people, gaining a following, and making money. A book must be sold. You only need to know how to do that.
With the correct marketing strategies, nothing prevents you from selling your book all over the globe and establishing the fans of your dreams—well, except time and work. So here are some book marketing strategies that will generate more sales for you:
Recognize your target market for book marketing.
You may have already had a target audience in mind when you started writing your book. After you've published, you'll need to do further research to figure out who your target audience is. Understand your genre and how to market it to your audience.
Some self-published authors are specialty writers; therefore, you must know what market you serve if you fall into this group. This technique will help you focus your marketing efforts on the right audience.
Recognize what appeals to your target audience and use it to your marketing advantage. You'll know when and where to launch the most successful marketing campaign if you know who your target audience is.
Establish an Online Presence and a Following
Unfortunately, books do not sell themselves. Isn't it great if they could?
You can put them on Amazon and in bookshops, but convincing people to pick them up and purchase them is different.
You must have an online presence and generate talk about your book to market it. It takes time to establish authority, so get started on your author's website and social media accounts as soon as possible.
Reaching people where they are is an essential component of marketing, and in today's world, we're almost all online.
We live in a world where information is instantly available. When someone sees your book, they won't simply say, "Let's give it a go," but they'll go online to study more about it.
If they can't find any information on you or your book on the internet, they won't be convinced. You may increase your online presence in a variety of ways:
Create a website for yourself as an author.
Use social media.
Provide more material.
Use blogs or videos to show "the person" behind the books.
Today, having an online presence is an essential component of book marketing. People want to connect with writers, their books, and their characters on a personal level, and your online presence is one method to do so.
Also Read
How To Illustrate A Children's Book For The Popularity Of The Genre?
Make an Eye-Catching Cover for Your Book.
It has been told not to judge a book by its cover a lot. But People do it all the time.
It can be helpful to conduct some market research to help with book cover design.
Consider how you can use the things you are noticing in many bestsellers. Find the right balance between going with what fits and adding your unique twist to the market.
Remember that your book cover isn't just for your physical book. It also plays a significant role in online stores like Amazon, where many more people will see your book.
Use Social Media to Run Targeted Ads.
There are almost four billion people in the world who use social media at least once a day. When you think about how many people there are in the world, this is a huge number.
You may get your book in front of this large audience by running social media advertisements. The best thing about it?
Social media advertisements allow you to be very specific about what you want. Platforms such as Facebook, Twitter, Instagram, TikTok, and LinkedIn have much information about their users, and you can use this to make sure that your ads are going to the right people when they see them.
Here's how you can use social media advertisements in book marketing:
Use your market research to find out more about your ideal customer.
Use video to make people more interested.
Build landing pages that match your ad copy.
Try out a variety of platforms.
Keep an eye on your analytics and look for ways to improve them.
It's a lot simpler to market a book to people if you know what they're interested in, which is, fortunately, something that social media can help you with.
Contact Influencers.
Using influencers for book marketing may have a more significant effect than traditional marketing methods. Influencers can be people who make podcasts, write blogs, or have big email groups. You need someone with a platform who can get you recognized.
For example, a simple mention to their email list, blog, or social media may reach thousands of people and increase sales. Influencers have a wide reach. Finding influencers in your niche is possible. Inquire if they can assist in marketing your new book.
They often want a complimentary copy to review. You might also offer to help them in their future activities as a way to give back.
As an author, influencers may have a big effect on your visibility, so attempt to set up interviews in your area or reach out to someone online and offer to conduct an interview so you can provide value to their target audience.
Generate a Mailing List
There are many times when it takes more than one person to make a sale. Researching a product, then going away, is what most people do before going back and making a purchase later.
Books are often worth less than other things, with prices ranging from $12 to $24. This means that customers are more likely to buy things on impulse when they decide what to buy. Most of the time, there will still be some back-and-forth before they click the buy button.
People will go to your website, look at your social media, read your book online, and, sometimes, not buy it (no matter how successful you are, this will still happen.)
You have no method of contacting someone who has left. However, if you concentrate your efforts on establishing a mailing list, you will create more touchpoints.
The best way to market your book can be through email. If you talk to and help your subscribers, give them useful content, and build a relationship with them, you'll see a rise in sales.
Make sure to:
Keeping people's privacy in mind.
Segmenting your outreach to make it more personalized.
Making things worth something.
Not focused just on the sale.
Getting people to go to your website
A good mailing list is a valuable thing, and it's a great way to get people excited about your future releases.