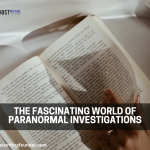 Ed and Lorraine Warren were a famous couple of paranormal investigators who dedicated their lives to studying the unexplained, much like the chilling tales found in our Best Horror Books of All Time. Throughout their careers, they wrote several books detailing their experiences with ghosts, demons, and other supernatural phenomena. In this article, we'll explore the fascinating world of Ed and Lorraine Warren's books and learn more about the couple's paranormal investigations.
Who Were Ed and Lorraine Warren?
Ed and Lorraine Warren were a husband-and-wife team who gained fame for their work in paranormal investigations. Ed was a self-taught demonologist, while Lorraine was a psychic medium. Together, they founded the New England Society for Psychic Research and conducted countless investigations into haunted houses, demonic possessions, and other supernatural phenomena.
The couple's work inspired several movies, including The Conjuring, and for more on adapting books to film, see our Video Book Trailers service. This portrays their investigation of the Perron family's haunted farmhouse in Rhode Island. While some skeptics have criticized their methods, the Warrens remain beloved by many for their commitment to studying the paranormal. Moreover, they also helped those who believed evil spirits were haunting them.
Books by Ed and Lorraine Warren
Ed and Lorraine Warren did only investigated but also wrote about these investigations. Their books have become so famous that movies are based on them, and if you're interested in bringing your book to life, consider our Book Publishing Services. The Warrens have years of experience investigating the paranormal. Moreover, they also have collected many chilling stories from their clients. They put these experiences in 10 books on ghosts, demons, spirits, and other paranormal activity. With the help of good publishing houses and book marketers, they were able to make their stories known to the public, so why should you not know about it? That's why the Ghostwriting Founder brings you a list of all the amazing books you should read.
The Haunted: A True Story of Family Terror
This book covers the paranormal and was published in 1980 and is available on Amazon.
Ed Warren, who co-wrote this book, was a paranormal investigator who worked with his wife, Lorraine Warren, to help people rid their homes of unwanted spirits or demons. This book also chronicles some cases where they went into someone's home. They helped them figure out what was haunting their home and why it was there in the first place.
The Demonologist: The Extraordinary Career of Ed and Lorraine Warren
The book is about the paranormal activities that the Warrens investigated. It was published in 2005, and You can find it on Amazon for under $10!
In A Dark Place
In A Dark Place is a collection of stories, and The book is available on Amazon. This book is currently the #1 best seller in its category.
The authors are famous paranormal investigators who have worked with countless people who have had experiences with ghosts and spirits. They write about these encounters in their books so that others can learn from them. They also want people to be aware of what could happen if they're not careful when dealing with these entities.
The Amityville Horror
The Amityville Horror is a book published in 1977, based on the story of the Lutz family. The film was released in 1979 and still holds up as one of the best horror movies ever.
The story follows the family who moves into an old house on Long Island after purchasing it for $80k. They soon realize that their new home has some strange things happening. Their doors open or shut by themselves, and they hear footsteps throughout their house late at night. Moreover, they saw ghostly figures appear out of nowhere…and then things got weird when one day they woke up and discovered blood everywhere!
The Haunting Of Connecticut
The Haunting of Connecticut is a non-fiction book that tells the true story of The Warrens, paranormal investigators, similar to the real-life expeditions detailed in Best Non-Fiction Adventure Books. The warrens were called in to help a family whose home was experiencing paranormal activity. The family lived in Southington, Connecticut, and had moved into their new home. And not soon after that, some demons attacked them.
The Warrens determined that demons haunted the house. However, they could banish them from the house before they could harm anyone else.
Haunted Memphis
Haunted Memphis is a book about the Warrens' investigation of a house in Memphis, TN. The book describes the Warrens' investigation of the house and their findings. It also describes other cases that they investigated, such as The Amityville Horror case (which was made into a film).
The book is written by Gerald Brittle, who was one of the people who helped the warrens investigate the house in Memphis. The book includes some pictures of the house, which makes it more interesting to read, much like the visual appeal discussed in The Beauty of Book Aesthetics.
What makes Ed and Lorraine Warren's Books So Fascinating?
Ed and Lorraine Warren are the world's most famous paranormal investigators. They've been in the business for over 60 years and have written numerous books about their investigations. If you're unfamiliar with this pair, many ghost hunter shows on tv featured them. There are also many movies based on their lives and work together. But if you've never read one of their books, here are five reasons why you should check out what they've got to offer, and for a deeper understanding of their genre, consider reading What is Biography: The Art of Portraying Real-Life Stories.
The Warrens have been investigating paranormal phenomena since the 1950s
The Warrens have been investigating paranormal phenomena since the 1950s, and for those interested in the craft of writing about such topics, our Complete Book Tropes List can provide further insight. And since then, they have been called in by police departments, priests and even presidents to investigate the most famous cases in modern history. They were called in to investigate Amityville Horror House, which later became the subject of a horror film series. They also investigated The Enfield Poltergeist case (which inspired the movie The Conjuring) and dozens of other cases across America and abroad.
They have been featured in numerous TV shows and movies
They have been featured in numerous TV shows and movies. The Conjuring is a 2013 American supernatural horror film directed by James Wan, who also directed the first two sequels of the movie. It stars Patrick Wilson as Ed Warren, Vera Farmiga as Lorraine Warren and Lili Taylor as Carolyn Perron.
The Warrens are still involved in the paranormal investigation
The Warrens are still involved in paranormal investigations today, even though they are in their 80s and 90s, respectively.
You might think it's impossible for people who have been investigating these cases for over 60 years to still be working on them. But this is not the case! Ed and Lorraine continue to investigate cases today, even though they're both well into their 80s (Ed) and 90s (Lorraine).
Final Thoughts
Ed and Lorraine Warren's books offer a fascinating glimpse into the world of paranormal investigations. Whether you're a skeptic or a believer, their accounts and amazing book writing of haunted houses, demonic possessions, and other supernatural occurrences will surely send shivers down your spine. While some may criticize the couple's methods, there's no denying that their dedication to studying the paranormal helped countless people. If you're looking for a spooky read, be sure to check out the Warrens' books – just be prepared to sleep with the lights on!