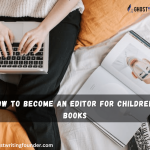 Introduction
It can be a lot of fun to write interesting books for kids. But these stories can't come to life without the help of editors. If you want to become a children's book editor, follow this 6-step plan to find out what to do.
Step 1: Develop a Deep Understanding of Children's Literature
If you want to be a children's book editor, you should learn a lot about the topic first, and getting started with a Children's Book Editor service can provide you with the necessary insights. This will help you do your job as an editor and make it easier for you to contact writers and illustrators.
Here are some ways you can learn something new:
Read as many books for kids as you can. Platforms like Ghostwriting Founder have many books on children's niches, including a variety of Best Book Club Books for 2023 that can offer insights into current trends in children's literature. Reading many books in this area will help you determine what works and what doesn't. You can read favorites like The Secret Garden or the Harry Potter series, but don't ignore newer books. There are a lot of successful writers who have been writing for years, so read their new books too.
Learn about the past of books for kids. The history of children's literature is a great subject that tells us how our best stories came to be, how they changed over time, and why they're still popular today. When you learn about this topic, you'll have a better idea of what makes some books classics that will last forever and others that are still popular today. It will also help you understand how stories have changed, from oral traditions to written stories to current movies, games, TV shows, and apps that tell stories differently.
Step 2: Get the right skills and education
The most important thing you need to do to become a children's book editor is to get the schooling and skills you need for the job. Many editors have degrees in English or similar fields, like journalism or communications. But people who work in publishing don't have to have a certain level of schooling. Getting a degree that teaches you about language, rhetoric, and telling stories is important, much like the foundational elements discussed in 8 Simple Steps for Writing an Amazing White Paper. These skills can be used in any reading, even children's books.
You should also get hands-on experience through internships or volunteer work at a publishing house or non-profit group, where you can learn about the industry and connect with seasoned professionals. Also, consider taking classes on editing children's books online or at a college or university near you if they are offered.
Step 3: Put together a solid portfolio
You need some knowledge to become a children's book editor. You can do this on the side while working as a publicist or editing assistant, but if you want to do it full-time, you'll need to show that you have the skills and experience for the job.
Here are some ways you can get skills to add to your portfolio:
Write about kids' books on your blog and in pieces. Read the rules on the publishers' websites you want to send your work to find out what they want. Write reviews of children's books and send them to publishers' blogs or websites, and don't miss out on the opportunity to learn from The 15 Most Prestigious Book Awards for Book Authors as a benchmark for quality. They'll enjoy your enthusiasm!
Write 10-page book proposals for possible books in your area of knowledge, and consider the advice from Book Marketing Ideas for Skyrocketing Sales to understand how to position your book in the market. This will help you learn how to pitch ideas quickly and clearly so that editors can see what makes your idea different from all the others they get daily. For example, if you're an expert on early readers, write 10 pages about why your suggested title should be published, including its target audience and why they need this book now more than ever, its originality, how it will sell well today's market; how it fits into current trends; etc.
Step 4: Get experience in the field
The fourth step in becoming a children's book editor is getting practice in the field. If you have never edited anything, this will be the hardest step. Getting your first job as an editor will be much easier if you already have some editing experience.
You should start by looking at the job boards on the publishers' and managers' websites. When you find a job ad that interests you, write down the publisher's name and contact information so you can contact them directly. You can also look for this author's books on Amazon and read about them on Wikipedia or Goodreads. So, when you reach out to them (which we'll talk about later), they'll know who you are and why they should hire you instead of someone else who might apply for the same job.
Step 5: Meet and talk with other professionals
Networking is a great way to learn more about a job and meet people there. Join local groups for children's books, go to conferences and workshops, and talk to other editors online. If you don't know anyone in the business yet, contact area authors who write for kids as a first step. They can tell you what it's like to work with an editor and explain how they do what they do. Don't forget branding and publicity is important for becoming a children's book editor, much like the strategies discussed in Brands for Authors.
Don't be afraid to reach out to people you like on social media or through email. There's no harm in asking questions or thanking them for their work. You could join groups like the Society of Children's Book Writers and Illustrators (SCBWI) or the Association for Library Service to Children (ALSC).
Step 6: Stay up-to-date and keep getting better
As a children's book writer, keeping up with the latest trends in children's books is important. You can do this by reading as many new books as possible, from big companies written by people who don't work for them. You can also follow the authors you like on social media or sign up for their emails.
If you have the time, you might want to attend conferences and classes about children's books. Many of these events occur in schools or libraries across the country, so check with your local library or school district to find out about future events in your area.
Conclusion
To become a children's book writer, you must be passionate, dedicated, and know your stuff. You can have a great job in this rewarding field by learning a lot about children's literature, getting the right education and skills, building a strong portfolio, getting industry experience, networking, and staying up to date. So, start your trip today and help make the stories that young readers love.