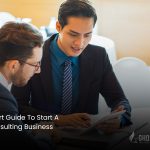 Before dealing with the consulting business, let's first explore what consultation is and what to expect.
What is a consultation?
Consultation refers to an activity that involves two or more parties to discuss, meet, interview, and negotiate on different subjects. For more insights into effective communication, see our article on email writing format in English. This word is derived from a Latin word meaning "to discuss." At the same time, a consultant is a person who is an expert who works as an advisor for an individual or a company. 
The participating parties or the individual comes to seek the advice of the experts and the knowledgeable others. A consultant shares his opinions and exchanges ideas and critical concepts to better understand a topic due to their field experience.
There are many physical and online consulting business to help individuals steer away from their doubts and fears. Likewise, the consultant aims to help individuals solve their problems and them aware of the possible issues and risks in business, trade, commercial, private or professional matters. There are many types of consultants, according to the business or work-related niches.
A consultant may seek to know and understand your personal or professional background so that they can assist you in making effective decisions for your future. They gather information from every angle so that the bigger picture becomes comprehensive and precise.  
Now that the definition of consultation is clear and know let's know about the consulting business.
What is a business consultancy?
Business consultants are experts in the business field. Learn more about business strategies in our article on the best sales funnel practices that will transform your business. Here the 'field' refers to all types of businesses available in brick and mortar, traditional office setting businesses, or online. An expert person determines the viability of the business idea. Regardless of gender, your business consultant will help you achieve solutions to your problems. 
They will gauge, evaluate, and anticipate the risks and the problems… For comprehensive support in this area, consider our business consulting services. so that a business can thrive and flourish. Likewise, business consultancy is a step-by-step process for achieving the goal. Here a business consultant formulates a business plan, defines its goals, targets, and aims, conducts marketing research including SWOT analysis, competitors' analysis, marketing analysis, strategy, and organizational' plan and project analysis. 
What is a consulting business?
When you provide consultancy services to businesses, individuals, and professionals alike, your consulting becomes effective and efficient. 
Also, you provide a broad range of services and activities to them, such as professional guidance, implementable solutions, and critical eyes to detail for risk management and analytical analysis.  
Consulting business offers help to niche-specific individuals… For further reading on building a business online, check out our guide on the best ways to start a small business online. who overcome their business obstacles. They provide strategic solutions to different organizational operations such as finance, tax, human resources, IT, marketing, or sales related consulting.
Why should you start a consulting business?
The first and foremost reason for starting a consulting business is money for many individuals. But this is not the sole reason to start this career. To become a consultant, consider these benefits as well:
Master of their own:
Consulting business helps the consultants to become their bosses. They don't have to work under someone. Instead, you become a person whose words are considered sacred and followed. You advise and guide entrepreneurs and professionals to take charge of their professional careers with sincerity. You define the rules that should be followed if someone wants to achieve their business targets. 
Job Security: 
Being a consultant maintains your job security. There would be no one to treat you, belittle you, or exploit you through their words and actions. Likewise, you won't have to deal with the sarcastic tone of others who sometimes control you to the point that you become a petty, meaningless thing for others to take pity on. You reject and accept clients according to your consultancy business targets. With business consultancy, you have the power to take the reins of your happiness into your own hands. In simple words, you are the sole controller of your past, present, and future. 
Financial freedom:
When you offer business consulting services to high paying clients, you can create a surplus amount of your bank balance. However, financial freedom is directly proportional to your knowledge and skills. The more expertise you hold, the better the chances of building reputation and finance. 
You hold power to change: 
Consulting business services are the ones that hold power to make a difference in people's lives. These services can help you make your business run smoothly. For example, if you are a consultant of a social cause-driven company, you are making a difference for your hires, but also, you are making an impact on many people.
Questions to ask before starting a consulting business?
Suppose you are making your mind to become a business consultant. Ensure that you have definite answers to these questions:
What is my specialty?
When you seek to understand your unique points and strengths, you can perform the best in everyone's interest. Knowing your powers helps you differentiate from your competitors, and you emerge as a reputable consultant. Likewise, you can offer services in an area where you demonstrate the best performance. Because after all, consulting services are all about helping other businesses to emerge as a strong organization that is aware of the needs of the people and the market. If you are not able to communicate authentically with yourself, how would you able to help others?
What specialization do I need to complete?
When you hold specialization in a particular field, you can create value for the clients—having professional certifications signals to your clients that you abide by high standards. Likewise, it is also possible that your state will require a license to hold the position as a consultant. Therefore, ensure that you are registered before starting your consulting business. 
Do I like making new contacts? 
When you become a consultant, one of the things that become unavoidable is networking. Question yourself if you like meeting new people, collaborating with others, and solving problems to help a business succeed. If you are a shy or moody person who dislikes networking or talking to people, there are chances that you might want to consider your decision to be a consultant. A dedicated consultant enjoys and rejoices in interacting with others.  
Essential tips and skills to start a consulting business?
The truth is anyone can be a consultant if they have the experience and required expertise. Discover more on how to build a portfolio for freelancers to showcase your skills. However, not everyone can be an effective and result-driven consultant. There are particular skills that you should uphold if you are planning to join this field.
Emphatic Listening
Empathic listening refers to a particular type of listening that is structured and communicative. Most of the time, people attend just to put forward their opinions. However, emphatic listening is done to understand what a person is saying and what they are holding back.
 When you listen to work on the shortcoming of the business or the client's needs, you develop better solutions. Likewise, this also enables you to have a critical and analytical perspective. When you listen em pathetically, you strengthen your relationship with the client on both intellectual and emotional levels.
Tip:
Practice empathy: fake it till you make it. You can start this by using empathic phrases like, I understand what you are saying, or like I can relate to what you are going through right now.
Analytical
Analytical skills refer to the capability of seeking and analyzing information from a critical perspective. You can solve the problem to increase the efficiency and productivity of the project. Being a consultant, you have to have logical and analytical skills to solve the clients' business-related issues and problems.
Tip:
Before you decide to take a new client on board, conduct a thorough interview. Hop on a discovery call meeting and have an informal chit chat with the client. If you believe this may not work for you, conduct little research about its marketing competitors.
Adaptability
The other important skill that you must uphold is "change skills." Here change skills refer to your ability to adapt and embrace the change whichever comes in your way. When you can adjust to the changing environment and the needs, you can persuade your clients. 
Tip: 
Always remember a stagnant water reeks and bring forth no life. While in the running water, you see the life of many living things. Your goal in life should be the same. 
Decision-making Skills: 
Having strong decision-making skills helps you make unwavering choices that are beneficial for the organization. Most of the time, businesses are often afraid of making decisions that can be game-changer for the company. Taking no risk not only makes life dull, but nothing happens as well, which means no success. You can anticipate and navigate risks. Likewise, by following the logical stream, you bring new and exciting opportunities in the longer run.
 Action taking Skills: 
In the world of ideations and thoughtfulness, there are a few who implement. To effectively put ideas into action, explore our business writing services. Being a consultant requires you to take action. You must be ready all the time to take action, even if it is a weekend or a night. You will have to remain active for the betterment and success of the clients.