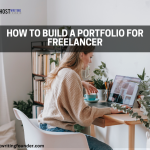 Building a solid portfolio for a freelancer can be a game-changer for your job. You should make a good portfolio for a million different reasons, much like how Brands for Authors make their name an asset. You might be looking for a job or an internship or just want to put all of your most recent projects on your resume. No matter your goal, you need to build a resume as a freelancer to get high-paying clients.
With an online professional portfolio, you also get a complete online stage where you can show off your work, similar to how a Book Publishing Service showcases its authors. promote and market yourself, and book clients from your portfolio website.
Your independent portfolio is a visual representation of your skills, which is essential for people who work in artistic fields.
How to Make a Great Portfolio for a Freelancer
An excellent portfolio for a freelancer is essential to showcase your skills, expertise, and experience to potential clients. To create a portfolio, select your best work samples demonstrating your proficiency in your field. Choosing projects relevant to the types of services you want to offer as a freelancer is important.
1- Display your achievements
When making a collection, it's essential to pick the best things. Anything you're not happy with or don't want possible clients to see should not be in your resume. Always remember that quality is more important than number, which is why focusing on Book Editing Services can make a significant difference in the final product. Most companies don't want someone who can do much shoddy work. Instead, they want someone who can do good work.
If you don't have much experience, you might be tempted to put everything you've ever done in your portfolio to make it look better. But there are better things to do, and putting all the work you've ever done in your independent resume isn't necessary.
2- Organize and Narrate
It's always a good idea to keep your resume fresh and up-to-date. Change the order of what's already there and tell it better. This works best with real portfolios but can also be done online. Think about what kind of work you want and who you want to work with.
Always remember that your most important and best projects should come first. And it's always a good idea to add a few of your projects. Overall, the person who looks at your resume should ensure you are skilled and honest.
3- Personalize it
Your professional portfolio for a freelancer isn't just about your work but also about you. When making a website for your independent portfolio, it's always a good idea to put business first. However, remember to add something more personal and human to your portfolio.
Your professional resume will stand out more if it has some personal touches, reflecting the uniqueness of works like those found in Non-Fiction Writing. Remember that this should be your resume. It's essential to add some personal touches and information to your portfolio to show who you are, and it doesn't look like just another essential sample work portfolio.
4- Customer reviews
As mentioned before, the primary goal of assembling a portfolio as a contractor is to demonstrate your abilities to prospective customers in a pictorial format. Besides your work examples, client recommendations are another great way to show how reliable and professional you are. Testimonials from current and past clients are similar to reviews of your work.
Your work examples show how skilled you are and how good your work is. Your clients' words about you and your service are proof of both of these things, much like how Customer Reviews can significantly impact a writer's credibility. As a freelancer, you're offering a service, and the quality of that service is just as necessary as your work.
5- Keep portfolio up to date
There's a good chance you have old projects in your resume that aren't as good as they used to be. As you get better and better at what you do, you don't want potential clients to see old projects that don't show how good you've gotten.
Your best bet is to either update old project titles to highlight the skills, or, as we discuss in Book Distribution Strategies, find new ways to connect your work with your audience. and knowledge in higher demand right now or just to get rid of them. If you think these book marketing company projects are still important, update how you show them to make them look shiny and new again. If you still need to, you should eliminate these projects to make room for new ones.
6- Offer a resource
It can feel weird to give away your work, especially if you've been working hard to make money. But giving clients and companies a small taste of your work is a great way to get them excited. So, if you're an artist, give away a set of hand-drawn icons. If you're a web creator, share your best tips for making an excellent website for a small business.
Giving away some of your work shows that you're generous, a trait that's well-regarded in the creative community, as seen in our discussion on (ARCs) for Free. ready to work hard to make something great, have a unique style, and, most importantly, that you're an expert in your field.
7- Don't neglect SEO and promotion
It's more than just making a webpage for your professional resume. Once you've set up an independent professional portfolio with all the necessary functional and design parts, you'll need to promote it. Promotion, a good Book Cover Design, and marketing will help you get more clients as a freelancer by getting the word out about what you do. by getting the word out about what you do.
Search engine optimization is one of the easiest and least expensive ways to get your name out there. SEO can increase the number of people who see your website, make it easier to find, and bring in free web traffic through search engine result pages.
8- Simple to navigate
You might have some perfect things to put in your portfolio, but it might only matter if the reader can find their way around it. Make it as planned as you can. If it's a real portfolio, ensure it has page numbers, chapter titles, and colors that go well together.
Put the information in the correct order. The next part is the setting. You don't want to let out your inner artist while writing your resume. Make sure the background keeps the reader's attention away from the text, ensuring clarity and focus, similar to the principles outlined in The Complete Guide to Website Copywriting. Use primary colors to make the design parts stand out. It's important to have order and keep things simple.
9- Provide Case Studies
If your clients are willing to tell you their stories, don't be afraid to add case studies about them to your portfolio for a freelancer. You can get big jobs even with small case studies.
The clients' success stories show that you can help them achieve their goals, which is why including Case Studies in your portfolio can be so powerful. They also show how much you have contributed to the job and how hard you have worked. A picture of a recently updated showcase website that links to recently released articles or a logo with a link can help you win over some clients.
10- Put out a call to action
All these things you're doing because you want your freelancing business to grow. Right!? So, you're selling yourself or, more accurately, your skillset. But what if, after all your hard work, you still can't make the sale? You will either lose your drive or fail.
What can you do to lessen the chance of this happening? By telling people what to do, yes! At the end of your resume, you must include a call to action, just as you would when offering Speech Writing Services to prompt an audience to action., and of course! At the end of every blog post and sales letter.
11- Choose a Niche
Don't try to put all of your skills and work experience in the portfolio for freelancers. Just try to stay in one area and keep your independent resume up to date with useful skills in that field, focusing on areas like Content Creation Services where you can truly shine. No one can be an expert in everything, so only show what you're good at. This way, your clients will know that you are qualified for the job and an expert in that field.
Conclusion
All of us want to get that dream job interview and live out the plans we've made in our heads. Now, that requires some serious work and a polished display. To be successful as a freelancer, one of the most crucial resources we need is a strong portfolio or CV. Invest the necessary time and effort into developing a strong strategy. The effort will be well rewarded.