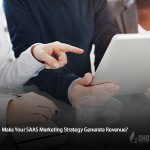 SaaS Marketing Strategy is a tool of the SaaS Industry. The industry where everything is firmly bounded by its product, sales, marketing, and customer support. Each touchpoint of client interaction needs to provide a seamless experience to the users to unlock revenue potential and ensure long-term growth. Likewise, marketing is no exception.
The passion often powers entrepreneurs who adventure into the SaaS Marketing Strategy to build exceptional items that can change their clients' lives and consider marketing and sales fundamentals that complement their objectives. Advertising for a SaaS business is particularly challenging. In contrast to the traditional product or service-based organizations, the element of tangibility is low.
While there are some so-called hacks to follow while planning, there is just one methodology that can consistently yield income, it includes effectively leveraging content for your potential benefit. Here are some tips for SaaS Marketing Strategy.
Develop a great product or service:
To build an effective SaaS marketing Strategy, it is vital to have an extraordinary service or product. If you need individuals to utilize your product, your product should address your clients' needs and offer an incredible user experience. 
An ideal approach to guarantee this is to recognize problems that your customers face initially. However, it isn't sufficient to identify the customer's problem. You must pick out issues that have caused your client inconvenience to solve them.  
Customers need to understand the financial implication of the issue. From that point, you must impart how your product can assist them in resolving their problem. 
Understand your target audience:
The second tool in SaaS Marketing Strategy is to identify your audience. Let's be honest. Your SaaS product won't suit the requirement of each business or organization. To accomplish your marketing objectives, you should recognize, reach, and draw in the right crowd you need. 
You must ensure that everything is adjusted to address your intended target audience; these include product design, your site's look and feel, the content you compose on your site and social media post, and much more. 
Consumers searching for SaaS solutions are generally specialists in their fields. They invest a lot of time looking for the appropriate product and afterward contrasting their features and cost. Ensure that you give them all of the information they require to know.
Set Goals and KPIs:
The following tool of SaaS Marketing strategy is to have clear and realistic goals. Most SaaS organizations center around improving their profitability, client retention, productivity, and growth. You likewise need to relate every one of your marketing objectives with explicit KPIs that can help you measure achievement.
You must also keep track and measure effective SaaS metrics-conversation rate, customer acquisition, customer lifetime valve, and monthly and annual recurring revenue.
To make a better decision in your SaaS business, you need to track these metrics.
Evaluate your competition:
To build an effective SaaS marketing strategy for your business, you should distinguish, research, and study your competitor. Indeed, you need to identify the best SaaS organizations in your area and learn from them.
You should be looking for critical points: strategies they use, their search ranking and organic reach, their activeness and presence on social media, the primary and secondary keywords they target, and the backlinks they have created.
There are various tools available in the market that help you access various information about your competitor and allow the user to conduct a detailed competitor analysis and figure out how authoritative they are.
Optimize your website for conversation:
The following essential key for SaaS Marketing Strategy is to have an excellent significant website except you are working for multiple niche such as book writing, ghostwriting,. Content optimization and keyword research are crucial to guaranteeing that your SaaS site comes up when clients look for a product that you offer. How would you approach doing it? Recognize all the buy-intent keywords that your potential clients might be looking for and optimize your current arrival points to target them. The thought is to guide possible clients to your site at whatever point they're settling on a purchasing choice. 
Also Read
The Future Of Content Marketing: It's Not What You Think.
Leverage Content:
You can't disregard the intensity of utilizing authentic content as a feature of your SaaS marketing strategy. You should brainstorm contents that take care of your consumer's problem. A study demonstrated that consumers are 131% likely to purchase from brands that compose educational content. 
Alongside being educational, your content must be engaging and actionable. These elements should be included in the content that you make for your website, blog, social media posts, and guest posts, and so on. 
Maintain a strong presence on social media:
According to research, in 2020, there were nearly 5 billion active users on Facebook and over 800 million users on LinkedIn. If your SaaS business is not active on social media, hold on, and think about what you are missing.
You don't need to restrict your brand to only Facebook and LinkedIn. Once more, everything is dedicated to analyzing where your target audience is. You need to identify the platforms on which your potential customers are active. 
Being available on social media isn't enough. It is essential to daily post engaging and educating content as well. You can likewise use targeted ads to connect to more people.
Offer free trials:
Offering free trials is a successful SaaS Marketing Strategy that can help you in drawing in potential clients. According to a study, 80% of SaaS organizations offer open trails as a feature of their marketing strategy. 
The book marketing services agency experts discover that limited free trials are the ideal approach to allow individuals to experience your product's benefits before buying. When they have an encounter with your product, they would be bound to become high-paying customers. Hence, it is essential to consider how you can persuade your free trial user to buy your product a while later.
Encourage the customer to leave feedback:
Customer feedback can help you to encourage in your SaaS Marketing Strategy and campaign. As per a study, client review helps to impact a person's choice to purchase a product or service. Trust ratings for client reviews developed by 30% in 2020, up from only 19% in 2018. 
Empower your happy and faithful clients to review your SaaS product. You would then be able to show client reviews on your site for visitors to see.
Brainstorming with a unique SaaS Marketing Strategy for your product can be a tough grind. However, the means that we have talked about above will assist you with getting going. 
Depending upon your product, niche, and target audience, some SaaS Marketing strategies may work for you in a way that is better than others. As much as possible, you need to understand your target audience well. It is the key to progress.