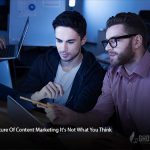 A good content marketing strategy is an excellent way to help a business shape its own brand identity, gain interest from prospects, and retain an engaged audience. It lets you make authority in your space project legitimacy and build trust between you and the person you're trying to reach.
As you would know, it's well worth understanding. But that is a lot easier said than done. Content marketing is not static. The land landscape of the graph is constantly changing. It does not look at how it looked a decade ago, and in the future of content marketing, it won't look how it is now.
Content Marketing
As mentioned by ghostwriting experts It's a pretty tricky topic to pin, one with a rather exciting past in a fascinating future. Out of both interest and forward-thinking practically, it's essential to understand both of them where it has been and where it's going.
Here we will have a look at both of them. We will be looking at how content marketing used to be in the past and how the future of content marketing will be.
In 2010 and 2011, Google researched zero moments of truth (ZMOT) study. Google had found that 88% of the buyers use this study, discovery and awareness stage in the purchase cycle where the buyers research the product before buying it. Google had also analyzed that word of mouth was a definitive factor at the moment.
References
The research provided a unique point of reference for content marketing's evolution. It told the businesses how and why they needed to focus on content marketing at the beginning of the 2010s.
The study, zero moments of truth (ZMOT), highlighted the need for sound search engine optimization (SEO). But the study wasn't the only bomb that Google had dropped in the early 2010s.
At the same time, another study came out that Google's search algorithm changed to discourage "keyword stuffing" and the practice of repetitively loading webpages with some specific keywords that try to sway the search engine rankings.
This change had represented that there is still continuous effort by Google to provide its users with a positive and helpful online experience. This shift had set the stage for the businesses to mainly focus on producing more high quality and meaningful content for the future of marketing.
The future of content marketing wasn't exclusively linked to the search engine. Social media's meteoric rise to prominence had been one of the most disruptive trends in human history. As these platforms had developed into the mainstream of everyday life, they had brought many new challenges for content marketers.
As social media had evolved, it had popularized a different kind of content consumption than most search engines. The difference had brought down the matter of point versus passive.
Many consumers use search engines to find more accurate content. When you use a search engine, you look for the answers that are more specific and more relevant to the subject. Social media has allowed the consumer to use content that is more passively onto the platforms. The content you see on your Facebook feed finds its way to you, not the other way around.
Also Read
Book Marketing Strategies That Will Generate More Sales For You
What will be the future of content marketing?
As most people mentioned, video content is emerging as most, if not the most, for the future of content marketing and the essential medium of content marketing at the end of the past decade. And they're not ready to give any indication that the trend is stopping anytime soon.
From the beginning of 2020, 85% of the businesses had used video as a marketing tool, more than 24% from 2016. Almost 90% of marketers use it as the central part of their marketing strategy. It's already the key in several companies' content marketing departments in this research indicates that the base will expand in the future of content marketing.
With all being said, it looks likes the exploration and the expansion of video as a medium of content marketing will continue. It would remain the priority for the marketers, and it will be a matter of standing out.
Even if the individual producers and companies tried to innovate but when it comes to video marketing or book marketing, this platform will be mainstream in the future of content marketing and keeping it going.
Research
According to a study, the global mobile data traffic in 2022 might be seven times bigger than in 2017. Mobile device usage has been increasing autonomously, and it has been in every content marketer's interest to keep up with the trend.
In the past two years, more than 50% of the Google searches were taking place on mobile devices, and this trend is showing no signs to stop. Websites being optimized for mobile devices will make impressive successes to SEO efforts. And a lot of the content that is created will fit that bill as well.
In the future of content marketing, the customers will get as much content out of the mobile sources as desktop ones. Blogs and articles will be elementary to navigate on the smartphone. Accessible video content being watched by the audience on mobile devices may also be a big help.
The shifting toward mobile will also represent a lot of new opportunities through the new arising platforms of media. More novel mobile technology will have a real place in the future of content marketing.
Because people rely more on their mobile devices, content marketers will have to do as well.
Google Algorithm
The algorithm of Google's ranking prioritizes the content that has the most searches. The first ranking search result of any keywords is one of the best addresses to the users searching by Google standards. They will keep tinkering with the process in the pursuit of interest. The successful content will be empathetic, purposeful.
There's nothing exactly explaining how the algorithm may change in the future of content marketing; one of the remaining facts is that their marketers have to focus on the high-quality content that would get them, potential consumers. This means you have to understand your audience and put considerable effort into reaching them.
In the future of content marketing, research and community engagement will be more essential in content creation. Content marketing is pretty trending towards the consumers' enrichment as it is rather opposite to product promotion. Content marketing will continue to be more targeted, purposeful, customer-centric as the practice evolves with the process.
If there is anything that you have to understand with the past and the future of content marketing, you don't have to get too comfortable. There are new trends, more challenging and emerging ones, and it has always been in your best interest to stay abreast of them.
The creators should, above all, focus consistently on creating high-quality content that their audience may be able to get something out of.
Average Period
An average period to catch people's attention is at least 8 seconds, which is very little time. As it is easy to get a glance, snackable content is very nice to stand out. Content marketers can use multiple formats to attract their audience, which can be anything that's trending.
Audience
The audience wants to feel appreciated and heard as an individual. They want to have the power to ask because there's so much market saturation. The old mass media marketing is pretty much dead. The audience wants a type of communication at a personal level that would feel relevant to them. Especially in the past, with the pandemic, a decisive role in ensuring that customers are satisfied with their marketing and communication strategies. This, in turn, allows you to get better feedback from the customers for creating a future content marketing strategy. So there later they can market better and much attention gaining content for their customers.
The content marketers can take one of the pieces of their content out, preferably a huge one, and an in-depth piece of offer topic, and they shall break it down into more than eight pieces or smaller for their content. It's nothing new; it's just to repurpose something old, remake something already familiar, and present it in a new angle or a new craft or style.
Conclusion
Content production is a crucial focus for businesses as they go forward. Companies search for new ways to ensure that their content is valuable, engaging their audience, and fun. Focusing on one of the pieces of content creation, then breaking it down into smaller pieces would allow them to extract so much more out of it.