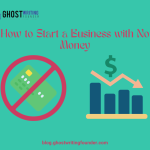 To start a business with little money, you must be creative, clever, and determined. You can build a great business on a tight budget if you plan well, use your skills to your advantage, network well, and make smart decisions.
These skills can be the basis of your business, whether you're a good visual artist, writer, coder, or social media expert. Your talent is one of the most important things you have.
Remember that every step you take should align with your long-term goals. This will help you live in the tough business world and thrive in it.
A Comprehensive Guide to Start A Business:
Starting a business is a goal shared by a large number of individuals. Challenges are unavoidable, but if you see them as chances to learn and develop new ideas, you'll stand out. Learn more about turning challenges into opportunities in The Write Journey.
Stick to your goals, change with the times, and keep improving your plans based on what you learn in real time. Find out what your skills are and think about how you can use them to start a business.
The key to success is a well-thought-out company strategy. Provide an overview of your company's end goal, ideal client, key competitors, and expansion plans. An in-depth business plan helps you articulate your goals and increases your chances of attracting investors and partners.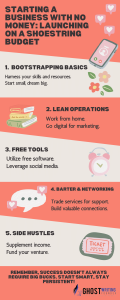 Below are the important steps to remember
1- Acknowledge Your Interests and Strengths:
To start a business without money, the first step is to figure out what you're good at and passionate about. What are you good at? What are you interested in?
By figuring out what you're good at and what you're interested in, you can find business ideas that fit with who you are. This first time you think about yourself will set the stage for your work journey.
When starting a business on a tight budget, your skills will greatly help you. Find out what you're good at and how you can use that in your work. Using skills you already have, like web design, writing, managing social media, or anything else, can save you money you would have spent on outsourcing.
2- Recognize The Power of Making Connections:
Networking is a cheap way to get your name out there and make important connections in your field. Discover more networking strategies in Brands for Authors – Make Your Name an Asset. You can meet possible clients, business partners like Ghostwriting Founder, and teachers by going to area events, classes, and conferences.
Building a network gives you more chances and lets you learn from the mistakes and successes of others.
3- Come Up with A Good Business Plan:
Even if money is tight, a good business plan is still the key to a great business. Outline your business idea, target market, unique selling point, and how you plan to make money.
A well-structured plan gives you a road map and boosts your trustworthiness when you're looking for partnerships, collaborations, or even small investments.
Once you know what you're good at and what you're passionate about, it's time to develop a good business idea. Think about how your skills can help solve a problem or meet a need in the market.
Your idea for a business should be special and give people something they want or need. Do a lot of market studies to ensure that people want your product or service.
4- Pay Attention to Lean Marketing Techniques:
Marketing doesn't always need a big budget to start a business. Check out digital marketing options like social media platforms, email ads, and content marketing.
Make material that your target audience will find interesting and want to share. Work with micro or big-name leaders in your area to reach more people without spending much money.
5- Use Free Tools:
Many tools and resources in the digital age can help you run your business more efficiently without spending a lot of money. From managing projects to making graphics, many free or cheap tools can help you be more productive and efficient. Enhance your productivity with our Content Creation Services.
6- Give Value Through a Minimum Viable Product (MVP):
Instead of waiting until your product is perfect and has all the features you want, you could start a Minimum Viable Product (MVP) to get feedback and see if your business idea will work. An MVP lets you start with the most important features and functions, saving you time and money while giving your users what they want.
7- Start from Scratch and Prioritize Spending:
Bootstrapping means running your business with little money from outside sources and creating creative ways to save money. Spend your money on the most important things first to start a business and look for choices that fit your budget. For budget-friendly publishing options, consider our Cover Design & Typesetting Services.
For example, you could use a co-working place or open-source software instead of a pricey commercial option instead of a standard office.
8- Look into Platforms for Crowd-Funding:
If your business idea has interested the people you want to do business with, you might want to use crowdfunding sites to get started. Platforms like Kickstarter and Indiegogo let you tell more people about your idea and get money from backers who believe in what you want to do.
9- Engage in Negotiations:
Don't be afraid to discuss terms good for your budget when working with sellers, service providers, or possible partners. Also, look for ways to trade your goods or services for something your business needs.
10- Continuous Learning and Adjustment:
In the business world, it can be not good to do nothing. Learn as much as possible about customer habits, business trends, and new technologies. Make changes to start a business based on what you learn. This will keep your business relevant and competitive.
The Bottom Line:
Ultimately, how well your business does depend on how much value you give to your customers. Think about how to solve their problems and meet their wants. By always giving customers something of value, you'll build a loyal customer base and get good word of mouth, which can be more effective than any marketing effort.