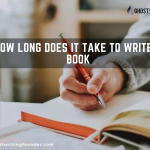 Writing a book is a difficult task that requires commitment, imagination, and perseverance. From the first spark of an idea to the last flourish of the previous line, writers go on an intellectually, emotionally challenging, and rewarding journey.
But people who want to write and people who want to read often wonder, "How long does it take to write a book?" To solve this mystery, we must examine how many different things affect the writing process.
Explore the unknown seas of writing a book by looking at how time, imagination, and drive affect the journey from a blank page to an exciting story.
How Long Does It Take to Write A Book:
Unless you follow our 90-day book writing technique, it may take a first-time author anywhere from six months to a year to complete a manuscript. Otherwise, a book may be written in four to eight months.
The time it takes to produce a book is mainly determined by how much effort the author puts into writing it. A book of 30,000 to 40,000 words may be written in a weekend if the author is focused and motivated enough.
The number of words in a book determines how long it takes to write a book:
The time required to create a book may be roughly estimated using the following formula:
500 words daily for 60–100 days = 30,000–50,000 words.
500 words every day for 100-160 days = 50,000-80,000 words
160–200 days at 500 words/day for 80–100,000 words
It might take two to seven months (or longer!), depending on how frequently you write and how many words you write in each session.
Ways to Speed Up The Process Of Writing A Book:
Writing a book often takes a lot of time and work. But if you want to get your writing done faster without sacrificing quality, some methods and techniques can help. Therefore, Ghostwriting Founder talks about real-world ways to speed up your writing process.
It will help you finish your book faster while keeping its quality and impact. Get ready to go on a trip where inspiration and productivity meet, and the words come out quickly on the page.
1- Set Realistic Goals
If you want to keep writing and not put it off, you need to set goals that you can reach. Divide your book into parts or chapters that are easy to handle, and set word count goals for each writing session. Therefore, making reasonable goals will make you more likely to keep progressing, and reaching each milestone will make you feel good. Remember that even small steps can lead to big changes in how you write your book.
2- Use Writing Tools and Software
In the digital age, many writing tools and software programs can make writing a book much faster. Tools that check your grammar and spelling can help you polish your writing, and work apps can help you organize your thoughts and keep you from being distracted while you write.
Consider using White Paper Writing Services software for authors, which often has features like planning, developing characters, and organizing work without problems. These tools can make your job easier and help you be more productive generally.
3- Consider Pre-Writing
Thorough pre-writing is one of the best ways to speed up the process of writing a book. It means brainstorming, planning, and studying before you start. By spending time on this part, you'll have a clear plan for your book, which will help you write with purpose and consistency.
Before you start writing, do mind-mapping activities, make character descriptions, and build a strong base. This method lets you avoid many problems and steady the book's flow.
4- Make Targets for Word Count
Setting word count objectives is an excellent method to speed up writing. Setting daily word count objectives serves as a writing equivalent of training intervals.
The first step is to research the average length of novels in your chosen genre, as detailed in Fiction vs. Non-Fiction, with this information, you can plan your daily word count and ensure you finish on time.
Also, you'll be more likely to achieve your writing objectives, and your work will improve if you set these boundaries for yourself.
5- Give Daily to Yourself
When working on a long project, the first draft of a book, sticking to the same pattern, might grow old fast.
SEO Blog Writing Services recommends setting goals to prevent boredom and inject more life into your writing endeavor.
Here are some straightforward goals to help you crank out your novel:
Your daily, monthly, and annual word goals should be doubled.
Reduce time frames on purpose to ramp up the pressure
Get some writing done by not using your phone or any other distractions.
Share your work in progress with a fresh set of ears for critique.
Factors Affecting the Speed Of Writing
There is a wide variety of writing styles and qualities among authors. As a result, there is a wide range of possible durations within which a book might be written.  Therefore, some factors that may affect how long it takes to complete a book are:
1- Research
Whether the work is fiction or nonfiction, much research may be needed, as discussed in What is Non-Fiction?. Researching a subject like economics or psychology may add much time. So studying the history, cultural intricacies, and remote locations for a historical novel also requires time and research.
2- Length of Book
The time it takes to write a book depends heavily on the genre you choose. If you want your work to succeed commercially, stick to the typical word count.
3- Editing
Even if a writer needs help getting their words down on paper, the editing process may drag on for weeks or months. When time is of the essence, some writers choose to have their books copyedited and proofread by a professional editor following a quick first edit, as can be found with Book Editing Services.
4- Concentration
The time it takes to write a book mostly depends on the author's ability to sit down and concentrate on the task at hand. While some authors can sit down and crank pages for hours, others find their attention wanders after only an hour. Several helpful free resources exist on the web to aid authors in staying focused on their work, like those mentioned in How to Build a Portfolio for Freelancers.
Conclusion
Some writers take months or even years to write a book, while others can do it in only a few weeks. Always remember that writing a book is an artistic process that demands your attention and constant dedication. If you're in a hurry, your job may suffer. The time it takes to complete a book is sometimes a sign of its success, a concept explored in Launching a Book in 2023 with Checklist.