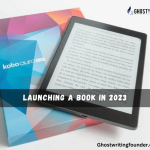 Introduction
You've worked on your book for months, if not years. That involves writing, editing, and rewriting. Launching a Book is a major in every writer's life.
However, it's equally hard to understand. There are a lot of methods out there, but which one is right for you? You might feel like you have to do everything, which is impossible, so you feel like a failure before you even start.
The first step in a successful launch is to select a date. Once you've settled on a publication date for your book, you'll have something concrete to strive towards. You should start working on your launch strategy six to twelve months before publishing your book.
Tick the Checklist
Write an attention-grabbing press release announcing the launching a book, incorporating unique angles and newsworthy hooks.
Create a comprehensive marketing plan that includes online and offline strategies tailored to your target audience, and for more ideas, explore Book Marketing Ideas.
Utilize social media platforms to build an author platform and connect with readers, and learn how to boost your presence with Bookstagram Hashtags Boosting Your Bookish Social Media Presence. sharing behind-the-scenes glimpses into your writing process and offering exclusive content.
Collaborate with influencers or bloggers in your book's niche to generate buzz and reach a wider audience.
Leverage your existing network by contacting family, friends, and colleagues, asking for their support in spreading the word about your book.
Schedule author interviews or podcast appearances to discuss your book, providing fresh insights and intriguing anecdotes.
Plan and host a captivating book launch event, whether an in-person gathering, a virtual webinar, or a hybrid experience, and find inspiration on how to make it special with The Ultimate Guide to Effective Blog Design, which can be applied to event design as well. combining the best of both worlds.
Seek opportunities for guest blogging or writing articles related to your book's topic, positioning yourself as an authority and generating interest in your work.
Develop a comprehensive email marketing strategy to build a subscriber list, and for guidance, check out Website Copywriting 2023 Edition for tips on crafting compelling copy., sending out regular newsletters with valuable content and updates about launching a book.
Engage with your readers and potential readers by promptly responding to comments and messages, fostering a sense of connection and community.
Offer pre-order incentives, such as exclusive bonus content or signed copies, to incentivize readers, and for more on creating attractive offers, see Spreading Literary Joy. to incentivize readers to purchase your book before its official release.
Pre-Launch Activities
Setting Clear Goals
Setting clear goals for your book launch is important for figuring out how well it went. Set clear goals for your book, such as growing sales, building brand awareness, or sharing a certain message. If you have clear goals, they will help you make decisions and keep you on track from the start.
Developing a Marketing Plan
You need a full marketing plan to get people talking about and excited about your book. Consider using different avenues like social media, email marketing, content marketing, and working with influencers. Make sure your message is engaging and hits home with your target group, and make a plan for when to do your marketing activities.
Building a Professional Author Website
An author's website, like Ghostwriting Founder, is the hub for the launch of your book, and for website design tips, visit Website Design for Authors. Make a professional website that shows off your book, gives information about you as an author, and gives people a way to contact you. Optimize your website for search engines by using relevant terms and ensuring it is easy.
Creating Engaging Pre-Launch Content
Make interesting material before it comes out to get people excited about your book. This can be done through blog posts, guest pieces, interviews, and sneak peeks behind the scenes. Use social media to share this information and urge people to sign up for updates and alerts about when your book comes out.
Building an Email Subscriber List
Email marketing is still a great way to reach out to possible viewers. To get people to sign up for your email list, offer rewards like exclusive content, sneak peeks, or discounts. Send regular updates to your followers, telling them about launching a book, events, and sales.
Launch Activities
Implementing a Comprehensive Social Media Strategy
Social media sites are a great way to get the word out about your book launch and connect with your audience. Make a specific social media plan that includes creating material, engaging with the community, and working with influencers. Use relevant hashtags, eye-catching images, and interesting comments to grab your audience's attention.
Organizing Virtual Book Launch Events
In this age of technology, virtual book launch events are becoming more and more common and easy to attend. You can connect directly with your audience by holding online events like workshops, Q&A meetings or by attending live events. Use tools like Zoom, Facebook Live, and YouTube to connect with people in different places.
Leveraging Influencer Partnerships
Working with leaders and experts in your field can help you launching a book. Find influential people in your area and contact them to see if you can work together. Give them early access to your book, exclusive material, or chances to cross-promote to use their reach and interest their fans.
Obtaining Early Reviews and Testimonials
Reviews and comments from happy readers can help your book look more trustworthy and get more attention. Reach out to early readers, important writers, or people who review books and offer them free copies in exchange for their honest feedback. Encourage people to share their reviews on Goodreads, Amazon, or social media.
Post-Launch Strategies
Continued Marketing Efforts
After your book launch, it's important to keep the energy going and keep people interested. Keep implementing your book marketing plan, making new content, and interacting with your audience through social media, email messages, and blog posts. Check out other ways to market your book, like book signings, radio talks, and internet book trips.
Building Relationships with Readers
You must build connections with your fans for long-term success as an author. Use social media to talk to your audience, react to their comments and messages, and thank them for their support. Think about making a community for your fans or a Facebook group where they can talk to you and each other.
Monitoring and Adjusting Your Strategy
Check how well your book launch plans work regularly and make changes as needed. Analyze the data from your website's analytics, social media insights, and email marketing stats to learn more about how and what your audience likes to do. Use this knowledge to improve your launching of a book and its plans for the future.
Final Words
Launching a book in 2023 will take careful planning, smart marketing, and a deep understanding of your target audience. By using this thorough plan, you can make it more likely that your book launch will go well and help you reach your goals. Don't forget to evolve with the digital world, use new tools and channels, and build genuine relationships with your audience.