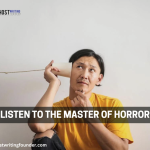 If you're a fan of horror and suspense, chances are you've heard of Stephen King, renowned for his gripping tales that have been chilling the spines of readers, as celebrated in our article on the Best Horror Authors You Must Read. This prolific author has written over 60 novels, many of which have been turned into successful movies and TV shows. But did you know that some of his best works are available in audiobook format, which you can learn more about in our guide to the Best Stephen King Audiobooks? In this article, we'll explore the benefits of listening to audiobooks and recommend some of the best Stephen King audiobooks.
Who is Stephen King
Stephen King is a prolific American novelist, short story writer, and essayist whose works have been adapted for film, television, and radio. King has written more than 50 books. His works have contributed to his fame and have sold more than 350 million copies worldwide. King's first novel, Carrie (1974), was published while he was still in college, and if you're interested in the journey of such novels from idea to shelf, check out our Step-by-Step Guide for 2023., and he has since produced a string of bestsellers that include The Shining (1977), Misery (1987), and The Green Mile (1996).
In 2003 King won the National Book Foundation's Medal for Distinguished Contribution to American Letters. He has also received Bram Stoker Awards, World Fantasy Awards, British Fantasy Society Awards, and International Horror Guild Awards.
The popularity of audiobooks
Stephen King is one of the best-selling authors of all time, and his books have been adapted for film and TV countless times. His stories are so popular that some people don't even realize they're reading a book— they think it's an actual story told by someone else, much like the immersive experience discussed in Exploring the Depths of Literary Fiction.
The popularity of audiobooks has grown exponentially in the last decade or so. In fact, according to Statista, Americans spent $1 billion on audiobooks in 2017 alone. And while there are many reasons why audiobooks are so popular (they can be listened to while driving or doing housework), one reason stands out above all others: They're easier to digest than print books.
Audiobooks can be heard at any speed and with different voices, which is a unique advantage highlighted in our exploration of the Best Audiobook App to enhance your listening experience., allowing you to choose how you want to digest your stories — whether they're suspenseful or relaxing, or something else entirely.
Benefits of Listening to Audiobooks
Before we get into the recommendations, let's take a moment to discuss the benefits of listening to audiobooks.
Convenience
You don't need to be near a book when listening to an audiobook; you can do anything else while listening. It's easier than reading because you don't have to focus on every word or paragraph. You can just listen and let the story take over your mind.
Memorization
Listening allows you to memorize more easily because it's not as taxing on your brain as reading. You don't have to think about what you're reading or how it sounds; you just absorb it naturally by hearing it spoken out loud instead of reading it silently in your head. This gives you better chances at remembering what was said in the book later on, a benefit that aligns with our tips on How to Get Advanced Reader Copies, which can include audiobook versions for review. down the road when someone asks about it or if they tell you something that happened during the story that they remembered hearing in an earlier chapter but forgot about later on down
Improved comprehension
Listening to an audiobook can help improve your comprehension skills because it forces your brain to process information like a normal conversation. This means that when you listen to an audiobook, you'll hear each word and understand what those words mean before moving on to the next one. This allows you to focus on understanding content rather than simply remembering each word and phrase as they go by.
Multitasking
One of its biggest advantages is the ability to multitask while listening to an audiobook. Listening enables, you to be productive without concentrating on one item at a time, whether driving, exercising, or preparing supper. This benefit is especially helpful if, like me, you prefer listening to audiobooks while driving because it eliminates the need for two hands on the wheel, which lowers the chance of accidents!
Top Stephen King Audiobooks
Now that we've established the benefits of audiobooks let's look at some of the best Stephen King audiobooks.
The Shining (1977)
This is a classic example of King's ability to turn everyday situations into terrifying ones. In this novel (and its subsequent film adaptation), Jack Torrance takes a job as a concierge at an isolated hotel in Colorado during one of the worst snowstorms in history. He hopes that his wife, Wendy and son, Danny, will be able to enjoy a peaceful winter together away from the pressures of life back home. But then something sinister begins to happen: Danny has visions about an old woman who lives above them in room 217 and warns his father that "the woman" wants him dead.
This is one of King's best-known books, and Tommy Lee Wallace's 1990 film adaption (which is decent) was based on it, and if you're inspired to create your own horror masterpiece, our Horror Writing Services can help bring your dark visions to life. One of those novels that will probably linger with you forever after listening to it tells the tale of a group of kids who team up to confront an evil monster in their village.
'Pet Sematary' by Stephen King
This terrifying story follows a family who moves into a new home next to an ancient Indian burial ground where pets buried there come back to life. It's one of King's most popular novels for a good reason — it will keep you up at night thinking about all those dead animals lurking in your backyard. The book editing in 'Pet Sematary' is flawless, much like the meticulous attention to detail you'll find with our Book Editing Services.
The Stand by Stephen King (Narrated by Gary Sinise)
This is one of Stephen King's most popular novels, and it's easy to see why: it's a story about good vs. evil in America during a time when we needed it most — after a virus wipes out 99% of humanity. The remaining survivors must band together and decide whether to follow Randall Flagg as he leads them into a new world order or fight against him with all their might. This is the pinnacle of his book writing career.
The Outsider (Narrator: Steven Weber)
In this novella, King brings back detective Bill Hodges from his bestselling novel Mr. Mercedes. The case starts with the murder of a local boy and then turns into something much bigger when Hodges discovers that the victim was involved in a dark conspiracy involving a secret society known as "The Outsiders." It's a thrilling story that will keep you guessing until the end. A Ghostwriting Founder is a professional company that writes many horror books similar to The Outsider.
Where to Find Stephen King Audiobooks
If you're looking for free Stephen King audiobooks, there are two places where they're easy to find: LibriVox and Audible's free library.
LibriVox is a volunteer-run website that offers public domain books read by volunteers from all over the world. The site is run by a non-profit organization based in France, but it has a large library of titles available in many languages. You can listen online or download it for offline listening.
Audible's Free Library has more than 200 titles, including some classics like The Adventures of Huckleberry Finn and Moby Dick. The selection varies by month, but you can always check back as new titles are added regularly.
Conclusion
Listening to Stephen King audiobooks is a great way to enjoy Stephen King's classic horror and suspense novels. Not only are they convenient and great for multitasking, but they can also improve comprehension and bring stories to life. We hope you give some of our top Stephen King audiobook recommendations a listen and discover the joy of getting lost in a good story.