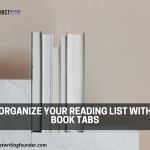 As an avid reader, you likely have an ever-growing list of books you want to read. But as that list grows, it can become overwhelming and difficult to manage. This is where book tabs come in as your best friend. In this post, we'll talk about how book tabs and app book tabs can help you keep track of the books you wish to read and organize your reading list.
What is app Book Tabs?
Book Tabs is a reader's best friend: it organizes your reading list, helps you find books, and even helps you find the best prices for them.
This app has created by three avid readers who wanted to make it easier to keep track of their reading lists and share them with others. The app does this by allowing users to create multiple lists for different genres or interests. Each book has its tab to be easily accessed later on, similar to how you might categorize your Best Book Club Books for 2023 for different reading groups.
It is free to use but has premium features available through an in-app purchase, much like how Best Book Subscription Services offer enhanced literary journeys. These include unlimited tabs, offline access to your reading lists, and more!
How to Use App Book Tabs?
They are the perfect way to organize your reading list. They allow you to make notes about a book, rate it, or even see other people's thoughts.
It is an app that permits you to create a list of books you want to read and organize them in different ways. You can add book details, like author and genre, as well as make notes on how much you liked the book or any relevant information that might help when recommending it.
You can also rate your books and share them with friends and family, which is a great way to engage with others as suggested in Best Book Club Books for 2023. This can be helpful if someone asks for book recommendations or if you want to see what others think about certain books. The app also has a built-in dictionary, so you can look up words while reading without leaving the app or opening another one.
How Do I Get Started with APP Book Tabs?
The primary thing you'll need to do is download and install the app from either Google Play or iTunes. Once it's installed, open the app and tap "Add New Book." This will prompt you to enter either the title or author name of an existing book on your device.
Alternatively, if you already have several books on your device, tap "Search for Books" at the top of your screen. This will allow you to search for titles or authors and add them to your reading list.
Where Can I Get APP Book Tabs Coupon Codes and Special Offers?
If you want to save money on Book Tabs, there are two ways that you can do this:
1) Sign up for their newsletter at https://booktabs.com/newsletter/. You will get exclusive coupons and offers from them via email every month.
2) Follow their social media pages on Facebook, Twitter, Instagram, and Pinterest for more coupons and special deals throughout the year!
Benefits of App Book Tabs
App Book Tabs is a unique and innovative feature that allows you to add tabs to your book pages. This is especially beneficial for books with multiple authors or subjects, where the reader needs to easily navigate between sections, akin to the varied perspectives in Autobiography vs. Biography.
You can add as many tabs as necessary to your book pages, with each tab containing a different chapter or section of your book. This allows you to create a page layout that is perfect for your needs without having to worry about formatting issues caused by having too many sections on one page.
You also have complete control over which tabs are displayed on each book page, so if you only want certain sections shown on one page, this can be done easily using the Settings screen within the Book Editing.
What are Book Tabs?
These are small, adhesive tabs that can be placed on the pages of a book to help organize and navigate through the book. They are available in various colors, shapes, and sizes and can be customized to fit your needs.
Benefits of Using Book Tabs
Following are the benefits of using book tabs.
Easy to Carry
The size of book tabs makes them easy to carry around. They are small in size and can be folded together. This makes it easy to store them in a bag or purse. The small size also makes it easy to take them anywhere with you without the fear of them getting lost.
Organizations
It can be in different colors and shapes, making them ideal for organization. You can organize your books by subject or type, making finding what you need when studying or doing homework easier.
Easy to Use
Book tabs are very easy to use. All you need to do is place them on the pages of your book where you want them, and they will stay in place until you remove them. This makes it easy to navigate your book and find the information you need. These are also helpful for Book Editors, who can use them to mark significant sections during the editing process.
Customizable
These are highly customizable. You can choose the color, shape, and size of your tabs to fit your needs. This means you can use different colors to categorize your books or mark important pages.
Improves Reading Experience
They can also improve your reading experience. It helps you to track your progress and take notes. This can help you better understand and retain the information you are reading. The Ghostwriting Founder service is frequently managed by an accomplished writer, ensuring that your non-fiction work is both engaging and informative. who can work directly with clients to produce content that satisfies their needs.
Save Your Pockets
This will keep your books organized so they don't get mixed up with other books, but they also save you time by helping you find the right book quickly. If you have several books, it can be difficult to remember which one you're looking for if they are all on the same shelf. A simple way around this is by labeling each of them with a tab with the book's name on it, so when you go to get the book, you will know exactly where it is without having to open every single book on that shelf searching for it.
How to Use Book Tabs?
Following are the ways of using book tabs
Choosing the Right Book Tabs
When choosing book tabs, it is important to consider the size and shape of your book. You want to choose tabs that will fit comfortably on the pages of your book without being too big or too small. You also want to consider the color of your tabs. If you plan to use multiple tabs in one book, using different colors to categorize your tabs can be helpful, similar to how Content Development Services can assist in structuring your content for clarity and impact.
Using Book Tabs to Organize Your Reading List
It can help you organize your reading list by categorizing your books. To identify books that, you have read, want to read, and are presently reading, you may use different colored tabs. Using this, you may prioritize your reading list and keep track of your books.
Using Book Tabs to Track Your Progress
Tracking your reading progress is another purpose for book tabs. For instance, you could use a tab to indicate the page where you left off and another tab to indicate key passages that you want to remember for later. It can assist you in staying on course and advancing the completion of your book.
Using Book Tabs to Take Notes
It can also be used to take notes while you read. You can place a tab on the page where you want to take notes and then write your notes on the tab itself. It can be helpful if you want to take notes but don't want to write itself.
Conclusion
Book Tabs are a simple yet effective way to organize your reading list and keep track of all the books you want to read. They are easy to use, come in various colors and designs, and can be used for fiction and non-fiction books.