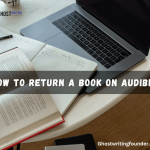 What is Audible?
Audible is an online platform owned by Amazon that specializes in providing audiobooks and other audio entertainment content, much like the Best Audiobook App discussed in our blog. It offers a vast collection of audiobooks across various genres, including fiction, non-fiction, self-help, business, and more. Audible allows users to purchase and download audiobooks, which can be listened to on various devices, such as smartphones, tablets, and computers.
In addition to audiobooks, Audible also offers original audio shows, podcasts, and exclusive content. Subscribers to Audible's monthly membership program receive credits that can be used to purchase audiobooks at discounted prices, similar to the benefits of the Best Book Subscription. Audible provides a convenient way for individuals to enjoy books and other audio content while on the go or engaging in other activities.
In this article, we will explore returning a book on Audible. Sometimes, we may purchase a book but later realize it's not what we expected or wanted. Thankfully, Audible provides a hassle-free return policy that allows users to easily return books and get a refund or exchange. Whether you're a new Audible user or a seasoned listener, understanding how to return a book to Audible can be valuable knowledge. Let's dive into the details and learn how to navigate the return process effectively.
Returning Audibly: How to Return a Book on Audible
Returning a book on Audible is a straightforward process. Here's a step-by-step guide to help you return a book to Audible:
Contact Ghostwriting Founder
One easy way to return the audiobook is to contact and ask Ghostwriting Founder to do the task. However, if you wish to do this yourself, option 'b.'
Go to the Audible website
Step 1: Visit the Audible WebsiteTo initiate the return process, go to the Audible website and sign in to your account. Ensure you use the same account you used to purchase the book you wish to return.
Step 2: Navigate to Your Account Details
Once you're logged in, locate the "Account Details" section. This can usually be found in the top-right corner of the website. Click on it to access your account settings.
Step 3: Go to "Purchase History"
Look for the "Purchase History" tab or link within your account settings. Click on it to view a list of all the books you've purchased.
Step 4: Find the Book You Want to Return
Scroll through your purchase history and find the book you wish to return. Take note of the book's title and author to ensure you select the correct one for return.
Step 5: Click on "Return Title"
Once you've located the book you want to return, click the "Return Title" button or link next to it. Audible may ask why you're returning the book, so provide the necessary information if prompted.
Step 6: Confirm the Return
Audible will ask you to confirm your decision to return the book. Double-check the title and author to ensure it matches your intended return book. If everything is correct, proceed with the return by clicking on the confirmation button.
Step 7: Receive Confirmation and Refund
After confirming the return, Audible will provide you with a confirmation message. Remember that the refund may take a few days to appear in your account, depending on your bank or payment provider.
Reasons to Return a Book to Audible
Returning a book to Audible is a convenient option for users who are dissatisfied with their purchase. There are reasons why you might consider returning a book to Audible. Let's explore some common scenarios where returning a book can be beneficial:
Unsatisfactory Narration:
Audiobooks heavily rely on the narrator's performance to bring the story to life. If you find the narrator's voice, tone, or style distracting or unsuitable for the book, returning it allows you to explore other options and find a narration style that resonates with you.
Disappointing Content:
Sometimes, despite careful selection, a book may not live up to your expectations, which is why it's helpful to read about the Best Selling Non-Fiction Books of All Time to make informed choices. It could be due to a weak plot, lackluster character development, or subpar book writing. Returning such a book lets you choose another title that aligns better with your preferences.
Technical Issues:
Occasionally, glitches or errors can interfere with your listening experience. These could include audio distortions, skipped chapters, or missing sections. Returning the book or book editing allows you to exchange it for a copy that functions properly, ensuring an uninterrupted listening experience.
Change of Interest:
Personal preferences evolve, and what may have piqued your interest at purchase might no longer hold the same appeal, which is why exploring Best Book Club Books for 2023 can be a great way to find new favorites. Returning a book that no longer aligns with your current interests enables you to explore new genres or topics that captivate you.
Duplication:
It's not uncommon to accidentally purchase the same book twice, especially if you have a substantial library. Returning the duplicate ensures you don't waste credits or money on unnecessary duplicates and allows you to explore other titles instead.
Changed Mind:
Lastly, sometimes you simply change your mind about a book. Realizing that a particular title isn't what you want is perfectly alright. Returning a book lets you choose something that aligns better with your current reading mood or preferences, and for those looking to publish their own work, our Book Publishing experts can help bring your vision to life.
Conclusion
Returning a book on Audible is a simple process that can be completed within a few clicks. Following the steps, you can easily return a book and get a refund or exchange. Remember to check Audible's official website for any details or policy updates regarding returns, and if you're interested in self-publishing, our guide on How to Self-Publish a Book offers valuable insights. Whether you're looking for a different book or a refund, Audible's return policy ensures a seamless experience for its users.
FAQs
Is there a time limit on how long I must return a book to Audible?
Yes, Audible usually accepts returns within 365 days of the purchase date, but for a deeper understanding of book lifecycles, consider reading about Book Distribution Strategies. But Always check Audible's recent return policy to find out the truth. This time frame may change based on what kind of membership you have and where you live.
What happens to the Audible book I return?
When you return a book on Audible, it is no longer in your library. Unless you buy that book again in the future, you will no longer be able to read it.
Can I return a book and get another one instead?
Yes, Audible lets you swap a book you've returned for another. This lets you pick a different book if the one you returned wasn't what you sought.
Do I have to say why I want to return a book to Audible?
Audible may ask you why when you return a book, but you don't have to tell them. Giving Audible feedback can help them improve their services, but you don't have to give a reason if you don't want to.
Can I send back the books that I bought with Audible credits?
Yes, you can send back the books you bought with Audible points. Your account will get the credits you used to make the original buyback.