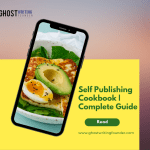 Self-publishing your own poetry book or cookbook can be a thrilling journey filled with creativity and self-expression. With the help of technology and online platforms, it's never been easier to turn your words or kitchen masterpieces into published work. Whether you're a seasoned poet or just starting to explore the world of writing, self-publishing a poetry book or cookbook can be a fantastic way to share your talent with the world. But where do you begin? 
The process can seem intimidating, but don't worry! With the help of reliable ghostwriting experts, you'll have all the support you need to make your self-publishing dreams a reality. From developing a clear plan to marketing your book, we'll guide you every step of the way. So grab your pen and paper, and let's start creating your own self-published poetry book or cookbook!
What is a cookbook?
A cookbook is a collection of recipes, usually in written form, that provides information on how to prepare various dishes. Learn more about What Makes a Good Children's Book, which can offer insights applicable to cookbooks as well. It can range from basic recipes for beginners to advanced recipes for experienced cooks. 
Cookbooks can come in print form, e-book format, or even as a mobile app. They often include information on cooking techniques, ingredient substitutions, and meal planning. With a cookbook, you can expand your culinary knowledge and experiment with new flavors and dishes. Whether you're a seasoned cook or just starting out, a cookbook is a valuable tool in the kitchen.
How to self publish your cookbook?
Are you ready to share your love of cooking with the world? Do you have a collection of family recipes you want to preserve for generations? Or maybe you're a professional chef who wants to showcase your culinary creations. 
Whatever your reason, self-publishing a cookbook is easier than ever before. In this section, we'll walk you through each step of the process, from conceptualizing your book to getting it into the hands of your readers.
Step 1: Plan Your Cookbook
Before you start writing your cookbook, you need to decide on the theme, target audience, and format. For inspiration, check out Best Children's Book Story Ideas, which can spark creative themes. Do you want to focus on healthy meals for busy families or gourmet recipes for special occasions? Who do you want to reach with your book? And do you want a traditional print cookbook or an e-book that can be downloaded on a tablet? Having a clear plan in place will make the writing process smoother and help you stay on track.
Additionally, you should also consider the number of recipes you want to include in your cookbook and how you want to organize them. Will you have breakfast, lunch, dinner, and dessert chapters, or will you organize them by ingredients or cuisine? Make sure you have a clear structure that is easy for your readers to follow. 
Having a plan for your cookbook will also make it easier to budget your time and resources, so you can publish your cookbook without any hiccups. Don't forget to also research your competition, look at other cookbooks in your niche, and take note of what sets your cookbook apart. This will help you make a compelling pitch to potential readers and help you stand out in the crowded cookbook market.
Step 2: Write and Test Your Recipes 
The heart of any cookbook is its recipes. Write them out clearly, and concisely and ensure you include all the necessary details, such as ingredients, cooking times, and serving sizes. Then it's time to start testing. You want to ensure each recipe is accurate and delicious before publishing your cookbook.
To make the testing process more efficient, make a list of all the recipes you plan to include in your cookbook. As you test each recipe, take detailed notes on any adjustments you need to make and make sure to include these changes in the final version.
 Consider recruiting friends and family members to help you taste-test and provide feedback on the recipes. This will give you a wider range of opinions and help you perfect your recipes before publishing your cookbook. Additionally, make sure to take high-quality photos of each dish to include in your cookbook, as images are a crucial part of the cookbook experience.
 Step 3: Design Your Cookbook
In the design stage of your self publishing cookbook, creativity is key. The cover and layout are the first things readers will see, so you want to make a great impression.
Self-publishing allows you to create a cookbook that reflects your style. Choose a cover design that will catch the eye of potential readers and use eye-catching images to showcase your recipes. Make sure your book is easy to navigate, with clear headings and a table of contents.
Consider hiring a professional graphic designer to help bring your vision to life. Explore cover design and typesetting services for professional assistance. However, You can also use templates or online design tools to create a personalized look for your cookbook. 
Whether you go with a minimalist approach or a more decorative style, remember that the goal is to make your cookbook both beautiful and functional. A well-designed cookbook will be a pleasure to flip through and make your recipes stand out.
Step 4: Choose a Self-Publishing Platform
Several self-publishing platforms allow you to create and publish your cookbook. Choose one that fits your needs, whether it's a print-on-demand service or an e-book publisher. Be sure to read the fine print and understand any fees or royalties associated with each platform.
When selecting a self-publishing platform, consider how you want to distribute your cookbook. Do you want it available for purchase online, in bookstores, or both? Some platforms may have restrictions on distribution, so it's important to find one that aligns with your goals. 
It's also a good idea to research customer reviews and get a feel for their customer service and support. Having a reliable platform that meets your needs will help ensure a smooth self-publishing experience.
Step 5: Promote Your Cookbook:
To reach your target audience and make your self publishing cookbook a success, don't forget to promote it! There are plenty of ways to spread the word and get people excited about your book. 
Share your cookbook on social media and reach out to food bloggers and reviewers. Attend cooking events and book signings. The more you promote your book, the more likely it is to find its way into the hands of those who will love it. Make the most of every opportunity to showcase your culinary skills and your cookbook, and you'll be on your way to cookbook success!
 In addition to traditional promotion methods, consider offering a special deal or giveaway to your social media followers. This can help generate buzz and increase interest in your self publishing cookbook.
 You can also reach out to local cooking stores or bookstores and ask if they would be willing to host a book signing or cooking demonstration. By leveraging all the tools at your disposal, you can ensure that your cookbook gets the exposure it deserves and finds its way into the hands of eager readers.

How to Market self publishing cookbook to the Public
Cooking up a delicious self publishing cookbook is just the first step to success. The next challenge is getting it into the hands of hungry readers. Here are some tips for marketing your self publishing cookbook to the public.
Start with your network:
Share your cookbook with family and friends, ask them to spread the word, and offer to sign copies for their personal libraries. Your network can provide a foundation of support and help spread the word to their own networks.
Get social:
Share your cookbook on all your social media channels and interact with food bloggers, chefs, and other cooking enthusiasts. Use eye-catching images of your dishes and promote special offers and contests to generate interest.
Participate in events:
Attend local food fairs, cooking demonstrations, and book signings. You can also offer to host cooking classes and showcase your recipes. This is a great way to connect with foodies in your community and promote your cookbook.
Collaborate with others: 
Partner with local businesses, such as gourmet food shops, to promote your cookbook. You can offer to sign copies at their store or host a cooking demonstration.
Invest in advertising: 
Consider placing ads in food-related magazines or websites to reach your target audience. You can also consider paid promotions on social media to reach a wider audience.
Lastly, don't forget to leverage your website. Make sure it's easy to navigate, with clear information about your cookbook and how to purchase it. Consider offering special deals and promotions to visitors who sign up for your email list.
Marketing your self-published cookbook takes effort, but with these tips and a little creativity, you can reach your target audience and sell more books. Good luck and happy cooking!
Conclusion:
Self-publishing a cookbook is a fantastic opportunity to share your love of cooking and recipes with the world. See how others have succeeded in Best Ways to Starting a Small Business Online. With a well-thought-out plan, delicious and accurate recipes, attractive design, and smart marketing, you can turn your passion into a published book that people will want to buy and use in their own kitchens. Following the steps outlined in this guide, you can turn your dream of being a published cookbook author into reality.
Moreover, self-publishing gives you full control over every aspect of your cookbook, from the design to the marketing. You can create a book that truly reflects your personality and culinary style and reach a global audience through online platforms. So why wait? Start planning, writing, and publishing your own cookbook today and share your love of cooking with the world!