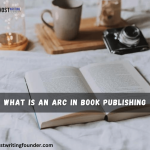 In the book publishing world, there is quite a bit of confusion regarding what exactly an ARC is. This article will clear up the confusion for all the readers. An ARC, or advanced reader copy, is a paperback or hardback book printed to be sent out for promotion. Learn more about the process in 9 Steps to Self-Publishing on Google Books Partner Center 2023.
What Is an ARC?
An Advance Reader Copy (ARC) is a pre-publication book that publishers and authors send out to people who read books for a living, such as librarians and booksellers. These are the first copies of the book to be printed and often come with a disclaimer stating that they may contain errors that will be corrected in the final version.
ARCs are usually sent out to media outlets and reviewers before the publication date so they have enough time to review it and write about it on their site or newspaper/magazine. However, many readers enjoy getting their hands on an ARC before others because they can share their thoughts via social media and get a head start on reading the novel before it's released!
Who Uses ARCs?
Publishers use ARCs to generate buzz about upcoming books by distributing them to booksellers, reviewers, and influencers in the media, similar to strategies discussed in 30 Book Marketing Ideas for Skyrocketing Sales. They want to spread word-of-mouth about their books before they are available in stores.
Why Do Publishers Send ARCs Before Book Publishing?
The purpose of sending out ARCs is to generate interest in an upcoming book and get people talking about it before it hits shelves, a tactic also explored in How to Publish a Book. They also hope this helps increase sales when the book does come out so they can recoup their investment in producing it. If you get an ARC, don't sell it! Publishers rely on reviews from critics who have read advanced copies of books, so if you sell your copy, they won't be able to send out any more review copies of that particular title (and therefore won't receive any more reviews).
Is there a difference between an ARC and a galley?
The answer to this question is not simple. The terms ARC, galley and proof are often used interchangeably by publishers, booksellers and media outlets. However, there are differences between them.
ARC stands for Advance Reading Copy, a free advance copy of a book sent out to reviewers and other media members before it goes on sale. The ARC can be in any format—printed, digital or audio—but it's usually bound as a paperback novel (though some publishers send out e-ARCs).
Galleys are also free copies of books that are distributed before the publication date. Galleys tend to be printed on large paper stock and bound like hardcovers with a spine label identifying the title and author. It has been replaced with ARCS in recent years because they're less expensive to produce than traditional galleys were, but they still serve the same purpose: providing advance copies of books that reviewers and other members of the media can read at their leisure before publication date.
What's the importance of ARCs In book publishing?
Before your book is published, obtaining reviews will assist in building your author platform with readers and increase word-of-mouth advertising for your book story writing, as detailed in Book Editing: A Comprehensive Writer's Outline. Although self-promotion makes many authors cringe, ARCs are useful for getting your work in front of influencers. ARCs are now easier to produce and distribute than ever because of the development of digital proofs. You can avoid the possibility of squandering money on unnecessary copies by ordering a book to be printed and sent directly to reviewers when they confirm their interest in receiving a copy. You also avoid having to account for additional postal costs.
What Is an ARC in book publishing?
Publishers create these to serve a few different purposes:
Get reader reviews
Publishers will send ARCs to readers on various social platforms, including Goodreads, to get honest reviews. For more on leveraging social media, see How to Use Pinterest for Blogging. Good endorsements can help sell books online.
Land critical reviews
Again, publishers will send ARCs to online and print publications that connect with their target audience to try and get a good critical review from book reviewers.
Compile blurbs
ARCs are sent to other authors and experts to get blurbs that can be used on the covers and interiors of books. This often comes at the end of a book's publication cycle, once deadlines for blurbs have passed for print editions and most people have seen copies of the book anyway.
Enter book awards
Based on when a book is published, certain book awards require ARCs for book writing to be considered for awards. For example, if a publisher wants one of its titles entered into consideration for the Pulitzer Prize in Fiction, it needs to submit an ARC
Use for other promotional purposes
Publishers will also make ARCs available to media outlets to try and get other publicity for their books and authors in print, online, podcasts, TV and radio interviews, and more.
How to find ARCs?
The publisher or author often gives out ARCs for review purposes, and you can learn more about this process with Book Publishing Services offered by Ghostwriting Founder. They are sometimes available on sites like Amazon or Barnes & Noble, but you can also get them from book reviewers and bloggers.
You can find reviewers and bloggers through Goodreads, LibraryThing, Twitter, Facebook groups and discussion forums. You can also check out your local library's website for bloggers who do reviews. If you want to buy an ARC, search the internet using keywords like 'ARC' and 'Advanced Reading Copy.' For more on the digital side, consider SEO Blog Writing Services to boost your online presence.
If you're interested in receiving ARCs of books by certain authors or publishers, check out their websites to see if they offer mailing lists or email updates. For example, HarperCollins offers a newsletter called The Buzz that includes freebies such as eBooks and ARCs.
How to Make a Reviewer's ARC (Advance Reader Copy)
Here are some pointers on how to make an ARC.
The word "Advance Reader Copy" disclaimer is on the cover.
A brief explanation that it's an uncorrected proof whose pricing and release date are subject to change.
An informative collection of important book metadata details, such as the ISBN, page count, price, and publication date. With the help of Content Development Services from Ghostwriting Founder, you can create an engaging ARC.
Conclusion
Arcs, or advance reader copies, are a powerful tool in the book publishing industry. They generate early feedback, create anticipation, and generate buzz around a book before its official release. Authors can increase their chances of success in a competitive market by carefully crafting arcs and leveraging them strategically.