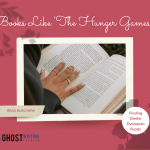 Do you enjoy reading "The Hunger Games" series and searching for additional dystopian fiction to satisfy your cravings? Look no further! In this blog post, we'll explore some books like The Hunger Games series, from their action-packed plots to their strong, resilient protagonists. No matter what kind of experience you're looking for, whether it's adventurous, romantic, or a combination of both, we have options for you. Moreover, if you are looking for inspiration to write books like Hunger Games and want them to be so good that you get free book advertising just by their name, then refer to the books below.
1. "Divergent" by Veronica Roth
According to our experts at Ghostwriting Founder, one of the most well-known dystopian books like Hunger Games is "Divergent" by Veronica Roth. The story's setting is a futuristic Chicago, where the community is divided into five factions based on their personality traits. The story follows Beatrice Prior, a teenage girl who discovers she is "Divergent,". This means she doesn't fit neatly into any one faction. With the help of her friends and a mysterious boy named Four, Beatrice sets out to uncover the truth about her world. While doing so, she decides to take down the corrupt leaders who control it.
2. "The Maze Runner" by James Dashner
Another one of the books, like hunger games, is the maze runner. In this, a group of teenage boys wakes up in an isolated meadow without remembering their past or how they got there. They soon discover they are trapped in a deadly maze that changes every night. However, they must work together to find a way out before it's too late. The book is full of action, suspense, and surprising twists, making it a must-read for fans of "The Hunger Games."
3. "Legend" by Marie Lu
"Legend" is set in a future Los Angeles that is split between the wealthy and privileged citizens of the Republic and the poor, oppressed residents of the slums. The plot centers around two teenagers who come from different backgrounds. One teenager is June, a prodigy of the Republic's elite military academy; the other is Day, a notorious criminal and most-wanted fugitive. When Day becomes the prime suspect in the murder of June's brother, the two are thrust together in a race against time.
4. "Red Rising" by Pierce Brown
If you're looking for books like hunger games with a bit of a sci-fi twist, "Red Rising" is the book for you. It is Set on colonized Mars; The story is about Darrow, a member of the Red caste who hopes for a better life for himself and his people. When Darrow is recruited by a rebel group known as the Sons of Ares, he transforms. The changes he is going through will test his capabilities and make him reconsider everything he believes about himself and his surroundings.
5. "The Handmaid's Tale" by Margaret Atwood
For a more literary take on books like hunger games, we have "The Handmaid's Tale". It is a classic novel that continues to resonate with readers today. The story takes place in America shortly, where women have lost their rights and are now forced to serve as "handmaids." The story follows Offred, a woman wanting to survive and find her daughter in a hostile world. This book delves deeply into important topics such as freedom, oppression, and the strength of the human spirit.
6. "The 5th Wave" by Rick Yancey:
In "The 5th Wave," the world as we know it has ended. Cassie is one of the few survivors of an alien invasion that has wiped out most of humanity. As the aliens execute their plan to eliminate the human race, Cassie must fight to stay alive. She also needs to reunite with her younger brother, who the invaders took. With themes of trust, survival, and the importance of family, "The 5th Wave" is a gripping read.
The book is divided into sections, each named after one of the "waves" of the alien invasion. Each wave is more devastating than the last, and Yancey does a great job building tension. Cassie is a strong and relatable protagonist; her story is heartbreaking and inspiring.
7. "Red Queen" by Victoria Aveyard:
 In a society where people are segregated based on their blood color, Mare, a commoner with red blood, discovers that she has exceptional ability. This could change the course of the ongoing war between the Reds and the elite Silvers. As she is thrust into the world of the Silvers, Mare must navigate their dangerous politics and power struggles. She must remain authentic to her values and beliefs as she goes about her tasks.
8. "Ready Player One" by Ernest Cline:
In a future world where the real world is bleak, people spend most of their time in a virtual reality known as the OASIS. Wade Watts sets out on a quest to find the hidden Easter egg left by the game's creator. The winner will inherit his vast fortune and control over the OASIS. However, the competition is deadly, and Wade must fight for his life.
9. "The Giver" by Lois Lowry:
In the story, Jonas becomes the next Receiver of Memory, a role that involves learning about the world as it used to be. This occurs in a seemingly perfect society where all aspects of life are tightly controlled and planned. As he discovers the truth about his society, he faces a decision that could have a significant impact.
10. "The Hunger Games" prequel:
If you loved the original trilogy and are finding more books like hunger games, what's better than the prequel? You must check out the prequel, "The Ballad of Songbirds and Snakes,". This takes place years before the original books' events and explores the Hunger Games' early years.
11. "The City We Became" by N.K. Jemisin:
In a love letter to New York City, Jemisin creates a world where cities are alive and have avatars. When New York City wakes up and comes to life, it must fight off an otherworldly threat, and its five avatars must learn to work together to save the city.
12. "The Children of Men" by P.D. James:
The book takes place in a future world where humans can no longer have children. A former lover approaches the protagonist Theo with a unique request. She asks her to help transport a pregnant woman to safety. As Theo navigates the dangerous world, he must confront his past.
13. "The Selection" by Kiera Cass:
In "The Selection," Kiera Cass creates a world where the monarchy has been restored in a future society. The selection process involves picking 35 girls to compete for Prince Maxon's love, with the ultimate prize being the title of his queen. Among the selected participants is America Singer, a Five, who has no desire to be part of the competition. She's in love with someone else and only enters the competition to appease her mother. However, as America navigates the treacherous competition, she begins to question whether winning the prince's love is what she wants.
Cass does a great job of creating a richly imagined world that's both glamorous and dangerous. The competition is cutthroat, and the girls are constantly scheming and backstabbing each other. America is a likable and relatable protagonist, and readers will root for her as she tries to figure out what she wants.
14. "Warcross" by Marie Lu:
This is the next best read if you find books like hunger games. In "Warcross," virtual reality has become a way of life. The creator of the world's most popular game, Warcross, recruits a Teenage hacker Emika Chen. She has to track down a dangerous hacker threatening to disrupt the game's delicate balance. With high-stakes action and a diverse cast of characters, "Warcross" is a thrilling read.
Lu does a great job of balancing the action with the world-building, and the virtual reality setting is both immersive and believable. Emika is a likable and relatable protagonist. Her relationship with the enigmatic Hideo Tanaka is both intriguing and complex. 
Conclusion:
If you enjoyed reading The Hunger Games and are looking for similar dystopian reads, many options exist. If you're looking for a dystopian book, you can find one that matches your preferences, whether you enjoy thrilling adventures or thought-provoking commentaries on society. The mesmerizing books tend to sell out quickly upon their book launch, so it's important to keep an eye out and not miss the opportunity. Additionally, don't limit yourself to the young adult genre and explore other categories. Take a book, get comfortable, and get ready to embark on a journey to a fascinating new world full of adventure.