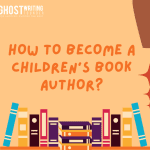 Becoming a children's book author can look easy, but it takes a lot of care and creativity to make Each page stand out. It could take hours of rewriting just one picture or sentence to get it right. So have patience as you rewrite, redraw, and reorganize your story.
Let's see how you can become a good children's book author.
1. Know Your Audience
If you haven't spent much time with kids but think you can enchant them with your words, you might be in for a big surprise. The key is to know what kids like, what makes them laugh or curious, and how long they can pay attention to something. Spend some time with the kids in your life and with your inner child to see how their imaginations work. You can also gain inspiration from the most popular stories and animated movies that generation after generation have enjoyed.
2. Read Books For Children
This step is part research and part getting ideas. Check out the award-winning classics and new books in the children's section of your local library or bookstore. As you read, you'll notice that some themes or character actions are repeated. This is a sign of a good story. Also, pay attention to how the words and pictures on each page work together. Keeping track of what kinds of creative choices you like and don't like will help you write your own story.
3. Write Every Day
Those who want to write children's books must often write, even daily, to improve their skills and do well as professionals. This can feel like a challenge if you don't normally write creatively. When you start writing a children's book, there are many things to keep track of, so try to stay on task. Instead of writing down many different story ideas, try writing one at a time until you have a beginning, middle, and end. After you finish a rough draft, you can work on the details, like rewriting dialogue or developing characters.
4. Develop Characters One At A Time
You need to know who your characters are before you can put them in a story. Are they people or animals, or are they something else? How old should your main character be? What about the other people in your story? How do they appear? What are the things that make them who they are? Who do you know in real life that is like one of your characters? Once you know your characters, your story starts to take shape. If you create more characters than your story needs, you can use them in your next book.
5. Join A Group Of Professional Children's Authors
People who use social media a lot can find a lot of literary groups and creative forums to follow. Check to see if there is a writers' group in your area. Go to readings, conferences, book marketing events, and book fairs. You'll meet authors at all stages of their careers and learn from industry experts. Your goal should be to join a children's book author community to learn as much as possible about the world of children's literature while making writer friends and building a professional support system.
6. Find An Artist To Create Illustrations
You'll need to work with an illustrator or artist to bring your story to life visually. Choose wisely because this professional will breathe life into your story and make it more vivid and emotional. Find an artist whose pictures stand out and their style fits your story as well. You should also talk about your goals for publishing a book so that you both go into the project with the same ideas in mind. Be ready to work with them and listen to what they say. The key is working together creatively based on trust, respect, and good communication. Two professionals can achieve much if they collaborate well.
7. Ask For Feedback
What better people to test your children's book than real children? When you read a draft of your book to children or ask them to read it, you can learn a lot. Be ready for direct, honest feedback because kids don't hold back when you ask what they think! But you'll also need feedback from other writers, preferably experienced children's book author or editors who are familiar with the children's book genre. They can give you professional advice about your story's idea, structure, and pictures.
Also Read
5 Motivating Justifications For Writing A Book
8. Be Ready To Start Over
It could take hours of rewriting just one picture or sentence to get it right. When you are a book writer you have to have patience as you rewrite, redraw, and reorganize your story. If you keep an open mind about the process, you might find something exciting and creative. Remember, practice makes perfect. Without failing once or twice, success will never taste as sweet. See your mistakes as an opportunity to learn and grow in your career.
9. Promote your book
Again, the first person to sell a book gets the most money. Even if you're still making changes to your children's book, you should start making an email list and writing a launch announcement so you're ready to send them when the book is ready. It's never too early to start making a children's book author and book publisher's website with marketing materials, pictures of books, and a bio. Make a press release to tell people about your book, and contact local bookstores and libraries to set up reading events and story times.
Conclusion
Most children's book authors take years to secure their first book deal. And selling one book does not guarantee future book sales. Everyone's path to becoming a children's book author is different, but the most successful ones did it with the perfect blend of hard work, talent, planning, persistence, and even a little luck.