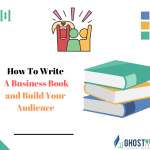 If you want to get more people interested in your business, publishing a business book might not be the first thing that comes to mind. However, writing a business book is a great idea to think about. You only need a good idea for a book and a self-publishing partner to print books on demand. For inspiration, check out how to come up with a story idea.
You probably won't be surprised to hear that you're not the only one who wants to write a business book. At some point in every career, many coaches, freelancers, business owners, executives, leaders, managers, and business owners think about going this route. Writing a business book has a lot of benefits, so it's not surprising that so many people want to do it. Discover more about writing your life story which can be a great addition to your business book., so it's not surprising that so many people want to do it.
Build An Audience With Your Business Book
However, there is a massive difference between the number of people who have the idea to write a business book and the number of people who go through with it. Why? Because it's hard to write a business book. Even more challenging is writing a good business book.
There's no easy way to write a good book quickly. It will not be easy. If you want to write that book, you must be ready to give it your full attention.
If you're sure you want to do this and get your book out to the world, read on to find out how to build a following by publishing a business book on your own.
1- Motivate Or Help Other People
You might have a story about a hard-fought victory or an inspiring journey. Maybe you started a business from scratch and want to teach others how to do the same. You might want to teach the basics of managing money, marketing, public speaking, sales, or being a leader.
Your biggest problem will be making your book stand out from others on the same topic. The ghostwriting services provider is good at what to do, but there are probably hundreds of other "how to" books in your field. Your story might be unique, but getting through hard times isn't.
2- Boost Your Authority And Credibility
Writing a book is a great way to show your knowledge of your field. You can discuss case studies, research, and what you've noticed. As with the last point, it will be hard to stand out from other books unless your ideas and theories differ. Think about who you're trying to convince that you're trustworthy.
3- Get Speaking Gigs
If you've written a book in your field, you'll have a better chance of getting paid speaking gigs. The fact that you have written a whole business book about something shows that you know a lot about it. Speaking at events is a great way to get your name out there, which can lead to more business and sometimes higher prices.
Still, so many people now have their book that it doesn't always have the same status as they used to. You'll need to back up your book with good marketing, interesting speaking topics, and an exciting way of presenting.
4- The Why, What, And Who?
The Why?: The first step in writing a book is to figure out why you want to write it. Find out more about developing a writing habit to facilitate this process. Why are you writing your book? What do you want to do? In other words, what do you want the reader to do once it's written?
The What: You've already decided what you want the book to do, so now you need to determine what you want the reader to get out of it. What will they get out of your business book? Will it give them more confidence, a better understanding of a subject, or information that will help their business grow? What does your book cover, and why should people care? This part should be easier if you've spent time thinking about who.
Once you know what you want, you should consider who you are writing for.
The Who: Who do you need to reach to reach your goal? Who do you want to read your book, and why should they? What will they gain from reading your book? What do they hurt or have trouble with that you can help with? Consider what your readers want to read, not just what you want to say.
Also Read
Which Author Is Normally Responsible For Sharing Reprints Of A Publication With Readers?
5- Make a Plan
Now that you know why, who, and what, you can move on to how. You could start writing and hope for the best, but you have a better chance of success if you make a plan.
Writing timeline
It's not easy to write a book. It takes a lot of work, time, and discipline. Setting up a time to write should be the first part of your plan.
Book-length
How many words you aim for may depend on the kind of business book you're writing. A specific page in a book has between 250 and 300 words, and a typical business book has around 200 pages. It means that an ordinary business book averages between 50,000 and 60,000 words.
Outline
It helps to have a plan for your book before you start writing. It could just be a list of chapters with bullet points explaining what will be covered in each. You might change the order of chapters as you write or edit, but having a basic outline is a good place to start.
Refer back to your who and what to remind yourself who you are writing for and what you want them to get out of your book. Think about what your reader might want to know about your chosen subject. How can you answer these questions, and where will you do so in the book?
6- Marketing
Think about how you'll get people to buy your business book once it's out. Consider leveraging our book marketing services for greater impact. You don't have to start marketing your book before writing it, but you should at least consider how you will attract your target audience and persuade them to buy it.
Look at the people who already know you. Learn about marketing your book to reach a wider audience. Who is your social media following? How many people have asked to be on your email list? Do you have a blog? If so, how many people read it? How can you capitalize on your existing audience? Think about your chances and the channels that will help you the most.
Last Words
Writing a business book is a considerable time commitment, but the rewards more than justify the effort, especially now that self-publishing is simpler than ever.
No matter where you choose to sell your book, you must ensure it's easy for people to do so. Make sure that your website and all of your book marketing materials have a link and clear instructions.