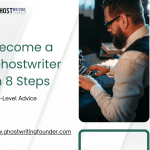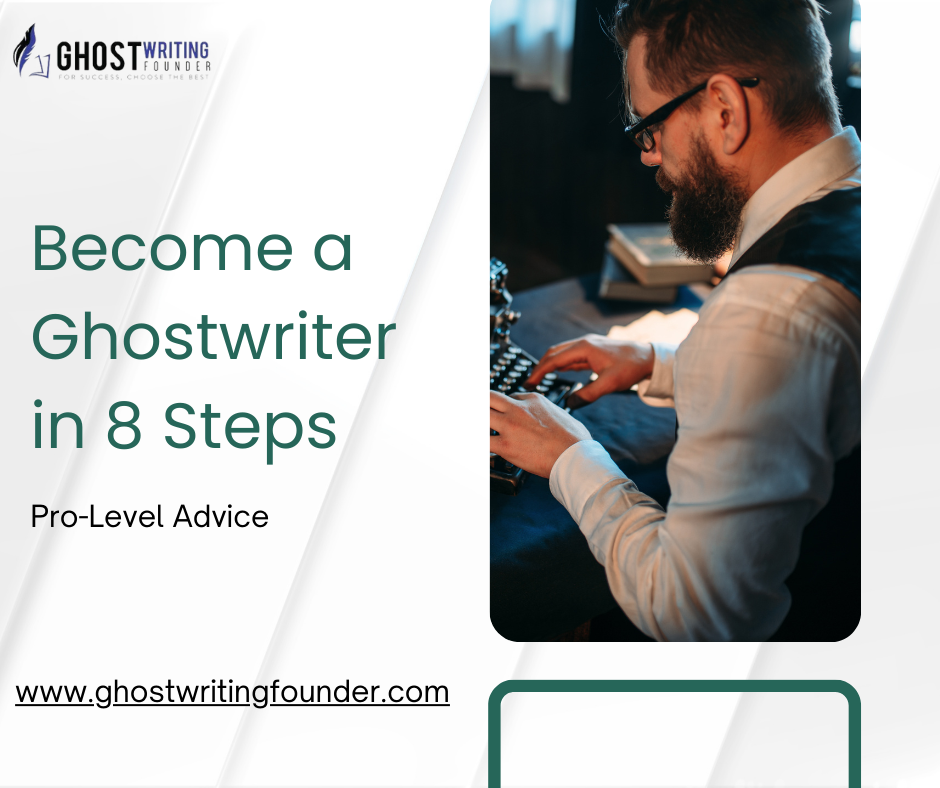 Are you a skilled writer looking for a new and exciting way to use your talents? So, have you decided to become a ghostwriter? It's high time to know everything about it.
Ghostwriting is a profession where you write on behalf of someone else, typically with the understanding that your name will not be attached to the final work. This can be a rewarding and lucrative career for those with the right skills and mindset.
However, getting started in this field can be challenging, and you may wonder where to begin. From developing your writing skills to finding clients and negotiating contracts, consider the knowledge and tools you need to launch your career as a ghostwriter.
Must Follow Eight Steps to Know How to Become a Ghostwriter:
Becoming a ghostwriter is an exciting career path for many writers, but breaking into this industry can be challenging. Ghostwriters are professional writers who write books, articles, or other content under the name of another person or entity.
The work is usually anonymous, and the credit goes to the person or entity for whom the content is written. If you want to become a ghostwriter, you'll need to develop your skills, build your network, and learn how to market yourself effectively.
Here are eight steps that will help you become a successful ghostwriter:
Step 1: Choose Your Niche
As a ghostwriter, you'll need expertise in a particular area. Pick a field that you're interested in and comfortable with. For example, if you're interested in health and wellness, you could become a ghostwriter for health experts or wellness coaches.
Step 2: Improve Your Writing Skills
To become a successful ghostwriter, you must have excellent writing skills. You'll need to be able to write in the voice of the person or entity for whom you're writing, which can be challenging. You'll also need to be able to write quickly and meet tight deadlines. To improve your writing skills, take writing classes, read widely, and practice writing daily.
Step 3: Build Your Portfolio
As a ghostwriter, your portfolio is your calling card. Having a resume that demonstrates your writing abilities and experience in your field is crucial. Start by creating a website that showcases your writing samples and testimonials from satisfied clients.
Step 4: Network
Networking is crucial for ghostwriters. Go to writing events, sign up for writing organizations, and meet other authors in your field. Building relationships with Ghostwriting founder writers can lead to referrals and new opportunities.
Step 5: Market Yourself
As a ghostwriter, you'll need to market yourself effectively to attract clients. Create a marketing plan that includes social media, email marketing, and other forms of advertising. Use your portfolio to showcase your writing skills and expertise.
Step 6: Set Your Rates
Setting your rates as a ghostwriter can be challenging. Research the rates charged by other ghostwriters in your niche and set your rates accordingly. Don't undervalue your work, but be willing to negotiate with clients.
Step 7: Protect Yourself Legally
To become a ghostwriter, you'll need to protect yourself legally. Create a contract that outlines your rights and responsibilities as a ghostwriter. Include details such as payment terms, deadlines, and content ownership.
Step 8: Be Professional
Finally, to become a successful ghostwriter, you must be professional in all your interactions with clients. Meet deadlines, communicate clearly, and be willing to make revisions if necessary. Your reputation as a ghostwriter is essential, so always strive to deliver your best work.

Benefits Of Becoming A Ghostwriter:
As a ghostwriter, you may wonder what the benefits of pursuing this career path are. Below are some of the top benefits of becoming a ghostwriter:
Flexibility:
Ghostwriting offers a great deal of flexibility in terms of scheduling and workload. You can often work from home, set your hours, and do as much or as little work as you like.
Creative Freedom:
It allows you to exercise your creative muscles while still adhering to the guidelines and expectations of the client. You can write in different styles, voices, and genres, which can be exciting and challenging.
Choose Your Projects:
You can choose which projects you want to take on and which clients you want to work with. From books and speeches to blog posts and social media content, ghostwriters have the opportunity to work on a wide range of projects.
As a ghostwriter, you can work on various projects and topics, keeping your work interesting and engaging. You may work on memoirs, self-help books, novels, and more, which allows you to expand your knowledge and become a ghostwriter.
Financial Rewards:
Ghostwriting can be lucrative, especially if you establish a strong reputation and command higher rates. You may also receive royalties or a share of the profits for your work.
Personal Fulfillment:
It can be a fulfilling career if you enjoy helping others tell their stories or sharing their expertise. Seeing your work published and helping others achieve their goals can be incredibly rewarding.
Networking Opportunities:
As a ghostwriter, you will have the opportunity to work with various clients, publishers, and other writers. In the business world, this can help you meet more people and get more jobs.
Learning Opportunities:
You will get a chance to work on various projects that require in-depth research and knowledge. This can be a great opportunity to expand your knowledge and expertise in different areas.
Work-Life Balance:
Ghostwriting can be a great career choice if you value work-life balance. You can often set your hours and workload, allowing you to spend more time with family and pursue other interests.
Opportunity To Build A Strong Reputation:
By delivering high-quality work and building a strong network, ghostwriters can establish themselves as reputable professionals in the industry. Many ghostwriters develop long-term client partnerships, leading to steady work and reliable income.
Career Growth:
Finally, ghostwriting can offer many opportunities for career growth and advancement. You can build a strong portfolio, establish a reputation as a skilled writer, and potentially move into other areas of writing or publishing.
Dos and Don'ts for Ghostwriters:
There are some dos and don'ts for a ghostwriter to perform the task efficiently. Also, to avoid mistakes and learn tips and tricks on becoming a ghostwriter.
Do:
Improve your writing skills
Choose your niche
Build your portfolio
Network with other writers
Market yourself effectively
Set your rates based on industry standards
Protect yourself legally
Be professional in all your interactions with clients
Don't:
Undervalue your work
Miss deadlines
Ignore client feedback
Plagiarize or violate copyright laws
Share confidential information
Burn bridges with clients or colleagues
By following these dos and don'ts, you can become a ghostwriter.
Where to Start Career as a Ghostwriter: A Complete Guide
If you are interested in pursuing a career as a ghostwriter, there are several steps you can take to get started:
Ghostwriting requires strong writing skills, so hone your craft by practicing writing regularly and seeking feedback from others.
Consider what types of writing you enjoy and what topics you are knowledgeable about. Choosing a niche will help you focus your marketing efforts and attract clients looking for someone with expertise in a particular area.
Create a portfolio of your writing samples to showcase your skills and demonstrate your ability to write in different styles and genres. Consider writing articles, blog posts, or even a book on your chosen niche to demonstrate your expertise.
Reach out to other writers, editors, and publishers to build your network and gain exposure to potential clients. Attend writing conferences and workshops, join online writing communities, and consider collaborating with other writers to expand your reach.
Create a website, social media profiles, and other marketing materials highlighting your skills and services. Consider offering a free sample of your writing to potential clients to demonstrate your abilities and build trust.
Consider joining a professional organization for ghostwriters, such as the International Association of professional ghostwriters or the American Society of Journalists and Authors. These organizations offer networking opportunities, training programs, and other resources to help you grow your career as a ghostwriter.

Day One or One Day, You Decide:
Becoming a ghostwriter can be an exciting and rewarding career choice for those who enjoy writing and helping others share their stories and expertise. The benefits of ghostwriting include flexibility, creative freedom, financial rewards, personal fulfillment, and opportunities for growth and networking.
Whether you are looking to establish a full-time career as a ghostwriter or simply want to explore it as a side gig, the potential for success and personal satisfaction is vast. So, if you have a passion for writing and a desire to help others bring their ideas to life, consider exploring the world of ghostwriting. Who knows? You may just discover a fulfilling and lucrative new career path.